New Year's Resolution: Best Apps For Eating Healthier And Losing Weight
Getting in shape in the new year? Don't forget that being fit comes not only from exercise and movement but also thinking about your diet. Not that you need to go on a diet — most exerts agree that you need not deny yourself, just make better choices.
Becoming more aware of what you eat, what's in what you eat, and how you can eat better is easy and there are a million apps out there that will help you. And if you want to eat better there are another million ways to find recipes, including some sweet enhanced eBooks.
Don't get overwhelmed and tune out. Instead, read on for my top apps, eBooks, and services to help you eat healthy.
Calorie Counter & Diet Tracker by MyFitnessPal [Free; Android, iOS]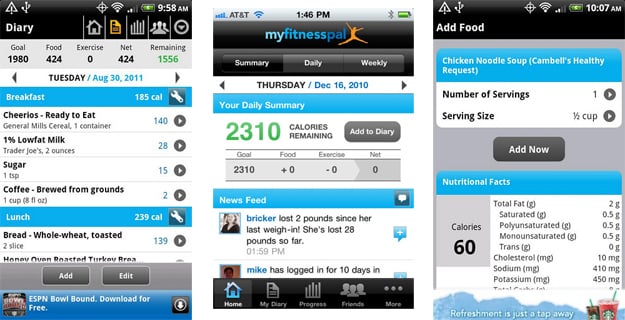 With its database of over a million foods, a barcode scanner, and a recipe calculator, this app makes itself indispensible to those looking to track their fitness goals. It will not only track calories but all nutrients so you can see how balanced a diet you do (or don't) have. Users can also keep track of your daily exercises, weight, goals and more.
Ever wonder if the packaged foods in the grocery store are as good for you as they claim? Or are you unsure, in general, what makes for healthy food or bad? Then this app will be a big help. Scan the barcode and Fooducate will grade the item A through F and tell you why it got that grade. Very useful if you can't afford Whole Foods (and perhaps even if you can) and want to make the best choices wherever you shop.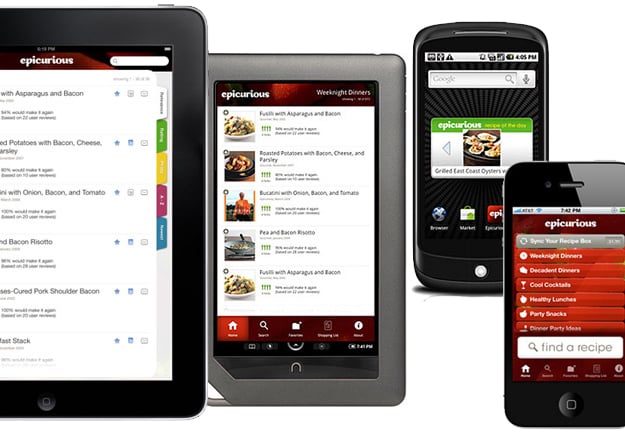 Aside from being a great recipe resource, this app also offers shopping lists based on the recipes, so once you get to the store you won't forget a key ingredient or forget why you bought it once you get home. The iPad version offers a full-screen cookbook layout for easier reading in the kitchen plus nutrition information.
Epicurious also has apps that work with certain HP printers and that Samsung refrigerator with the embedded screen. It won't tell you what's in your fridge, though, and thus it's not as useful as it could be.
SparkRecipes [Free; Android, iOS]
If you joined the SparkPeople community I mentioned in the fitness post, then you'll want to download the SparkRecipes app. You'll find thousands of recipes and nutritional information. Not sure about a dish? Run into trouble trying to prepare it? Get on the forums and ask! Chances are someone else has tried it.
The Professional Chef by The Culinary Institute of America [$49.99; iPad]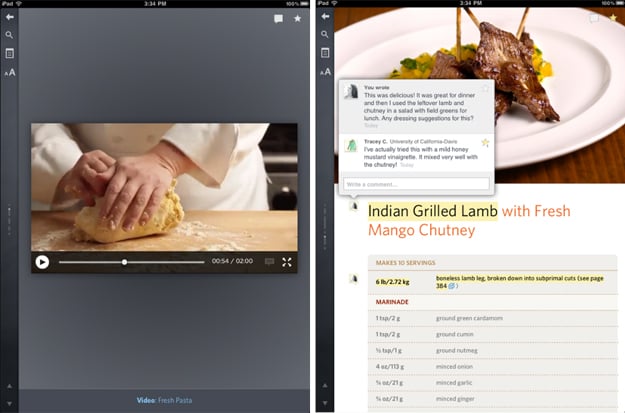 You may think I'm crazy for including a $50 iPad-only app on this list, but hear me out. There comes a time for people who begin cooking for themselves more when they want to become not just good but really proficient. They start watching the Food Network and buying Alton brown books and the like.
If this is you, then may I suggest going to the cookbook/textbook to end all cookbook/textbooks? The Professional Chef is a comprehensive guide to everything cooking. The iPad version is essentially an enhanced eBook, and boy is it enhanced. It includes over 100 videos of professional chefs demonstrating what the book is teaching you, which is the next best thing to actually going to class with said chefs. The interactive images do much the same.
Read our entire series on using mobile tech to get started with and keep your new year's resolutions going long term.