New Year's Resolution: Manage Your Time, Tasks, and To-Dos Better With Help From These Apps
Nothing like the beginning of a new year to get us thinking about time, the passing thereof, and how to manage it better so we have more for the things and people we love. If one of your new year's resolutions is to get a handle on time management, work more efficiently, and in general get things done in life, we can help.
While some people are still fans of the old-fashioned paper date books of old (and by old I mean 10 years ago… get off my lawn), there's no denying that mobile tech is supremely useful in keeping you on task and on time. If you have a smartphone, tablet, PDA, non-phone handheld or laptop, you already have tools that can help you manage your time. Now all you need is some tips and maybe a few apps to help you out.
The best collection of tips on this subject can be found on LifeHacker, whose time management tag is full of great ideas. Now to implement them using apps for Android, iOS, and even PC and Mac.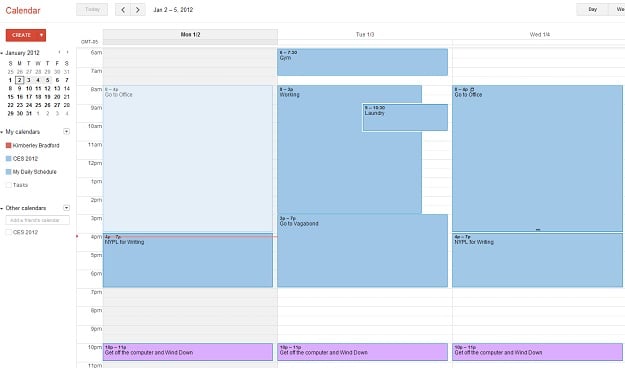 Google Calendar — This may seem an obvious choice, but I know many people who haven't plumbed the depths of this free calendar and task system to make it work for them. By far the best aspect of it beyond the basic calendar functions is that GC will sync to multiple computers, smartphones, tablets, and anything else with a modern mobile operating system plus programs like Outlook, iCal, and Thunderbird. And even if you're not prone to checking your calendar regularly, you can get it to remind you with a pop up, ringtone, or email.
I'm also fond of having multiple calendars on one account. That way I can create a public one, a family calendar, a daily schedule reminder just for me, and a calendar dedicated to planning a single event.
Mozilla Sunbird / Lightning — If you have multiple Google accounts as I do, you probably don't spend much time on the web interface for Gmail or Calendar and prefer a program that will let you check all emails and appointments at once. I have never been fond of Outlook and left it behind years ago. I prefer to use Mozilla's programs.
The desktop calendar program Sunbird will pull in data from multiple calendars, including Google and iCal, plus any other calendar that provides data in those formats, such as Facebook. In this way you can see all your scheduled events across multiple accounts in one place. Plus there's a nice task element included. Alarms manifest as popups that will ding you every so often if you don't dismiss or snooze them. If you use Thunderbird for email, then download the Lightning extension which adds the functionality of Sunbird to Thunderbird.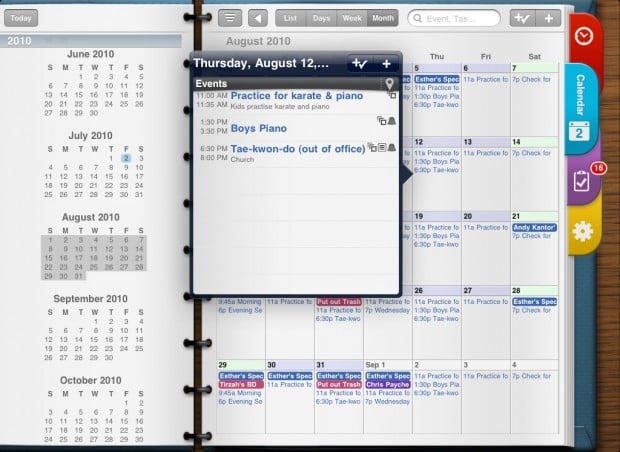 Pocket Informant [$9.99 Android, $12.99 iOS, BlackBerry] — While the calendar on your smartphone is good enough for basic time management, some of us need an app that is a little more robust that combines both events and tasks and notes. Pocket Informant is high on my list because it supports multiple Google Calendars plus a local calendar of its own and will also sync with Google Tasks, something not even Android does by default.
This app can feel intimidating at first because it's very busy and has a ton of customization settings. Even if you use it for basic calendaring to start you'll soon find yourself learning the deeper functions as you go.
Taskos [Free; Android] — This task app provides integration with other services, including Dropbox, Google Tasks, Facebook and more, plus a simple interface. Speak your tasks, slot them into categories, add notes, reminders, and even send them to others.
Siri [Free; iPhone 4S] — iOS has both a calendar and reminders app, and Siri makes it easy to create events, reminders and tasks with just your voice. In fact, it's possible to trigger a reminder based on location, not just the time, so you can remember to call your spouse when you leave work or pick up milk when you get close to the store around the corner from your house.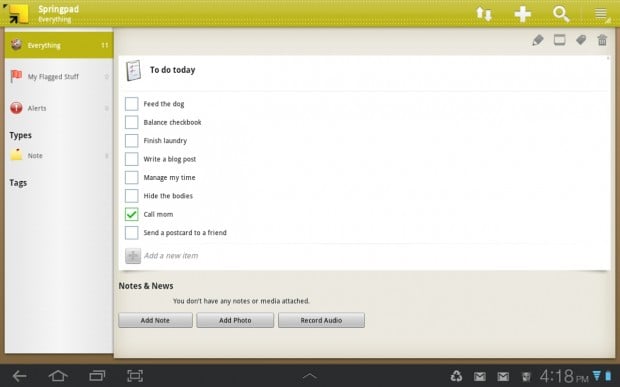 SpringPad [Free; Android, iOS, Chrome, Web] — This may seem like just another notes app to rival Evernote, but SpringPad is far more useful. The ability to not just create text notes but also tasks, checklists, and grocery lists make it a useful time management tool. You can also set reminders on any kind of note that will pop up alerts on your phone or tablet. Notes automatically sync to the web and to other devices, but you can also access and create notes while offline, even in Chrome.
I use SpringPad to create daily or weekly to-do lists, then check off each thing as I complete it. Plus, if the task is complicated, I can add attachments to my note with more information, links, locations and more so all the things I need are in one place.
Wunderlist [Free; Android, iOS, PC, Mac, Linux, Web] — This cross-platform task management solution has actual programs for Windows and OS X so you can access and create tasks and notes even if you're not online and don't want to deal with a browser. Users can share tasks or task lists with others via the web interface, Facebook and Twitter. There's even an option to print if you want to mix digital and analog.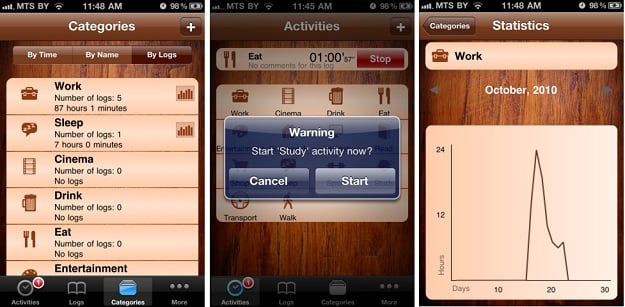 Gleeo Time Tracker [Free; Android] and aTimeLogger [Free; iOS] — One way to better manage your time is to get a handle on how exactly you spend it. That's where time tracking apps come in. Even if you have no need, in general, to keep track of how much time you spend doing tasks, doing so for a few weeks will give you valuable data. Didn't think you spent that much time doing that task or working on that report? Think again. The good news is that these apps can encourage you to spend your time more wisely.
Don't forget to poke around our other resolutions posts for more ways tech can help you start and keep up the goals you set for the year.

As an Amazon Associate I earn from qualifying purchases.