New Year's Resolutions: Learn Something New Using Mobile Tech
The beginning of a new year usually inspires people to want to better themselves, expand their minds or skill sets, and generally learn new things. Some resolve to head back to school or to take night/weekend classes. But not everyone wants or has the ability to commit to full or part-time education. Nor does everyone desire a new degree or certificate.
Nowadays you can listen to university lectures, bone up on your math skills, or get introduced to new ideas right from your smartphone or tablet. And the world's great books can be found for free in eBook format, ready to load onto your eReader or mobile device.
You can get a surprisingly comprehensive education from free online sources, all without enrolling or even spending any extra money (great if you're trying to keep your finances under control). Read on for a list of good sources.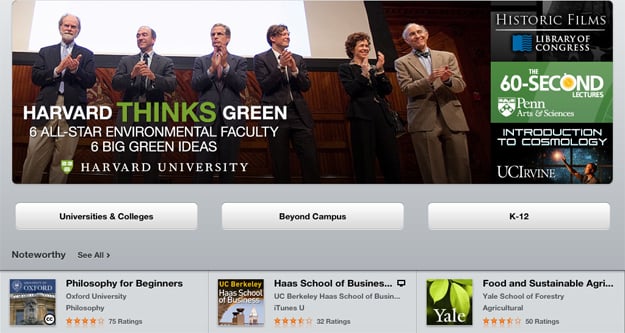 My current favorite resource is Apple's iTunes U, a collection of over 350,000 podcast lectures, slideshows, eBooks, and educational audio and video from schools, universities and museums from around the world, all offered for free. Categories range from history and literature to science and mathematics. Search for podcasts by school (K-12 and college) or institution and by category.
Podcasts from universities feature the same lectures teachers actually give to their students, so it's almost like sitting in the room. Some even include the supplementary materials and transcripts, so even if you have a visual or auditory disability you can still access the knowledge.
If you don't have iTunes you can still access many of the podcasts, but doing so through the free program will simplify the process.
Those looking for lectures and other learning material on a specific topic (History of the Elizabethan period as opposed to just general history, for example), try searching for your topic on Open Culture. It lists many of the podcasts available on iTunes U plus other sources, such as YouTube or individual websites, and is friendlier for keyword search than iTunes.
Open Culture is also a source for free educational resources in general with extensive listing of free courses, books, movies and language lessons.

A good portion of the podcasts available via iTunes U are humanities-based. For practical math and science education, check out Khan Academy. This site features videos of Khan instructors teaching lessons that range from simple arithmetic to complex calculus and many subjects in-between. There's also plenty of science: biology, chemistry, physics, etc. A great resource whether you want to refresh your skills in these areas or are currently in school and need extra help.
Access Khan Academy via their website on a computer or via an iOS or Android device. If you have Google TV there's a compatible version of the site under Spotlight. There are some apps available, but none are official and appear to just pull the mobile version of the site, anyway.
My last suggestion isn't a learning/education website exactly, though watching the videos here will expand your mind. The TED Conference puts videos of most presentations online. If you subscribe to the TedTalks podcast they'll download to your favorite podcast reader automatically.
TED Talks are inspirational, insightful, and will often teach you something about the world you didn't know. They are also great places to find out about new projects in the tech world, such as DuoLingo, a language learning program that boasts that you'll get as comprehensive a language education as you'd get from Rosetta Stone, only for free. It's still in beta now, but check out Luis von Ahn's Ted Talk about it.
There are more online learning resources out there, but these websites are a great place to start.
Check out our other posts on how to use mobile tech to get started on and keep your new year's resolutions.