Nexus 5X vs Galaxy S6: 5 Things Buyers Need to Know
Last week Google unveiled another Nexus 5. It has been two years since the popular Nexus 5 was released in 2013, and this year Google went back to a smaller screen and wallet-friendly price. If you're in the market for a smartphone without a massive screen, debating the Nexus 5X or something like Samsung's Galaxy S6, below are five key things buyers need to know about.
After months of leaks, rumors, and photos, on September 29th Google took the stage and announced the Nexus 5X, and the bigger Nexus 6P. The Nexus 5X is what they hope will be a do-it-all smartphone, that won't break the bank. It delivers a 5.2-inch screen, fingerprint scanner and a great camera that should make it a worthy alternative to some of the other flagship phones released in 2015.
Read: Nexus 5X Release Date Breakdown
In an attempt to make as many buyers happy as possible, this year we received a 5.2-inch Nexus 5X, and a bigger 5.7-inch Nexus 6P. Both have bigger batteries than previous models, better cameras, and loads of new features to integrate with Android 6.0 Marshmallow. If you're considering the new Nexus 5X, here's what you should know.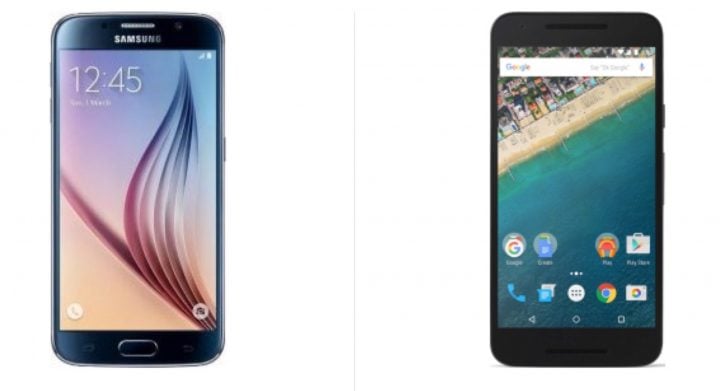 Samsung's Galaxy S6 has been available for quite some time, and we all know essentially everything and more about it already. It comes with a beautiful 5.1-inch Quad-HD display, a brand new design made entirely out of aluminum and glass, and has one of the best cameras inside of any smartphone.
However, for the first time ever the Galaxy S6 doesn't have a micro-SD slot or a removable battery, and this year Samsung actually made it smaller, coming in at just 2,550 mAh, which is smaller than the Galaxy S5 battery from last year. All of this makes it similar to the Nexus 5X, which doesn't offer expandable storage or removable batteries either. Both of these phones have some of the most up-to-date cutting edge hardware, amazing software, tons of additional features, fingerprint scanners, and some of the best cameras in the market. That's why buyers are likely debating one vs the other.
Last year the choice was probably pretty easy between the Galaxy S5 or the Nexus 6, as one was massive. Google's Nexus 6 had a huge 5.96-inch display and was extremely expensive. This year though, the Nexus 5X is smaller and comes in very similar to the Galaxy S6, although has a few different features and a lower price tag. There are a lot of similarities, but plenty of differences that buyers should be aware of, so lets get started.
Nexus 5X Release Date
On September 29th Google announced the new Nexus 5X and Nexus 6P. The Galaxy S6 has been available since April and many buyers probably already have one. But don't worry, it's a great phone and you made a good choice. However, those who are debating the two will want to continue reading.
The biggest question we've had for months full of rumors leading up to the Nexus 5X launch was the release date, and now we finally know.
Last week Google announced the new LG-made Nexus 5X, and put it up for pre-order the very same day. It's been available for pre-order since last Tuesday, and shipping estimates continue to climb.
The Google Store has shipping listed as "leaving the warehouse" in 3-4 weeks, but as more users pre-order, those dates are likely to get longer. Some who ordered it right away could get it before the end of October, but the more you wait the more the chances are it won't arrive until early November.
That means buyers have to decide if they can wait up to 3-4 weeks for the Nexus 5X, or possibly longer, or go to any Best Buy, Amazon, eBay, or carrier store around the United States and snag the impressive Galaxy S6 right now. Samsung recently dropped the price too, but it's still far more expensive, which we'll talk about in a minute.

As an Amazon Associate I earn from qualifying purchases.