Samsung Galaxy Note Edge Release Date Breakdown (U.S.)
The Samsung Galaxy Note Edge release date has arrived in the United States and AT&T, Sprint and T-Mobile are now offering the expensive curved alternative to Samsung's Galaxy Note 4 release. With that in mind, we want to take a look at what we still don't know about the Galaxy Note Edge release date in the U.S. and offer details, and expectations, to those looking to buy.
After several months of waiting, the Galaxy Note Edge is finally available in the United States. The Samsung Galaxy Note Edge is a concept phone and it's one that should be intriguing to those that are looking to upgrade to a high-end smartphone. The Galaxy Note Edge specs include a curved Quad HD resolution display, a 2.7 GHz Quad-core Snapdragon 805 with 3GB of RAM, Android 4.4.4 KitKat with Samsung TouchWiz, 16MP camera with Optical Image Stabilization, massive battery, and a thin 8.3mm frame. It also comes with an S Pen stylus.
It's a device that many U.S. buyers have been curious about since September and today, AT&T, Sprint and T-Mobile finally are stocking the Galaxy Note Edge on their virtual and physical shelves. This means that prospective buyers can finally get hands-on with the device, something that we suggest doing given all of its unique traits.
There are, however, some things that we still don't know about the Samsung Galaxy Note Edge release date, lingering questions that have dragged on for more than two months now. While we have some vague answers to these Galaxy Note Edge release questions, the concrete answers remain shrouded in mystery.
With the Samsung Galaxy Note Edge release date now live in the U.S., we want to address those questions and provide as many details as we possibly can to those affected. We also want to outline everything else we know about the U.S. Galaxy Note Edge release date in this extensive release day breakdown.
AT&T Galaxy Note Edge
The AT&T Galaxy Note Edge has been available in select AT&T locations since last week but today marks the beginning of what should be a much wider release for the new Galaxy Note variant. Both versions of the Galaxy Note Edge, white and black, are available through AT&T's online portal and stores around the United States should have stock on hand right now to accommodate buyers.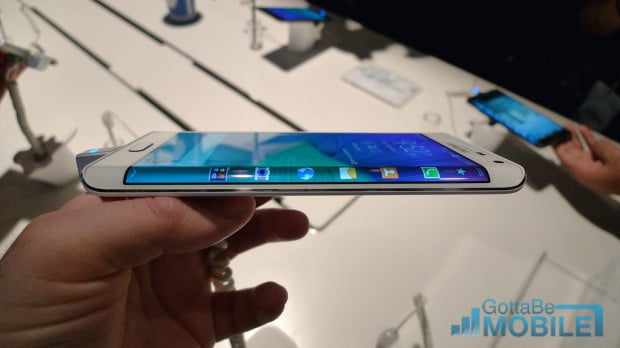 Best Buy, a closer partner with Samsung, says that the Galaxy Note Edge will be coming soon to its shelves though it's not clear when the retailer might start offering the device. Amazon, another retailer that typically carries Galaxy-branded devices, has not put the Galaxy Note Edge up for sale and it's not clear if it will down the road. For now, the AT&T model appears limited to AT&T and Best Buy.
On-contract, the Galaxy Note Edge is going to cost $399.99, or, $100 more than the Galaxy Note 4, a device that shares a lot in common with the Galaxy Note Edge. Off-contract, it's going to run you $945.99. That's way more expensive the Galaxy Note 4 and far more expensive than most smartphones. So, buyers will want to be sure about the device before making a decision.
Sprint Galaxy Note Edge
Sprint is also carrying the Galaxy Note Edge today though it appears that Sprint and Sprint alone has it in stock. Best Buy says that the device will be coming soon though it's only stocking the black model. Sprint also is carrying the black model and the black model alone online and it's not clear if the white Galaxy Note Edge will be stocked in the future.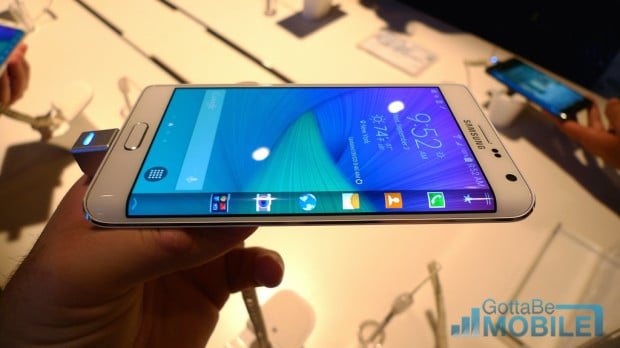 We now know why Sprint was hiding its price point. The company is charging $430 on-contract for the Galaxy Note Edge. That's a steep price for anyone and it's $30 more than its competitors. It's also offering the Galaxy Note Edge through its Sprint Easy Pay program but it's not any cheaper there. You're going to have to pay well over $800 for the privilege of owning this smartphone.
T-Mobile Galaxy Note Edge
T-Mobile's Galaxy Note Edge is on shelves as well though it too seems to be limited to the carrier. We should note that retailers like Best Buy never stock T-Mobile phones so if you're looking to buy on Magenta, you're going to probably need to head down to a physical retail location or buy directly through the carrier online.
The carrier does not offer devices on-contract and its Galaxy Note Edge is currently going for $870 off-contract with $0 up front. That's cheaper than AT&T but it falls in line with what Sprint is charging for the Galaxy Note Edge.
U.S. Cellular Galaxy Note Edge
The U.S. Cellular Galaxy Note Edge release is confirmed but release date and pricing details are still missing. Earlier this month, we saw the U.S. Cellular Galaxy Note Edge cruise through the FCC, a sign that an announcement could be very close. It's also a sign that the carrier is not bailing on the concept phone. That said, we don't know when it will arrive or how much it will cost when it does. A few notes about that though.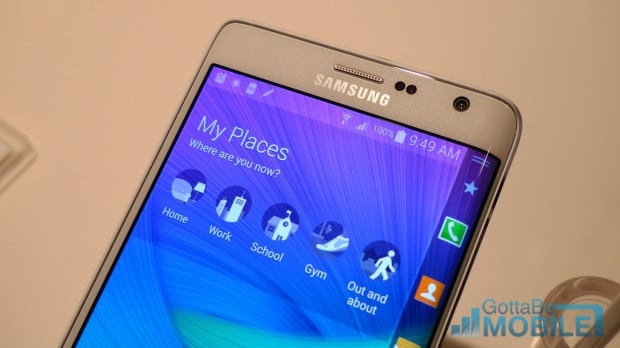 First, we don't expect it to be too far behind. It's already past the FCC and U.S. carriers typically cluster release dates around one another. So while it may not be out this week, there's a good chance that it will land in November ahead of Black Friday. That's the start of the holiday shopping season and we expect carriers to get their goods out in time for shoppers.
As far as price is concerned, we know that it's probably going to be expensive. We also know that U.S. Cellular typically matches the on-contract and off-contract price points of its rivals. So, we would expect it to land in and around $399.99 on-contract and somewhere between $850 and $900 off-contract. Look for details to get confirmed soon.
Verizon Galaxy Note Edge
Still no sign of the Verizon Galaxy Note Edge release date, Verizon Galaxy Note Edge price, or the Verizon Galaxy Note Edge FCC filing. In other words, it still could be a little ways from touching down.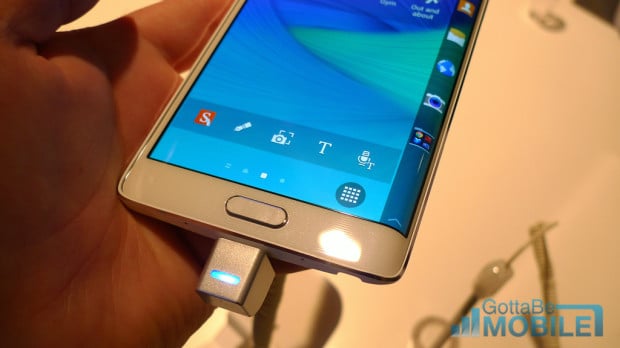 This would not be the first time Verizon released a phone much later than its rivals though we do expect the carrier to get it out either before or shortly after Black Friday. There are simply going to be too many eyes in malls and stores for it to launch way late in the year.
We expect the carrier's price point to match its rivals, namely AT&T. On-contract, we expect $399.99 or so with an off-contract price between $850 and $900. Look for details to emerge in the days ahead as Verizon makes final preparations. We also would not expect a pre-order this late in the game.
Galaxy Note Edge Deals & Accessories
We haven't seen any Galaxy Note Edge deals emerge today and we're not expecting any huge deals to emerge in the days after its release. This is a concept phone, and an expensive smartphone at that, so there is really no incentive for carriers and retailers to drop the price right off the bat. With Black Friday coming up, we could see someone offer some kind of trade-in or a bit of a price cut but we would not expect a fire sale anytime soon.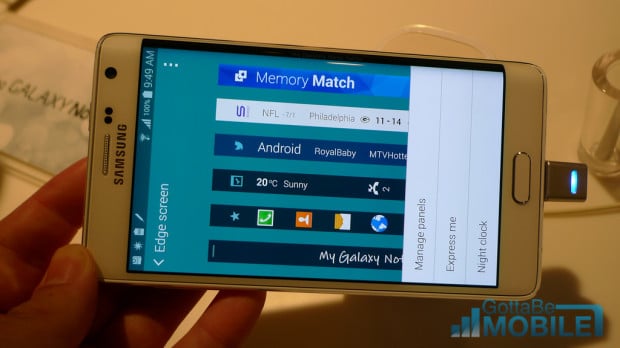 Galaxy Note Edge accessories are available throguh individual carriers, through Amazon, and through Samsung itself. We expect more accessories to emerge as we push away from the release date though you shouldn't expect to see the same kind of variety that we usually get with the Galaxy S or Galaxy Note. This is a unique smartphone with a curved display and perhaps, a limited shelf life. Accessory makers are probably not going to be pushing full steam ahead for it.
Have a look at our Samsung Galaxy Note Edge release date tips. They will help you plan ahead if you're thinking about buying the Galaxy Note Edge in the near future.

This article may contain affiliate links. Click here for more details.