October Pixel Android 10 Update: What to Know
Google recently released its first monthly Pixel Android 10 update, which they do at the beginning of every month. It's available as of October 7th, 2019 and delivers some important changes and fixes for the Pixel 2, 3XL, 3a and the entire Pixel family of phones. Here's what owners need to know, what's changing and how to get the latest monthly update right now.
Every month Google updates the Android software stack to improve security, increase performance, patch exploits or issues and fix any lingering problems. This is the first monthly update of Android 10, so it's a big deal and an update you'll absolutely want to accept and download right away. Here's more info.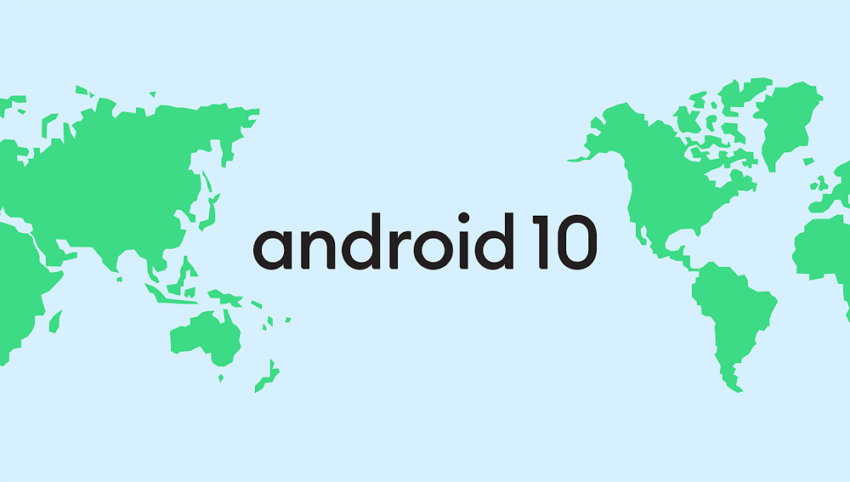 Essentially, your Pixel, Pixel XL, Pixel 2, Pixel 2 XL, Pixel 3, Pixel 3 XL, and Pixel 3a will get a new update this week with the latest, greatest, fastest and most secure version of Android 10 available.
Update: As of October 11th we're still seeing reports that not everyone got the update. Expect it to arrive before the end of the weekend. Also, Pixel units on Verizon are showing an "R" for roaming, instead of 4G LTE at the top of the phone, which is a known problem. Verizon Pixel phones may get a second Android 10 update which should fix this problem.
Supported Devices
Pixel and Pixel XL (all Android 10)
Pixel 2 and Pixel 2 XL
Pixel 3 and Pixel 3 XL
Pixel 3a and Pixel 3a XL
Unfortunately, it looks like Google continues to leave the older Pixel C tablet out. However, next month we'll see the new Pixel 4 family join this list.
October Android 10 Update for Pixel Devices
Google releases the latest security updates on the first Monday of every month, which is Monday, October 7th, 2019 this month. Expect an over-the-air update notification today or tomorrow, or you can manually check for it in the settings menu. The check for updates button should work now, too.
Google shared more info about the changes on the Android security bulletin, and device-specific info at the Pixel security bulletin page. Overall we're seeing 30+ patches that will help keep your Android device safe.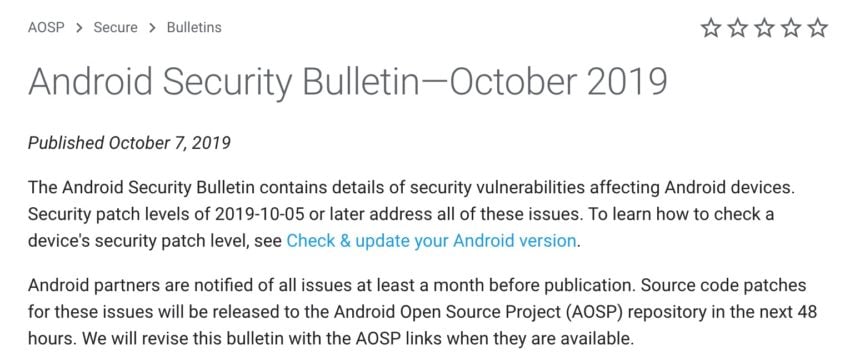 This month you'll get several "critical or high" patches that improve security, but that's not the most important part of this update.
Being the first monthly release since Android 10 officially came out, Google made some big changes to improve the overall experience for all phones running Android 10. The most notable fixes include changes to WiFi and Bluetooth, heads-up notifications which were missing in 10, memory leaks that caused performance issues, stability fixes and a change to gestures. Here's the shortlist provided by Google.
This is a pretty big list of changes, even if they seem minor. While the monthly August and September updates were important, this one is more important as it's the first one since the search giant released Android 10. Basically, you'll want to update right away.
Download the October Pixel Android 10 Update
If you'd like to get this newest version of Android for your Pixel device now, instead of waiting, you can download or flash it from the links below. That said, we're already seeing the update hit most devices, so we recommend waiting for the OTA instead of manually downloading the files.
Download Factory Images
Grab OTA Update Files
When Will I Get the Update?
Lately these updates arrive almost instantly, or within 24-48 hours of the announcements going up online. As expected, my smaller Pixel 3 already got the October release this morning. So, expect an over-the-air update notification within an hour or two. If not, it'll most likely arrive within the next 24-48 hours. While some people may have to wait a few days, the wait is usually less than a day.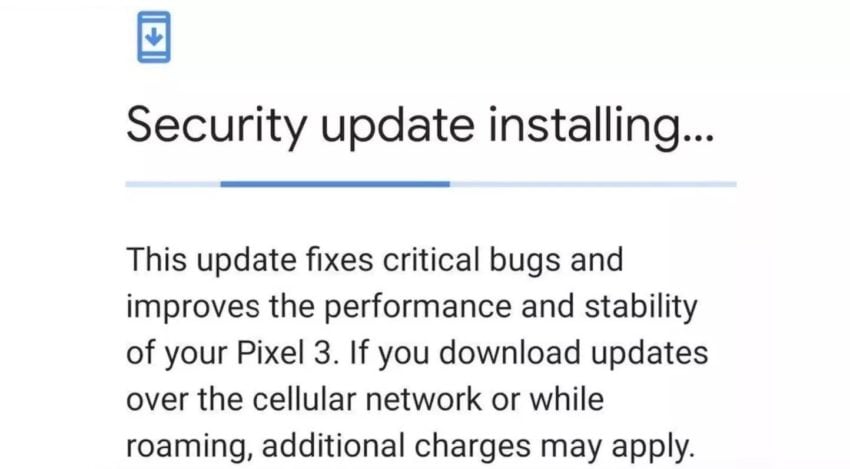 You can also go to Settings > System > System Update > Check for Updates to get it immediately. This pulls the update from Google's servers to your phone. The entire process should take less than 10 minutes. From downloading to installing and rebooting on Android 10.
What's Next for Your Pixel
With all the changes and fixes from the July, August, and September updates, Pixel devices ran great. However, Android 10 introduced a few new issues even after a long 6-month beta period. Google is still working out a few kinks, but this is a good first step.
Now that we're on the official Android 10 update, the next step is to simply improve the experience, fix bugs, and tweak the software for the best performance each and every month. We doubt Google will release Android 10.1 anytime soon, but it's certainly possible. For now, just expect an update this week, and another on the first Monday of the month in November and December.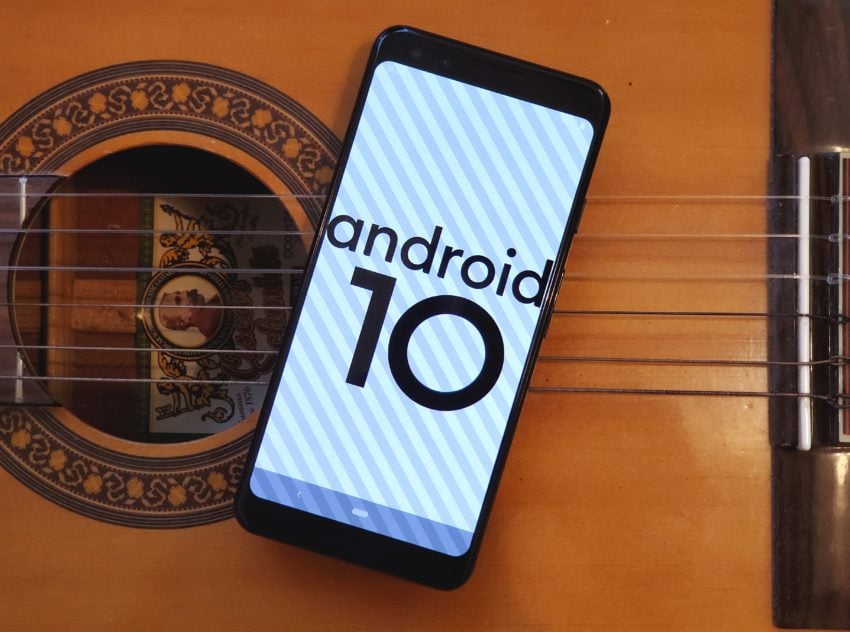 Keep in mind that this update is only for the Google Pixel lineup. Other phones from Samsung, LG, or OnePlus are waiting for updates from the makers. Basically, this update doesn't apply to you yet unless you have a Pixel, Essential Phone, or maybe a OnePlus phone as they're pretty quick to updates.
What's actually next, however, is the beta of Android R sometime in March of 2020. That's a long ways away though, and for the next several months Google will refine Android 10 before turning attention to the next version of Android that'll arrive next year. So, get the latest October Android 10 software for your Pixel 1, 2, or Pixel 3 and let us know if it fixes your problems.
Then, stay tuned for more details in the near future and about potential bug fixes. That, or just wait for and buy the new Pixel 4.

As an Amazon Associate I earn from qualifying purchases.