Old Sony Ericsson XPERIA Windows Phone 7 Handset Spotted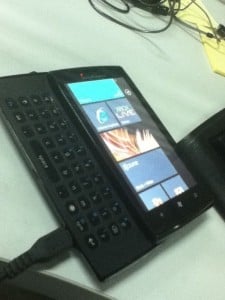 A leaked image of a Sony Ericsson Windows Phone 7 smartphone was shown on WMPU. However, the UI displayed on the phone's screen suggests that this potential XPERIA handset may be an old leaked prototype, though Sony Ericsson has been reported in recent news to be mulling a Windows Phone 7 release–the company has released a number of Android handsets after having toyed with Windows Phone 7's predecessor, Windows Mobile.
It's unclear as to the reasons why Sony Ericsson still have not released a Windows Phone 7 device, but there are speculations that suggest that the company could not reach a compromise with Microsoft over Xbox Live, a key selling point of Windows Phone 7. Sony Ericsson, which is half-operated by Sony, a company which has a rival gaming platform to Microsoft's Xbox in the form of the PlayStation. Sony Ericsson has recently announced its own PlayStation Phone in the form of the XPERIA Play.
In 2010, Sony Ericsson was rumored to be working on a Windows Phone 7 device called the Julie, which supports a 1 GHz processor and a 4-inch screen along with a sliding keyboard, similar to the device shown in the picture. Whether that device was scrapped or recycled as an Android smartphone design for the XPERIA Pro is unknown–the XPERIA Pro sports the same form factor and uses a Qualcomm Snapdragon CPU along with a 3.7-inch display.

As an Amazon Associate I earn from qualifying purchases.