OnePlus 7 Release Date, Leaks, News & Rumors
With the OnePlus 7 release date under two weeks away, news and rumors continue to pour in and reveal new secrets. From official photos, full specs, and even pricing information. The company is set to release two phones to take on the Galaxy S10 and upcoming iPhone 11. Those are the OnePlus 7 and OnePlus 7 Pro, and here's everything you need to know.
The OnePlus 6T was one of our favorite phones of 2018, and its successor(s) in 2019 will be even better. Sporting a bigger truly bezel-free display, pop-up selfie camera, and triple cameras on the back, it's poised to be one of the best devices of the year.
If you're asking yourself "when does the OnePlus 7 come out?", "should I wait for the OnePlus 7?" or are wondering how much cheaper it'll be compared to the Galaxy S10 we have you covered.
What is the OnePlus 7?: The company's latest high-end phones with an affordable price
What to expect: Regular OnePlus 7, then a bigger OnePlus 7 Pro with a bezel-free display (no notch or hole), triple rear cameras, in-display fingerprint sensor (2-3 different phones in 2019)
OnePlus 7 Price: Anywhere from $499-$749 depending on the model
Now that you know a few of the basics and we've answered some important questions, here's all the rest of the nitty-gritty details.
OnePlus 7 Release Date
First things first, the wait for OnePlus' new phone is almost over. Unfortunately, each year the release date changed a bit so we don't have a concrete roadmap to follow. That said, the company already announced a May 14th launch event, and we're hearing that could be the release date too.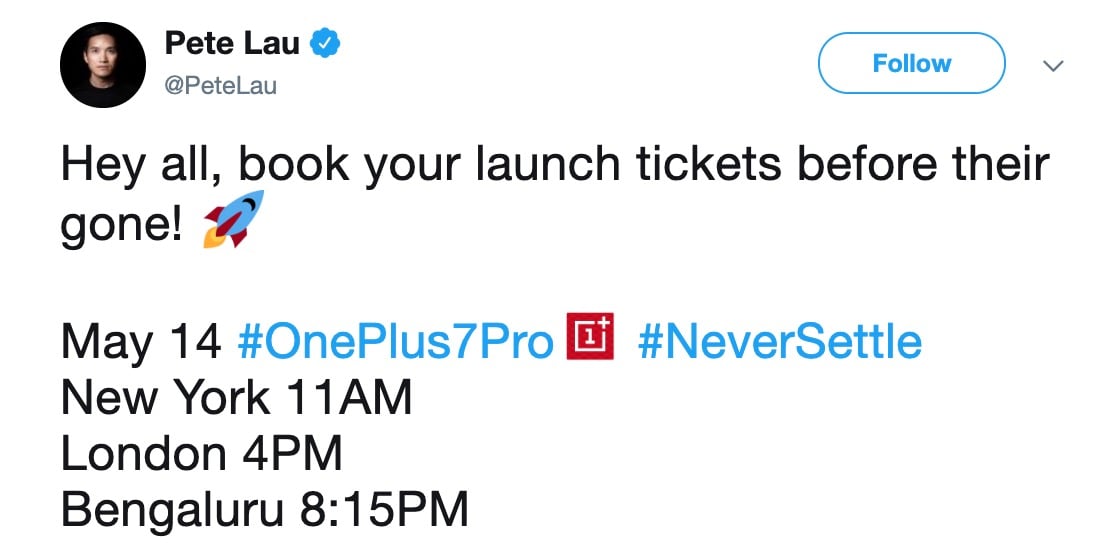 And while early information suggested a May 14th arrival, now we're hearing talk that while the 14th is the launch event, the OnePlus 7 release date could actually be May 17th. They'll either release it the same day as the launch event or a few days later.
We've seen several OP phones arrive in May, so this information lines up with previous years. Plus, we just saw a price drop for the OnePlus 6T, potentially signaling a release of the seven.
OnePlus 7 Leaks & Rumors
For the first time in OnePlus' short history, they'll release two phones at the same time. Leaks confirm a "smaller" regular model with a 6.4-inch 1080p screen, just like the OnePlus 6T, with the teardrop notch in the screen and all. That is the regular OnePlus 7. However, then, they'll also release a bigger better OnePlus 7 Pro with no notch at all. A truly bezel-free screen like the device in most of these images and shown below. Here's an all-new image of the OnePlus 7 Pro in Blue. It looks stunning — with no notch, a big curved display, and sleek design.
Instead of a notch like Apple and a camera cutout in the screen like Samsung, the OnePlus 7 Pro will feature a truly bezel-free screen and a pop up front-facing camera. Yes, a little mechanical motor pops the 16MP front camera up, quickly, when you're ready to take a selfie or use Snapchat, as you see below.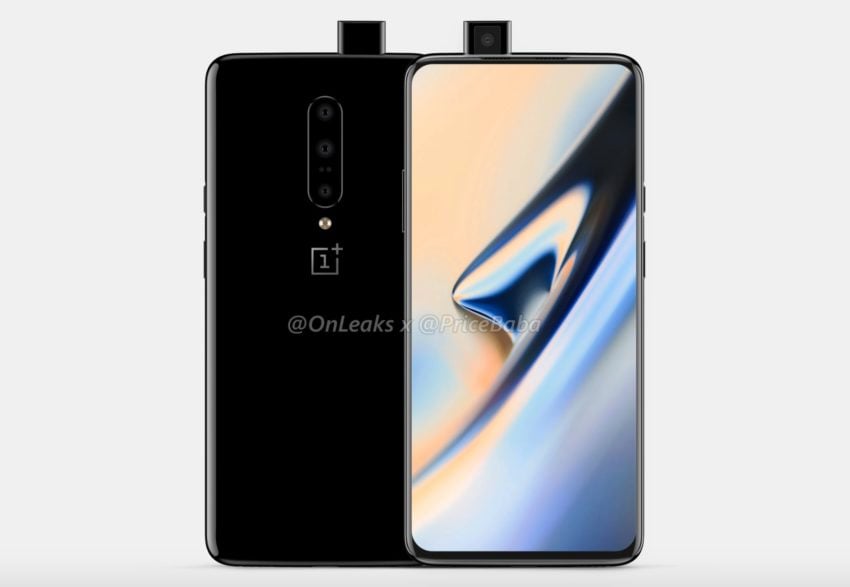 Personally, I think this is a great idea. I'd much rather have a popup camera than a hole in my screen, as long as the popup is fast and doesn't break over time. Plus, a lot of people never use the front camera, so this benefits them too. Then, reports point to enhanced triple cameras, a new processor, 8-10GB of RAM, or even 12GB, an improved and even faster in-display fingerprint sensor, 5G support, and a bigger 6.67-inch bezel-free screen.
We're also anticipating the biggest battery ever in a OnePlus phone, faster charging, Android 9 Pie, support for the Android Q beta and more. Unfortunately though, it looks like the phone will not have a 3.5mm headphone jack, no wireless charging, and still won't offer an IP water-resistant rating.
Adding fuel to the leaks and rumors is a big OnePlus 6T price drop. Suggesting the OnePlus 7 will be here sooner rather than later.
More OnePlus 7 Pro Info
For months we've been saying OnePlus would release two different versions of the OnePlus 7 this year to better compete with Samsung and Apple. And we're not talking about the OnePlus 7T later this year. That's a different launch entirely and still coming this fall. In April after some exciting new leaks, that's exactly what's coming. OnePlus themselves have confirmed the second bigger OnePlus 7 Pro, and it's actually the main phone they're talking about leading up to the event.
The OnePlus 7 Pro isn't just a bigger screen either. It's reportedly a Quad-HD Super AMOLED curved screen with HDR10+ support and a 90Hz refresh rate. Something even the Galaxy S10+ doesn't offer. Furthermore, DisplayMate recently awarded the bigger 6.67-inch OnePlus 7 Pro screen an A+ award, the highest rating possible. Folks, Samsung might be in trouble.
A huge part of the OnePlus 7 Pro will be "fast and smooth" and we're seeing that tagline everywhere. Mainly because the phone has tons of powerful internals, but also thanks to the new display technology. Most phones refresh the screen 60 times per second, but the OnePlus 7 Pro has a new 90hz refresh rate. That's 90 times per second, so it'll be smooth and super fast, or feel that way.
If the image above is real, the phone will sport a curved display similar to Samsung's Galaxy phones, more so than the curve on other OnePlus phones, and some powerful internals similar to the Galaxy S10+. Plus, this image of a retail box confirms the "Pro" moniker and a new "Go Beyond Speed" tagline.
Both the OnePlus 7 and the 7 Pro will apparently have 5G capabilities built in too, but the company isn't talking too much about that because 5G won't really matter until 2020. However, they're talking up the big bezel-free screen and those powerful new triple rear cameras.
OnePlus 7 Specs & Features
Obviously, it's still too early to know exactly what's coming but we're starting to see full spec sheets leak. OnePlus follows a similar upgrade path as Samsung, Google and others, so we're fairly confident in most of the information below.
OnePlus 7 Specs (Rumored)
6.4-inch 2440 x 1080p Full HD Optic AMOLED Display (regular model)
6.67-inch Quad-HD Super AMOLED 90Hz Curved Display, no bezel (Pro model)
Snapdragon 855 Processor (same as S10)
RAM/Storage options: 6+128GB, 8+256GB, 12+256GB, no micro-SD slot
Triple Cameras: 48MP f/1.6 OIS + 8MP f/2.2 telephoto zoom with OIS + 16MP Ultra-wide angle PDAF sensor (Dual 48+8MP on smaller 7)
16 Megapixel f/2.0 Front-facing Pop-up Selfie Camera
Android 9 Pie with Oxygen OS 9
Screen Fingerprint Unlock
4,000 mAh battery with Super Fast 30w Warp Charging
Splash-Resistance
BT 5.0, NFC, 4G LTE, alert slider, NO 3.5mm headphone jack
5G Technology and more
Again, this information hasn't been officially confirmed but we're fairly confident in all of the above numbers. Simply because that's the only direction for the company to go, the natural progression of technology, and thanks to leaks from reliable sources.
Either way, this is one premium, fast, and high-end phone with all the bells and whistles. The OnePlus 7 will give the Galaxy S10 a serious run for its money. And the Pro will take on the S10+ for a few hundred dollars less. Check out our OnePlus 7 vs OP7 Pro guide right here.
OnePlus 7 Cameras
Perhaps the biggest and most exciting new feature aside from the bezel-free display will be the new triple camera setup on the back of the Pro. One of the only downsides to every OP phone is the camera. And, with all of the competition offering two, three, or even four rear cameras, OnePlus will finally add a 3rd camera and hopefully bridge the gap between its camera and the likes of Samsung or Google.
Triple Rear Cameras on OnePlus 7 Pro: 48MP f/1.6 OIS + 8MP f/2.2 telephoto zoom with OIS + 16MP Ultra-wide angle PDAF sensor
Dual 48+8MP on smaller 7
16 Megapixel f/2.0 Front-facing Pop-up Selfie Camera
This year OnePlus will do something similar to Samsung and offer a regular camera, wide-angle, and a telephoto lens. The best of all three worlds. And if these leaked photos are any indication, it takes great photos. Leaks do say the front camera is 16MP this year, instead of 20MP, but that's probably due to fit the lens in the pop-up contraption.
We're even hearing they'll retain the face unlock feature, where you can wake the phone and the camera on the 7 Pro will pop-up and scan your face, but we'll have to wait and see.
OnePlus 7 Price
Here's where things get interesting, exciting, and is what makes this company so wildly successful. They offer some of the best Android phones money can buy for hundreds less than the competition. However, everything we know about OP pricing is about to change.
We believe the company will still deliver it's usual affordable OnePlus 7 for around $529, then give buyers extra storage or RAM for a little more money.
However, now that we know they'll offer bigger 7 Pro with a fancy screen, the pricing structure from previous years doesn't work. The CEO confirmed the new bigger 90Hz screen is 3x more expensive than previous models, but they'll still try and make the phone affordable. Here's what we think they'll cost.
OnePlus 7 – $529 starting price (6+128GB)
OnePlus 7 Pro – $699 (with 6GB RAM + 128GB storage)
OnePlus 7 Pro – $749 8GB RAM + 256GB
OnePlus 7 Pro – $819 12GB RAM + 256GB storage
If the company can keep the base 7 Pro at $699 or even $719, they'll have a winner on their hands. Not to mention it'll still be $280 cheaper than the Galaxy S10+.
That's just one of several reasons you should probably wait for this new OnePlus phone.
OnePlus 7 Carrier Support
Last year the OnePlus 6T finally penetrated the US market and T-Mobile put it in every store, online, and on shelves everywhere. Instantly making this niche market smartphone a super popular Samsung Galaxy competitor.
And while we don't think every carrier is on board in 2019, expect the OnePlus 7 and OnePlus 7 Pro to both be sold by T-Mobile, Verizon, and hopefully even AT&T. That's in addition to unlocked models online.
Other OnePlus 7 Details, News & Rumors
This is about everything we know so far. There are a few other rumors floating around but at this point, we know almost everything already. We could see a few curveballs to pricing, battery size, carrier support or the release date, but again, we're confident with the information reported above.
Stay tuned for more information come May 14th.

As an Amazon Associate I earn from qualifying purchases.