7 Reasons to Wait for the OnePlus 7 & 5 Reasons Not to
The OnePlus 7 is an impressive new smartphone coming soon to take on the Galaxy S10 and iPhone 11. And since we already have a good idea of what to expect, here are a few reasons why you should wait for the OnePlus 7 release date, the OnePlus 7 Pro, and a few reasons not to.
All of these exciting leaks and rumors about the OnePlus 7 should catch your attention, especially when you see that pop-up front-facing camera and truly bezel-free display. Not only will the OnePlus 7 and OnePlus 7 Pro deliver a next-gen experience and be great, but they're the true successors to the OnePlus 6.
OnePlus 7 Rumors (May 2019)
As we push deeper into 2019 more OnePlus 7 leaks and rumors continue to emerge. Now that the release date is just a week away, we know almost everything about both OnePlus 7 phones that are coming on May 14th. And considering they'll match or beat the Galaxy S10 series and be more affordable, people are paying attention.
OnePlus' next phones are almost here, and at this point, we've seen enough and simply want to buy one. It looks like May 17th is the day, with early access given to T-Mobile in the U.S. on May 14th.
For starters, the image above is reportedly an all-new OnePlus 7 Pro with a bigger display and curved edges like most Samsung Galaxy devices. This will arrive at the same time as the regular OnePlus 7, which might end up looking very similar to the OnePlus 6T from last year. Basically, giving the company two different phones to offer buyers, similar to Samsung and Apple.
Then, reports point to enhanced triple cameras, a new processor, 10-12GB of RAM, an improved and even faster in-display fingerprint sensor, 5G support, and more. The regular OP7 will stay at 6.4-inches while the Pro will pack a 6.67-inch 90Hz Quad-HD panel.
Originally, leaks suggested the OnePlus 7 would have a sliding design to house the front camera. Where the entire frame slid down to reveal the front-facing camera. However, now we're hearing it'll have a small notch just like the 6T. Then, the bigger Pro will have a mechanical pop-up front-facing camera that ejects from the top where some phones have a SIM card tray. You can see what we mean in the video at the top of the page which leaked in March of 2019.
A few months ago I would have told you to buy the OnePlus 6T. However, with the new Galaxy S10 here and the OnePlus 7 and a Pro model just a week away, you should totally wait.
We're getting ahead of ourselves though. For now, our guide below will take you through some reasons to wait for the OnePlus 7 and some reasons you probably shouldn't wait.
Wait For A Bigger, Better Screen & Powerful Specs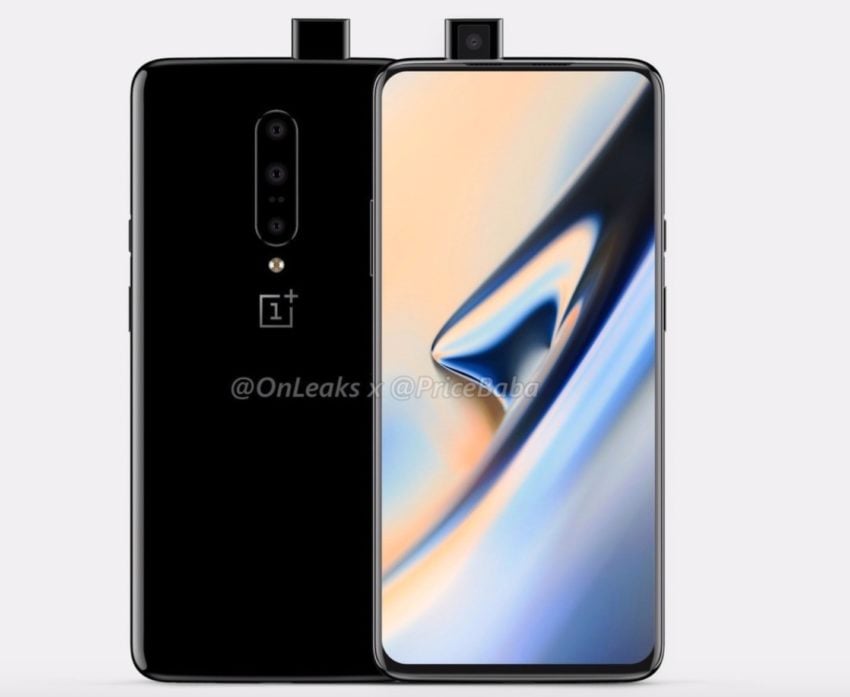 Every year OnePlus makes big improvements to both its hardware and software. In fact, over the last few years, OnePlus has delivered phones that compete with (or beat) the very best Android has to offer. And usually, it beats the competition while costing less money.
The OnePlus 6 is as good or better than the Galaxy S9+ or Note 9, yet it's only $529. With the OnePlus 6T they shrunk the bezels and added an in-display fingerprint sensor before Samsung or Apple were ever able to, etc. They make big and meaningful changes each year.
We're expecting that trend to continue with a big screen and plenty of horsepower on the OnePlus 7. Basically, wait for the 7 if you can. Or better yet, wait for the OnePlus 7 Pro.
You can expect the latest Snapdragon 855 and likely even more RAM. Not to mention a bigger 6.67-inch screen in a package that's the same size as earlier models. That's thanks to no notch for the front camera and a thinner "chin" bezel at the bottom of the screen. Truly pushing the screen from "edge-to-edge". Our image above shows the bezel-free design and a small area that pops up to house the front camera.
Plus, we could even see a few surprises like 12GB of RAM, although that seems excessive and unnecessary. But Samsung did it, so they might too. Plus, a new leak claims the screen is for sure 6.67-inches and gets powered by a massive 4,150 mAh battery.
Either way, this will be OnePlus' biggest, best and fastest phone and likely give the Galaxy S10+ a run for its money.

As an Amazon Associate I earn from qualifying purchases.