Oprah Winfrey's Weight Watchers Secret to Losing Weight
What's Oprah Winfrey's weight loss secret? A new Weight Watchers ad features Oprah Winfrey talking about how she lost 26 pounds eating bread every day.
The secret to this astounding weight loss story is, as you suspect the Weight Watchers program.
There are two weight loss apps that Weight Watchers offers to users, and that Oprah Winfrey likely used to help her "manage" her love for bread and what she eats.
In a tweet, complete with video professing her love for bread, Oprah Winfrey invites users to #ComeJoineMe in a weight loss program that lets users manage what they eat with an app and a website.
Although this is clearly an ad, there is no arguing results, and Oprah Winfrey's weight loss of 26 pounds is a feat.
Eat bread. Lose weight. Whaaatttt? #ComeJoinMe https://t.co/jUgpk9ToXYhttps://t.co/xtnB53EwSf

— Oprah Winfrey (@Oprah) January 26, 2016
The video above is a short look at Oprah Winfrey's Weight Watchers success story, including how she ate bread every day and still lost weight.
Tune in to Weight Watchers at 8 PM Eastern on January 27th for a one hour Q&A with Oprah.
Oprah Winfrey Weight Loss Apps
Here is a look at the two weight loss apps Oprah Winfrey likely used to help her achieve this goal. Although Oprah didn't specifically mention these apps, both are a part of the Weight Watchers weight loss plan.
Weight Watchers App
The flagship solution to managing your cravings and what you eat on Weight Watchers is the Weight Watchers app that uses SmartPoints to make choosing what to eat each day, and accounting for splurges, easier.
You must be a member of Weight Watchers to use the app. You can search for food by name or you can scan a barcode to get instant information. Instead of counting calories and other nutritional information you only need to track the point value that boils this down to something that is easier to track.
Download Weight Watchers for iPhone or Android
Weight Watchers Fitbreak App
A companion app is the Fitbreak app that challenges you to build short 1-minute fitbreaks into your day.
The app will alert you throughout the day with small active tasks you can complete in a minute to boost your activity level. By default the app suggests 20 fitbreaks, but you can move this up or down based on your time.
Download Fitbreak for iPhone to find time to move in your busy schedule.
If you want to use these weight loss apps you will need to join Weight Watchers online or meetings. You can join for free through the middle of March, after that it is $19.95 a month. There is currently a promotion to get a refund on your first two months of paid membership if you lose at least 10 pounds.
Users who want to lose weight without paying a monthly fee can check out our selection of the best weight loss apps for iPhone and Android. We used these apps to lose 25 pounds last year and are managing our weight with them in 2016. Most of these weight loss apps are free, but there are paid options if you need more support or options.
11 Best Weight Loss Apps in 2020
Lose it Weight Loss App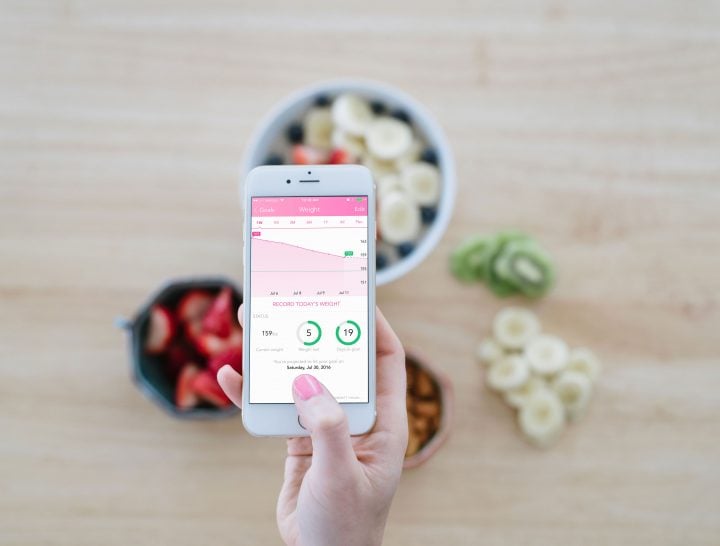 Lose It is a free weight loss app for iPhone and Android that helps you achieve sustainable healthy weight loss. This tool includes an app as well as a website so you can see your information on your computer as well.
You can connect to people, your various devices and food information that will help you lose weight with smart decisions. Lose It helps you create a personalized weight loss plan with goals that include a goal weight as well as total wellness and fitness.
The app includes access to a verified food database that helps you track your calories with easy searching, or add custom foods and you can share recipes. You can also scan a UPC to add food.
Lose It connects to other apps like RunKeeper, Nike+ and a variety of devices and scales to help you track all of your fitness data easily and intelligently. You can create goals with a group of friends, challenge friends or yourself and get support from the group to stay on track.

Lose It is free, with a $39.99 premium option that includes much more tracking, meal planning and other upgrades.