Pinterest for Android Pins Spam to Your Notification Bar

Pinterest for Android is a poorly designed app, but worse than lots of crashing, it also brings along spam ads that are known to be full of tricks and potentially scams.
In case you aren't aware, Pinterest is the latest social media craze, providing users with a fun way to pin, or share, their favorite websites, photos, recipes and more.The Pinterest website is interesting, and the iPhone app is easy to use, but the Android app is awful.
There's a reason for that. The Pinterest App for Android isn't really an app, and it isn't from the people behind Pinterest. Look at the screenshots below to see examples of these ads in the fake Pinterest for Android app.
If you install Pinterest for Android, you are simply directed to the mobile website, and you will soon get notifications telling you that you have won a free iPad 2 or prompting you to download MP3s for free. These ads don't show up in the app, but rather in your notification bar as you can see above.
This is annoying and potentially dangerous if you hand over your login information to a third-party or respond to these offers, which are at the worst scams or at the least designed to prevent you from getting anything of value.
I used the Addons Detector from the Android Market, and followed this guide to finding out which apps are sending ad notifications in Android with a green plus sign in the notification bar. I found out that the fake Pinterest app was the culprit. Addons Detector found that this app was using AirPush and Leadbolt to send these annoying ads to Android phones, pretending to be from Pinterest.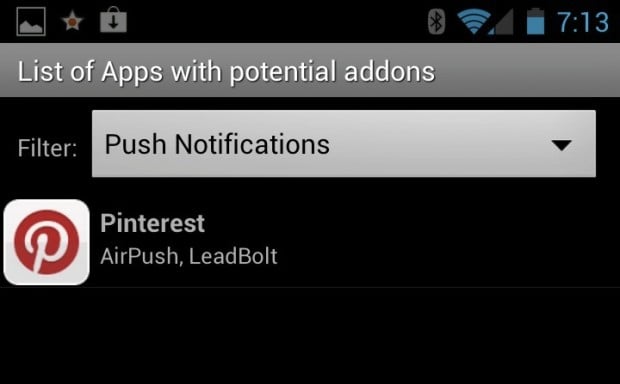 If you are getting these notifications, the easiest thing to do is to uninstall Pinterest from your Android phone and go back to using the mobile website.
This is another example of why Google needs to spend more time and resources keeping the Android Market clean. The app clearly claims to be from Pinterest, and if you try to visit the developer's address you get a parked landing page at GoDaddy.
Get with it Google. If you use Pinterest, pin this to help keep other Pinterest users from getting annoying spam notifications on Android.

As an Amazon Associate I earn from qualifying purchases.