Google Pixel 2 XL uBreakiFix Repair Review
If you need to repair a broken Pixel phone take it to a uBreakiFix store, Google's official retail partner and walk-in repair center. I recently had the misfortune of shattering my Pixel 2 XL display, and here's a review of uBreakiFix and the repair process.
In short, the experience was amazing. I was able to call my local uBreakiFix store just outside of Las Vegas Nevada, take a quick 10-minute drive, and get my Pixel 2 XL screen replaced in under one hour. Repaired with official OEM parts supplied directly by Google.
Read: 5 Best Smartphone Screen Repair Options
A cracked smartphone screen can ruin your day and, if you don't have the right repair options, it could ruin your month. That's why Google and Samsung both partnered with uBreakiFix, now that they have over 450 stores throughout the US and Canada.
uBreakiFix is Google's official retail repair center
They offer same-day screen repairs & much more
Easy to find with more than 450 stores in the US & Canada
Pixel 2 XL screen replacement is $99 with insurance or $219 without
[letsreview]
What Devices Can uBreakiFix Repair?
Before we get into the overall repair experience, we wanted to briefly mention what devices you can take to the store. Being an official retail partner of Google, Samsung and others, they'll repair almost any device you own. Whether that's phones, tablets, laptops, cameras, game consoles and more.
However, for mobile users, you can take everything from your old Nexus 4 or Nexus 5 to the new Pixel 3 XL. They offer replacements and repairs on almost everything from Google.
My Pixel 2 XL Screen Replacement
Even with a big Spigen Tough Armor case, one unlucky drop shattered my Pixel 2 XL screen. It managed to perfectly land display-down, on a few pebbles or rocks, and that was the end.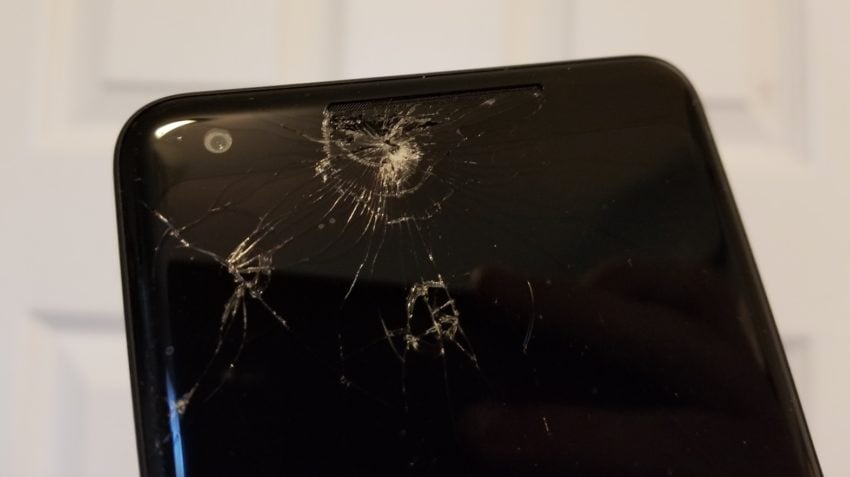 I called the nearest uBreakiFix store in town and spoke with the owner, Daniel. He was extremely friendly, knowledgeable, and professional. He explained the pricing with or without Google's Preferred Care insurance and told me to come down whenever I could. I drove down immediately.
Once I arrived the process went as smooth as possible. An employee quickly helped me the moment I walked in the door. He even went and found Daniel, the owner, who I spoke with earlier. After Daniel ran a quick and free diagnostic on my phone he confirmed the screen needed to be replaced, told me the price, and got the process started. From here, it's a pretty funny story.
I handed over the shattered Pixel 2 XL and then started chit-chatting with the store owner. We're both techies, love gadgets, and were rambling about all the leaks and rumors surrounding Google's new Pixel 3 XL. Before I knew it they were done with my phone.
Long story short, my Pixel 2 XL screen got replaced in around 30-40 minutes. uBreakiFix was so fast that after having a conversation with Daniel I went to leave he yelled, "wait don't leave, your phone is done".
It was that fast and simple. The screen looks the same as the day I bought the Pixel 2 XL, and there are no signs of a repair or entry anywhere. This was probably the easiest product repair I've ever experienced. I spent $99 and just over an hour (round trip) getting my Pixel 2 XL screen replaced.
uBreakiFix only uses official parts supplied directly by Google, Samsung, or any other partner. Basically, you know you are getting real OEM parts and not cheap knock-off screens from China.
Retail Store Presence and Experience
Most of the uBreakiFix stores in my city are rather small and located in strip malls or shopping centers. Like next to a nearby Subway, Starbucks or corner store. When you walk in you are surrounded by smartphone and tablet cases for all the biggest names. Whether that's an iPhone Xs case, the Galaxy S9+, or a Pixel 3 XL. They have multiple brands, case styles, screen protectors and more.
Each side of my store had chairs for people who want to wait, more accessories on the wall, and a big desk front and center where you go to get the repair started. It's that simple. You walk in, talk to the front desk, hand over your gadget, pay, and wait for them to fix your device.
Once you go back and get your newly repaired Pixel 2 XL they might suggest a durable Otterbox case that will protect the screen from your next accident.
All said and done, the stores are clean, modern, have nice accessories, and are very welcoming and accommodating.
Final Thoughts
In closing, I have nothing bad to say about the experience. It was fast, easy, hassle-free and somewhat affordable. It's never cheap to get a $900 phone repaired, but this was manageable. Of course, your mileage may vary, but I enjoyed the entire process, except for having to pay for it.
Better yet, walking into a store and getting your phone fixed in a few hours, or even 1-2 days, is better than mailing it off, hoping the package doesn't get lost and going without a phone for a week or two. You really can't beat the local store and quick turnaround.
"A broken device shouldn't have to ruin someone's day," says Justin Wetherill, uBreakiFix's CEO. "We are thrilled to provide Pixel 2 and Pixel 2 XL customers with the quality repair service and exceptional customer experience that have come to define our brand."
The partnership offers same-day repairs, appointments, or even walk-ins. Plus, those with Google's protection plan can get their phone serviced in all uBreakiFix stores for any and all problems.
And finally, I wanted to mention that uBreakiFix does a lot more than just screen repairs. They replaced the motherboard and fixed my original Pixel XL in just three days. Essentially, these stores do a little of everything for Google, and they do it fast.
If you need your Google Pixel 1, 2, or 3 repaired or a screen replacement take it to uBreakiFix.