Plume for Android Delivers Premium Twitter Experience
Android users have many Twitter clients to choose from, but until last week there was no one client that stood out as the best Twitter experience on Android.
Enter the new Plume Twitter app for Android.
The new Plume app for Android delivers a collection of great new features to go along with a redesigned interface.
Users will immediately love the ability to swipe left or right to switch between columns, including personal Twitter lists.
Plume has also solved the 'Jump to top' problem that I complained about in my rant, Why Does Every Twitter App for Android Suck? Instead of relying on the menu button, users can now tap n the top of the list they are viewing to jump to the top. The target is still hard t hit at times, but it's a dramatic improvement over the previous method and way ahead of the competition.
The app also gained a tweaked default look that 'pops' a bit more. Plume is still a darker skinned Twitter client, but the new look feels less emo. Users also have the option of customizing colors.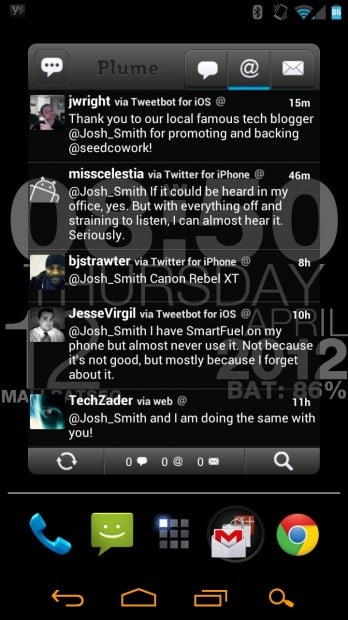 The Plume widgets look and work wonderful on my Galaxy Nexus, which isn't surprising considering that Plume comes from the team behind Beautiful Widgets.
The Tweet window is not new, but I love that the app includes easy access to the @ sign and # sign for replies and hashtags. This makes it easy to include others in tweets.
The recent update puts Plume at the top of te Android Twitter clients. I also no longer need to complain that all Android Twitter apps suck.
Download Plume for free from Google Play.

This article may contain affiliate links. Click here for more details.