Polaroid SC1630 Android Smart Camera Phone Hands-On (Video)
While Samsung is asking users if the Galaxy Note is a phone or tablet, Polaroid is asking potential consumers of its SC1630 camera if that device is a camera or a phone. Polaroid has good reason to ask the question as the SC1630, which is being marketed as a camera first and a phone second, comes with Google's Android Gingerbread OS, Android Market, and a host of connectivity options, but it does also sport a great 16-megapixel camera sensor as well as 3X optical zoom and 5X digital zoom. The optical zoom part is unique for the U.S. market where cell phones typically just come with digital zoom.
Having an optical zoom will make it easy to capture images from far away with less blurring and noise when compared to capturing the same image with digital zoom.
There's also a Xenon flash, which is the flash used on the Nokia N8, that produces bright images in dark environments with colors that are more realistic than an LED flash.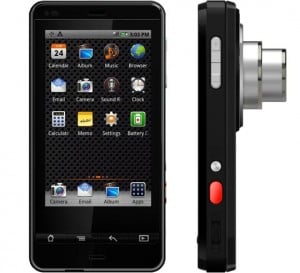 The SC1630 has a shutter speed of 1/1400 and aperture of f/3.1 – f/5.6. ISO goes up to 3200.
The device is anticipated to land this Spring for $300 with a two-year contract. Polaroid is still in negotiations with carriers to offer this phone.
In my hands-on experience with the camera phone, the buttons feel a little plasticky, and the device is on the thick side to accommodate the optical zoom.
Polaroid is already working on an SC1630 successor, promising an even larger touchscreen and thinner form factor. The company says that the successor model will have an even better build quality. The next version may also up the connectivity to 4G LTE as the present version is a GSM 3G model with a SIM card. 4G LTE will give the device even faster upload speeds and users can surf the net with up to 10 times the download speeds of 3G.

As an Amazon Associate I earn from qualifying purchases.