Ring Video Doorbell 2 Review
The Ring Video Doorbell 2 is a smart doorbell that lets you see who is at your door, talk to them and it even sends you motion alerts when someone is at your door without ringing the doorbell.
Ring's updated Video Doorbell 2 offers a removable battery so you can charge it up if you are installing without electrical wires without taking the whole doorbell off your house and it supports better motion detection.
We love knowing when someone is at our door, talking to delivery people and getting motion alerts when someone simply walks up. We also use the Live View feature to watch for pizza deliveries so we can beat two barking dogs to the door.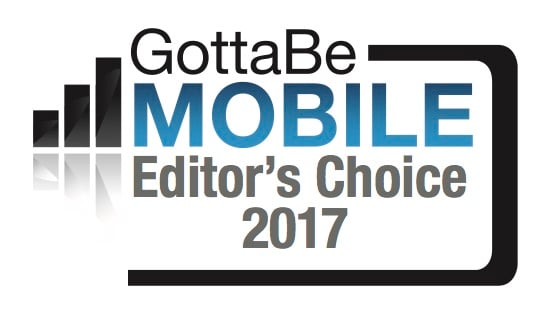 We've combined the Video Doorbell 2 with the Ring Floodlight Cam in our backyard to cover most of our house with motion sensing and video recording. The Ring Video Doorbell 2 is $199, though you can find it on sale occasionally for as low as $150. We also tested the Ring Chime Pro which can add a chime alert anywhere in your house and it can act as a wireless connection for the Ring if it is too far from your Router.
Like the original, the Ring Video Doorbell 2 earns a Gotta Be Mobile Editor's Choice award for the value it offers and the convenience it delivers along with ease of use for everyone in the house.
Is the Ring Video Doorbell 2 Worth Buying?
Hands down, the Ring Video Doorbell 2 is worth buying if you want to know what is happening at your front door. We have it set up to ignore motion during the time I am working from home, but to alert both of us when someone rings the doorbell.
We use the Live View when we are expecting a delivery or looking for someone to arrive. We definitely like being able to dial down the motion alerts so that it doesn't send us an alert when someone drives past. The only false alerts we've had is when a big truck drives past quickly completely blocking the sun. When a delivery person stops, we can even ask them to put the package in our garage, and open it remotely using the Chamberlain app.
[letsreview]
The new battery design lets you quickly remove the battery if you need to recharge it. We have a wired connection and have yet to find ourselves needing to recharge it. If you don't have a wired connection Ring says the battery should last a year.
One of the really nice features is that the camera offers a very wide field of view, which allows us to see the entire porch and out to our mailbox. The Ring Neighborhood feature helps clue us in when a nearby house with Ring reports suspicious activity. The 1080P camera delivers crisp video and works very well during the day and at night.
Our installation was incredibly easy, and so was connecting it to WiFi to stream video. We connect directly to our home WiFi without any issues, but you may want to connect to the Chime Pro if your door is pretty far from your WiFi router. You can choose from two colors for the Ring Video Doorbell 2, and both are in the box. There are also some small adjustments that help you angle the doorbell just right so that it captures your door even if the doorbell you are replacing is low or off to the side.
You can share Ring access to other users so everyone has their own access to Ring cameras and doorbells. Ring devices connect to Wink, Kevo, Lockitron and other partners. Ring will add HomeKit support to the Video Doorbell 2 with an update later this year.
When you get a notification for someone pushing the doorbell, you have video access nearly instantaneously as long as you have a good connection. When you turn on Live View you may need to wait a second or two for it to connect. There is an option to favor battery life over speed of connecting Live View so you can choose which is more important to you. The app offers lots of customization for alerts, motion zones and sharing. Ring updates the app regularly and it runs reliably.
One catch to the system is that you need to pay $3 a month per Ring camera if you want the videos to be saved to the cloud. You can use the Ring without video recording, which allows you to get motion alerts and answer rings, but if you want activity saved like a security camera you need to pay Ring. There is no option to record locally to storage on the Ring or on your home network. We are paying $6 a month for our two cameras. If you have more devices, you can pay $10 a month for unlimited Ring cameras.
If you are an existing Ring Video Doorbell user, this may not be enough of a bump in features to upgrade, but for first time buyers it's definitely worth buying for peace of mind and convenience. We found that we don't need the Chime Pro, but it's a nice addition and we like that you can customize the doorbell noises. If you are going with a truly wireless doorbell system you will want to add this to the mix.
You can buy the Ring Video Doorbell 2 for $199 at Amazon, Best Buy and direct from Ring. Costco has a great Black Friday deal that includes the Ring Video Doorbell 2, the Chime Pro and a year of online recording for $149 for Costco members. You can buy a spare battery for $20.