Samsung Galaxy A8 Release: What You Need to Know
Samsung's newly announced Galaxy A8 and Galaxy A8+ for 2018 have impressive features, a sleek design, and won't cost an arm and a leg. Blending the best of the Galaxy S8 into a phone that's more affordable to take on the budget market.
There are a lot of great cheap Android phones available, but the new Galaxy A8 might be the best budget phone to buy in 2018. With a big 5.6 or 6-inch Full HD AMOLED Infinity display, three cameras, and all-day battery life.
Read: Best Android Phones Under $300 
Samsung's goal with the new Galaxy A8 and Galaxy A8+ is to completely take over the budget market. When these phones hit shelves in January buyers will have a tough choice to make. In fact, these are pretty comparable to the flagship Galaxy S8. Here's everything potential buyers need to know.
Samsung Galaxy A8 & A8+ Release Date
Samsung's stunning new Galaxy A8 and Galaxy A8+ will be available in early January of 2018. This is the Galaxy A8 (2018) model, which replaces the Galaxy A3, A5, and A8 from earlier this year.
The company made both phones official on December 19th but didn't share an exact release date. That said, we're expecting the new Galaxy A8 and A8+ to hit shelves around Tuesday, January 9th during the annual CES tradeshow in Las Vegas. Another possible release date is on January 12th once the show concludes.
Initially, rumors suggested Samsung would use CES to announce the new Galaxy A8, but now we're expecting them to release the phone during the event instead. Read on to see why these phones are worth waiting for.
Galaxy A8 and Galaxy S8+ Display & Design
The new Galaxy A8 and A8+ have big beautiful screens, a sleek design, water-resistance, three cameras, and the Infinity Display everyone loved on the Galaxy S8. Combine that into an affordable phone, and you can quickly see why these phones are getting so much attention.
Samsung's Galaxy A8 comes with a 5.6-inch 2220 x 1080p Full HD AMOLED Infinity display with an 18:9 aspect ratio. Similar to the long and skinny Galaxy S8, only slightly smaller. Then, the bigger Galaxy A8+ comes in at 6-inches, with the same 1080p HD display resolution.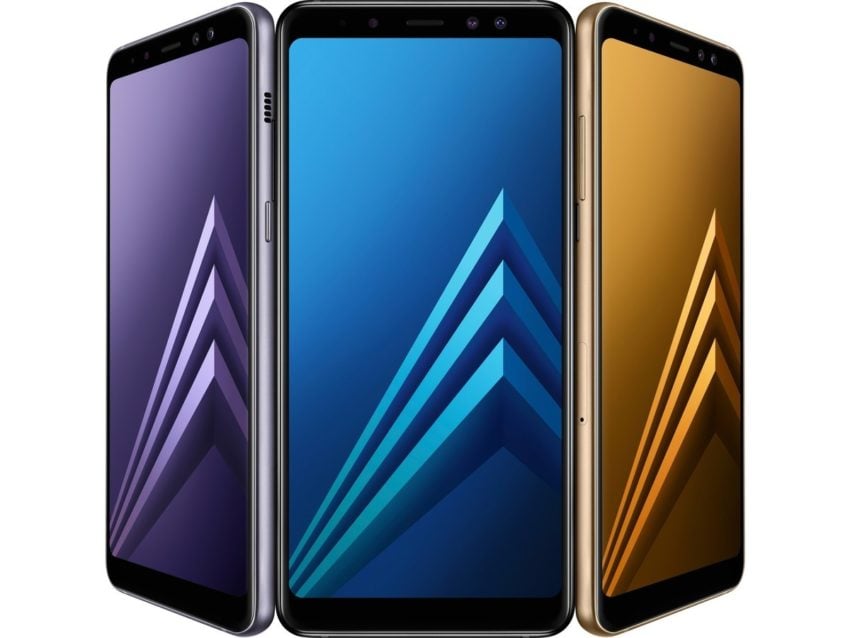 While the big screens and small bezels capture your attention right away, another noteworthy aspect is the fingerprint scanner location. With no room for a front fingerprint scanner, Samsung moved the fingerprint sensor to the back. Only this time it's located under the camera, not off to the side like we saw on the Galaxy S8 and Note 8 earlier this year. A design everyone can appreciate.
Both the A8 and A8+ feature an IP68 dust and water-resistant rating too. Yes, this phone has everything you wanted from the Galaxy S8, only in a slightly smaller and more affordable package.
Galaxy A8 and A8+ Specifications
These new phones somewhat bridge the gap between budget-friendly and high-end. That's because Samsung didn't leave anything out. They have 3.5mm headphone jacks, microSD support, three cameras, big screens, water-resistance, Samsung Pay, and more. That said, here's the full rundown for those interested.
Galaxy A8 & A8+ Specs
5.6 and 6-inch 2220 x 1080p Full HD Infinity AMOLED Display
8-core Samsung or Qualcomm Processor
4GB RAM and 32/64GB storage on A8, 4-6GB RAM and 32/64GB on A8+
Android 7.1.1 Nougat (Android 8.0 coming soon)
16 Megapixel f/1.7 aperture rear camera
Dual 16 and 8MP front-facing cameras with selfie and portrait modes
3,000 mAh and 3,500 mAh all-day battery life with Fast Charging
USB Type-C, Samsung Pay, BT 5.0, IP68 dust and water-resistance
more
As you can see these two phones fit right between the high-end Galaxy S8 and S8+ from earlier this year. The A8 is slightly smaller or slightly bigger than the regular Galaxy S8. Then, you get a quality camera experience, and two cameras on the front for selfies and portrait modes similar to the iPhone X or Galaxy Note 8.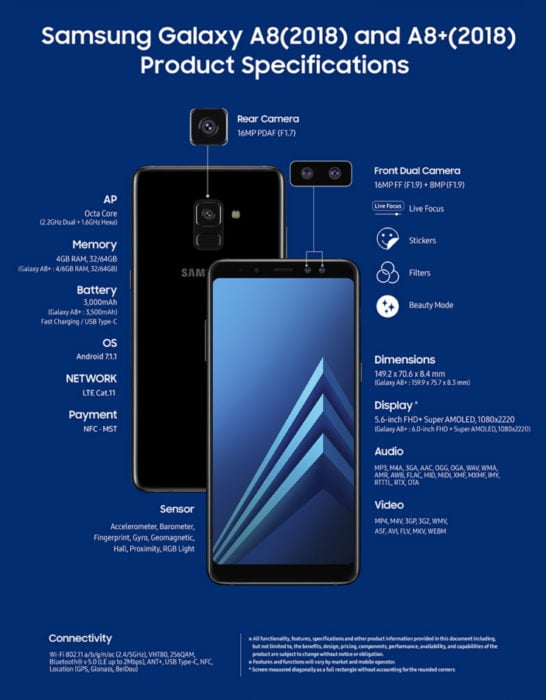 Why Samsung chose to add dual cameras to the front, and not the back, we're not sure. However, these phones should still take excellent photos.
Additionally, it's great to see a high-quality screen, water-resistance, and large battery cells inside Samsung's new budget smartphones for 2018. This doesn't give other manufacturers much room to work with. And while the Galaxy A8 will likely cost a lot more than the Moto G5, they deliver plenty more features at the same time.
Galaxy A8 and Galaxy A8+ Price
By now you're probably highly interested in Samsung's new budget smartphone for 2018. So how much will they cost? We're not sure yet.
Samsung confirmed an early 2018 release date sometime in January and will announce pricing in the near future. And while we'd love to say these phones will come in around $299, we're expecting something closer to $449-$499 given the specs, features, cameras, and big screens.
The Galaxy A8 and A8+ come in Black, Grey, Gold, and Blue but pricing is completely up in the air. Hopefully, Samsung can manage to keep the price competitive. If they do, Motorola and OnePlus will have some serious competition in 2018. We'll update this post the moment we know more.