New Samsung Galaxy Android 5.0 Lollipop Update Details
New Samsung Galaxy Lollipop update details have emerged today ahead of the highly anticipated Galaxy S4 Android 5.0 Lollipop release that's expected to replace the current Android 4.4 KitKat update in 2015.
In June, Google took the stage at Google I/O 2014 and announced a slew of new products including Android 5.0 Lollipop, its replacement for Android 4.4 KitKat. At the time, the company showed off a number of new features including the update's Material Design that delivers massive changes to the look and feel of the Android operating system. The company did not, however, confirm an Android 5.0 release date.
In October, Google confirmed the Android 5.0 Lollipop for Nexus devices and it's expected to land sometime this month for the Nexus 7, Nexus 4, Nexus 5 and Nexus 10. Nexus devices won't be the only ones getting the update though. Several companies including HTC, LG, Motorola, and Sony have confirmed upcoming Android 5.0 Lollipop releases for their devices. Samsung, however, isn't talking about Android 5.0 though we've seen a number of Galaxy Lollipop update details emerge in recent days.
Last week, the Samsung Galaxy S4 Android 5.0 Lollipop release became all but confirmed thanks to a massive leak the exposed the contents of an early release build. Today, SamMobile's leaked the Galaxy S4 Lollipop release alongside the Galaxy S4's Android 4.4 KitKat update to highlight the differences between the two pieces of software.
The video, which highlights the major differences between the two pieces of software, shows off the new look and several of the new features expected to arrive with not just the Galaxy S4 Android 5.0 Lollipop update but Samsung's other Android 5.0 Lollipop updates as well. The Android 5.0 Lollipop update includes changes to the Settings, Lock Screen, dialer, and performance. The site harps on the update's enhanced performance, something that is vital to a device that's nearing its second birthday.
One thing to keep in mind though is that this is likely an early Android 5.0 Lollipop build. The Galaxy S4 Android 5.0 release isn't expected to arrive until 2015 which means that features, and performance, can and probably will change in the build up to the release. Everything, including the release date, is dependent on the testing process which can be extremely unpredictable.

Samsung's Galaxy S4 Android 5.0 Lollipop update isn't the only update rumored for arrival. The Galaxy S5, Galaxy Note 4, and Galaxy Note 3 are all expected to get the Android 5.0 Lollipop update down the road with the Galaxy S5 and Galaxy Note 4 Android 5.0 updates rumored for November or December. Samsung's Galaxy S5 and Galaxy Note 4 are expected to be first in line to the update though nothing is confirmed.
Devices like the all new Samsung Galaxy Alpha should be in good shape as well as Samsung typically extends software updates for two years. Smartphones like the Galaxy S3 and Galaxy Note 2 sit in a gray area. Both devices are now more than two years old which means that there's a chance they will not get Android 5.0 and the features coming with it. Samsung hasn't confirmed anything yet so the door remains open for all devices hovering in and around the two year mark.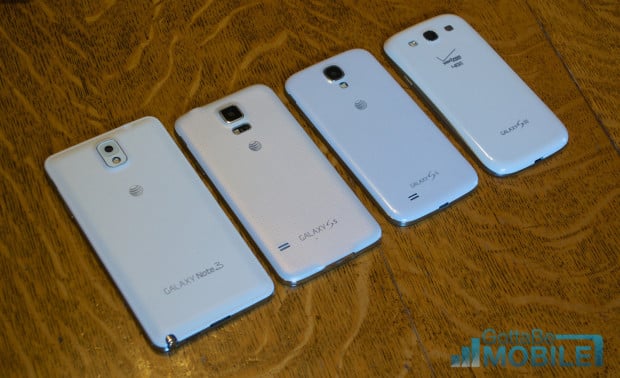 Android 5.0 Lollipop is also expected to roll out to a number of Galaxy S4, Galaxy S5 and Galaxy Note 4 competitors including the Moto X, HTC One M8, and HTC One M7. Motorola's appears set to roll out an Android 5.0 Lollipop update to its Moto X 2014 and LG says that it plans to start its LG G3 Android 5.0 Lollipop release this week. These releases will put pressure on Samsung to deliver its updates in a timely manner.
Samsung's Android 5.0 Lollipop release is expected to push deep into 2015 as the company works to upgrade all of its compatible Galaxy smartphones and tablets. With tons of devices in hundreds of different markets, the process could take several months or more to complete.

As an Amazon Associate I earn from qualifying purchases.