Samsung Galaxy Nexus Rumor Roundup: Latest on Hardware, Release Date
Now that the iPhone 4S announcement has come and gone (it launches tomorrow) and iOS 5 has finally been released (it came out yesterday), we can now turn our attention to the next big pieces of hardware and software that are on the horizon. Those of course are the Samsung Galaxy Nexus, thought to be a Verizon exclusive, and Google's Android 4.0 Ice Cream Sandwich operating system.
As we've said before, we think that this pairing is the only viable chance that Android has in putting a dent into sales of the iPhone 4S. While we love what we're seeing from the HTC Vigor and Motorola Droid RAZR, we just don't think they have the same draw as the Galaxy Nexus.
Speaking of the next Nexus, we have a pretty good idea about what we're going to see in the next few days but a lot has changed since the last Nexus roundup so we wanted to update you all on we what we think we'll see when Samsung and Google get around to announcing their products.
Announcement
Originally, Google and Samsung planned on showcasing Android 4.0 Ice Cream Sandwich and the Galaxy Nexus at CTIA San Diego on October 11th. Shortly before the event took place though, Apple Co-Founder Steve Jobs passed away and the companies decided to postpone the announcement out of respect.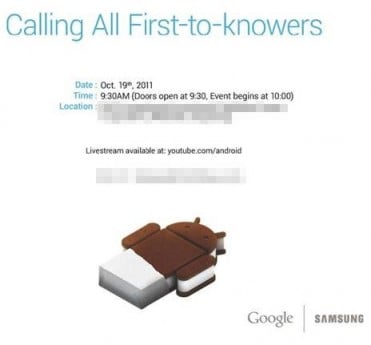 It was then unclear as to when a new event would take place leaving many to wonder whether or not the Galaxy Nexus would hit that rumored November 3rd release date. Turns out, it probably will.
Earlier today, Google and Sammy confirmed a previous rumor that stated that the companies had lined up an event for October 19th in Hong Kong. The invitations clearly indicate that Ice Cream Sandwich will be the focus of the announcement but the fact that Samsung is involved indicates that there should be some kind of hardware announcement as well.
And all signs point to that hardware being the Samsung Galaxy Nexus, a device that will likely be exclusive to Verizon.
For those not on Verizon, we've seen another Nexus device, possibly called the Nexus Prime, pass through the FCC, a device that will likely arrive on AT&T and may hit T-Mobile as well.
So if you're not on Verizon, hope isn't lost.
Hardware
Last time around, we were fairly clueless about what to expect hardware wise from the Galaxy Nexus. We had a few pieces in place but the entire puzzle was a complete mystery. Luckily, a few days ago, we saw some solid intel leak out which listed off just about every single feature expected to come on board the Galaxy Nexus.
Here is the rundown:
Android 4.0 Ice Cream Sandwich
9mm thin
4.65-inch 1280 x 720-pixel Super AMOLED HD with curved glass
TI OMAP 4460 dual-core Cortex A9 processor clocked at 1.2GHz
1GB of RAM
32GB of built-in storage
5-megapixel camera on the back, 1.3-megapixel in the front
1080p HD video capture support
LTE/HSPA depending on carrier
Wi-Fi a/b/g/n
NFC
1,750 mAh battery
These are widely considered to be the specifications that will be unveiled on October 19th. As you can see, the phone has LTE capabilities and that means that Verizon customers looking for an alternative to the Droid Bionic won't have to wait long.
As for the form factor, we haven't seen any leaked images yet but we do have a couple of renders that were devised from that promo video that Samsung and Google put out a few days ago.
If those are anywhere near accurate, the Galaxy Nexus is going to be one beautiful device.
Software
It's pretty clear that the event on October 19th will revolve around the software that will debut on the Galaxy Nexus, Android 4.0 Ice Cream Sandwich. As we've told you, we know quite a few of the new features that will be arriving with the software but there will definitely be some surprises.
In fact, today, Google's CEO Larry Page stated that we won't believe what Google managed to get done in this release.
We're just going to assume that means there is more to the features that we saw leak out on
video
and in
some recent screenshots
, all of which by the way, were extremely exciting.
So what is coming beyond what we've already seen?
You'll just have to tune in next week to find out.
Release Date
While still unknown, the rumored release dates for the Samsung Galaxy Nexus are the only things that haven't changed since last time. We still have that rumored October 27th date and we also have the front-runner which is November 3rd.
Nothing new.
It's still possible that the delay regarding the event pushed the launch date back but it's also a distinct possibility that it had no effect. We here at GBM (read: me) like to stay optimistic when it comes to these types of things so we're just going to assume that Google and Samsung are going to stick to the original launch date for both products and if we had to guess, we'd have to say November will be the month.
Why?
That gives them enough time to not only launch a pre-order for the Galaxy Nexus but it also allows for the smoke around the iPhone 4S to clear.

As an Amazon Associate I earn from qualifying purchases.