Samsung Galaxy Note 4 vs Moto X+1: What Buyers Can Expect
The Samsung Galaxy Note 4 release date and the Moto X+1 release are coming fast and the two companies plan to announce the new Galaxy Note and the new Moto X on back to back days with major announcements in the U.S. and at IFA in Germany.
Although many shoppers may already be set on the Galaxy Note 4 with a massive screen, super-high resolution and S Pen, there are many reasons to consider the Moto X+1 as well. If you are shopping for a new Android phone in September you need to check out these two devices before you buy and lock in to a contract or spend a few hundred dollars.
We're taking a look at the Moto X+1 rumors and the Galaxy Note 4 rumors to help you understand what to expect from these devices, and how they will compare. As these are rumors, this could change during the launch events, but this is still a good look at what you can expect from Samsung and Motorola.
Motorola surprised shoppers last year with a customizable Moto X that delivered an amazing user experience with smart notifications and always listening options to help you use the phone. It didn't hurt that you could pick the color of the back, front, buttons and later even choose wood backs. We expect similar customization options on the Moto X+1 but with a larger improved display, new camera and possibly some other interesting features involving 3D.
Samsung dropped the Galaxy Note 3 on us last year offering the best phablet experience yet and after seeing Samsung pull back slightly on the look of TouchWiz there is hope that the Galaxy Note 4 is going to blow last year's model out of the water. Major rumors include a new look, a 2k display and more sensors than ever.
Here is a closer look at the Moto X+1 and the Galaxy Note 4 based on rumors and leaks.
Moto X+1 vs Galaxy Note 4 Release Date & Price
You can count on a fast release for both of these devices, as both companies want to beat or meet the iPhone 6 to market.
The Samsung Galaxy Note 4 launch takes place on September 3rd early in the morning and the Moto X+1 launch is the next morning on September 4th. We should learn all of the important information at these two events, including the Note 4 release date and the Moto X+1 release date.
The Moto X+1 release date could arrive as early as September 10th or as late as September 25th depending on the rumor and carrier. Thanks to a leaked web page the Moto X+1 price is expected to start at $400 off contract. Expect on contract prices of $50 to $100.
The Samsung Galaxy Note 4 release date could arrive on the week of September 15th, the same week Apple may be planning the iPhone 6 release. No matter when the actual date is, expect it to arrive very quickly.
Design Differences
The Moto X+1 will use a plastic back again on some models, hopefully with a similar soft touch premium feel. But, that's not all. You can also expect wood back and leather back options for the Moto X+1 and users will once again be able to customize the phone with the MotoMaker tool according to rumors.
Evan Blass shares the potential Moto X+1 colors and materials that users will be able to choose from for the backplate.
moto X+1 backplate options: pic.twitter.com/UIcDtDSLXO

— Evan Blass (@evleaks) April 13, 2014
Overall the design leaks indicate the Moto X+1 will look very similar with a curved back and we expect a Micro SD card slot but no removable battery.
The Samsung Galaxy Note 4 design started to leak out recently in several photos showing a thin device that ditches the fake leather look of the Galaxy Note 3 and opts for something that looks to have more grain or finish on it. The photos make it tough to tell exactly what it will be.
We could finally see a metal frame on the Galaxy Note 4, which would be a jump for Samsung. The company traditionally sticks with plastic on the Note and Galaxy S smartphones. The Galaxy Note 4 photos above show the potential new design, leaked by GSM Arena.
Like the Samsung Galaxy S5 the Note 4 may be water-resistant to 3 feet for up to 30 minutes.
Bigger, Better Displays on Both
Both the Note 4 and the Moto X+1 will arrive with display improvements. Here's a closer look at what you can expect from each. The most important details are size and resolution.
Expect a 5.7-inch display on the Galaxy Note 4, the same size as the Note 3, with S Pen support built-in. You can also count on a higher resolution 2k display. This is 2,560 x 1,440 resolution that is higher than 1080P displays found on most smartphones and expected on the Moto X+1. During our use of the LG G3 with a 5.5-inch 2k display we discovered that this super resolution is not just a gimmick.
The Moto X+1 display rumors clearly identify a 5.2-inch display with a 1,920 x 1,080 resolution. This is boost from the 4.7-inch 720P display found on the original Moto X. While it won't match the specs of the Note 4 and LG G3 it is in line with other flagship smartphones like the Galaxy S5.
Moto X+1 vs Galaxy Note 4 Specs
We continue to see small Galaxy Note 4 spec leaks change what we expect each week, but so far there are some things that you can count on, or at least that are very likely to arrive on the Galaxy Note 4.
Check out the potential Samsung Galaxy Note 4 specs:
3-4GB RAM
Android 4.4
5.7-inch QHD display
Fingerprint sensor
NFC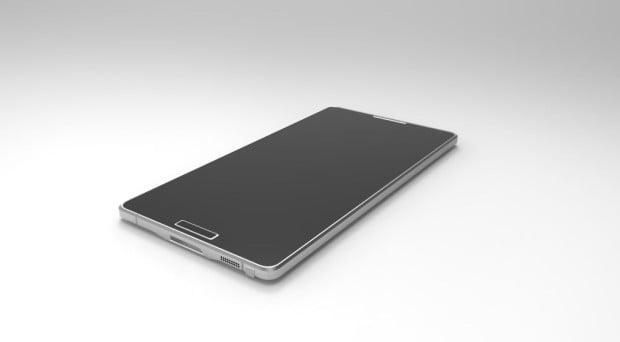 And here is a look at the Moto X+1 specs based on rumors.
5.2-inch 1920 x 1080p Full HD Display
2.5 GHz Snapdragon 800 quad-core with 2GB of RAM
16/32GB storage with micro-SD expansion included
Android 4.4.4 KitKat
12 Megapixel rear and 2.1 front cameras
Dual front-facing speakers (aimed at the HTC One M8)
2,900 mAh battery
NFC
customization options
Both of these phones will arrive with upgraded cameras, which we hope delivers better low light performance and shutter speed to the Galaxy Note 4 and a more consistent camera experience on the Moto X+1. Unfortunately one early report claims Motorola does not deliver a better camera experience.
We expect to see a very current version of Android on both of these phones, with Android 4.4.4 on the Moto X+1 and a chance of either Android 4.4.3 or Android 4.4.4 on the Galaxy Note 4. Odds are good that it arrives with Android 4.4.4. Google announced Android L earlier this year, but it is not available for devices heading to the public yet, but expect an update to Android L for both of these phones down the road.
We don't yet know the Galaxy Note 4 battery size, but the leaks indicate the Moto X+1 will arrive with a larger battery that hopefully helps overcome some of the battery life problems users ran into after months of using the Moto X.
The Moto X+1 may come out ahead with front facing speakers, but a Galaxy Note 4 display with a 2k resolution and S Pen is something many buyers will want to see in person before buying. The LG G3 display delivered this same resolution and blew us away.
Carriers
You can expect to see the Galaxy Note 4 on all major U.S. carriers and the Moto X+1 right along side it. We already saw a leak for the Moto X+1 on AT&T and it's an easy jump to add Sprint and Verizon to that list. An unlocked model should run on T-Mobile if the carrier doesn't offer it directly right out of the gate.
Look for a simultaneous Galaxy Note 4 release on AT&T, Verizon, Sprint and T-Mobile in September. We may also see U.S. Cellular not far behind. Prepaid carrier options for the Galaxy Note 4 will take a little longer to arrive.
The Moto X+1 price will make it an attractive phone to pair with a pre paid plan on Net 10, Straight Talk or other services.
Software
Unlike our iPhone 6 vs Moto X+1 comparison, the software on both of these devices is Android, but that doesn't mean it is the same.
Motorola sticks closer to the stock Android, but delivers better notifications and other features like Moto Assist that users find very helpful. The overall look of Android on the Moto X is similar to stock Android on a Nexus 5, although not identical.
The video above highlights the Moto X touchless controls that we expect to stick on the new Moto X+1. There is also speculation about some type of 3D feature, but the specifics are not available.
The Samsung Galaxy Note 4 will also likely run Android 4.4 but with a TouchWiz skin on top that changes the way Android looks and behaves on the Note 4. We expect to see S Pen support and S Pen apps as well as multi-tasking that will allow users to run two apps on-screen at once. Samsung also traditionally offers a remote control app.
The video above highlights the Note 3 and Galaxy S5 software. We expect the Note 4 software to look more like the Galaxy S5 version you see in this video.

This article may contain affiliate links. Click here for more details.