Samsung Galaxy Note 9 Release Date Details
The new Samsung Galaxy Note 9 is bigger, better, faster and lasts longer than ever before with a bigger battery. Now that the phone is official and pre-orders are live, below are some Galaxy Note 9 release date details, pricing, shipping info and more for those interested.
On August 9th Samsung took the stage in New York City and showed the world what they've been working on — a Note 9 with the biggest battery ever, two cameras, and a smarter S-Pen stylus.
Read: Galaxy Note 9 vs Note 8: What to Know
As expected, Samsung immediately confirmed all the important details right on stage. Those being that pre-orders begin tomorrow, August 10th, and the Galaxy Note 9 release date is August 24th. Below we've gathered all the important information for potential buyers.
Important Galaxy Note 9 Release Details
Pre-Orders Start August 10th
Available in Stores and Online Starting August 24th (release date)
Galaxy Note 9 Will Cost $999 (128GB or $1,250 for 512GB)
Choose between three Galaxy Note 9 Colors (Black, Blue, Purple or Copper) in the US
Now that we've gone over the basics and highlighted some key facts, here's everything else you'll want to know.
Galaxy Note 9 Release Date
The new and improved Galaxy Note 9 can officially be yours at the end of August. In a surprise turn of events, Samsung is releasing the phone almost an entire month earlier than the Galaxy Note 8 last year. While countless leaks and rumors suggest all types of dates, Samsung officially confirmed the launch date, not to mention an unlocked model will be available the same day.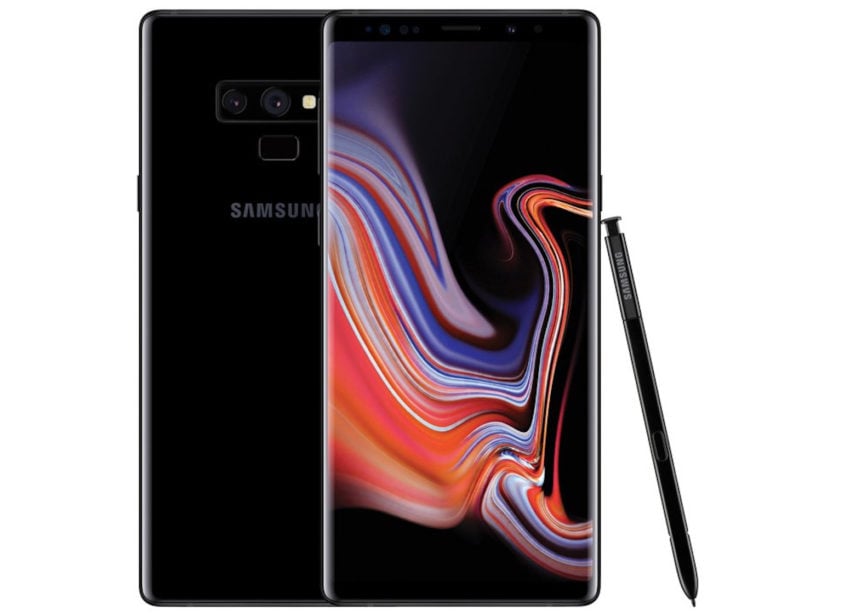 With a slightly bigger 6.4-inch display, smaller bezels, a redesigned camera and fingerprint scanner, and the new S-Pen, we expected a slight delay in its arrival. Instead, Samsung delivered it faster than ever before. The design is nearly identical to the Note 8 from 2017 though, so a quick release date makes sense.
Read: Why You Shouldn't Buy the Galaxy S9 Right Now
So yes, the Galaxy Note 9 will hit shelves starting August 24th at retailers and carriers everywhere. You can buy it unlocked from Samsung.com on the 24th as well.
Galaxy Note 9 Pre-Orders
Galaxy Note 9 pre-orders officially begin on August 10th around the globe. Every major carrier in the US will have it available.
You can pre-order in-store or online starting tomorrow, and in just a few weeks the phone will arrive. Head to places like Verizon, AT&T, T-Mobile, Sprint, US Cellular, Walmart or Best Buy. We'll update with links as they're released. Get it at Samsung, where you'll have a guaranteed delivery date of August 24th.
Where to Buy the Galaxy Note 9
As we said above, the Galaxy Note 9 will be available almost everywhere later this month. That means you can see physically see and try it in select stores as well. Your best bet for pre-orders are Verizon, AT&T, T-Mobile, Sprint, Best Buy, Walmart and select other retailers will quickly follow.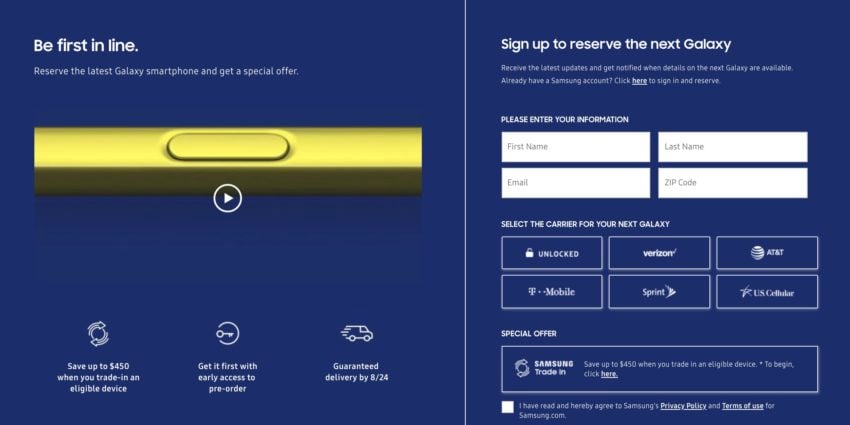 Samsung stated the company has double the inventory from past years, so we're not expecting the device to sell out or be unavailable to buy on launch day.
Samsung Galaxy Note 9 Specs
Sporting an even bigger 6.4-inch "Infinity display" and a sleek design, this could be Samsung's best Note yet. Mainly for the all-day battery life. Here's the full spec sheet for those interested. The Note 9 is available in Midnight Black, Blue, or Rose Gold, with more colors available outside the US.
Galaxy Note 9 Specs 
6.4-inch 2960 x 1440 Quad-HD AMOLED Infinity Display
Snapdragon 845 or Samsung Exynos Processor with 6GB of RAM
128GB of internal storage and a micro-SD slot for expansion (512GB version available)
Android 8.1 Oreo with Touchwiz (Android 9 Pie Coming Soon)
12 DualPixel Dual Rear Cameras with OIS, phase detection auto-focus. Variable aperture f/1.5-2.4 camera, 12MP telephoto lens with 2x optical zoom (OIS on both cameras)
8 Megapixel f/1.7 aperture front camera
Rear-mounted Fingerprint Scanner, Front Iris Intelligent Scanner
Home button built-into the screen with force touch
IP68 dust & water resistance
4,000 mAh battery with Fast & Wireless Charging (Note 8 is only 3,400 mAh as a comparison)
Improved Always-On Display, Stereo Speakers
Bluetooth S-Pen stylus
Bixby Virtual Assistant
Samsung Pay, 3.5mm headphone jack, more
So far the Galaxy Note 9 sounds pretty impressive. And while the specs are similar to the S9 or Galaxy Note 8, there are some important differences. Mainly that massive 4,000 mAh battery. That's the biggest battery we've seen in any Note device. Samsung confirmed they'll offer a 512GB model with 8GB of RAM too, which retails for $1,249.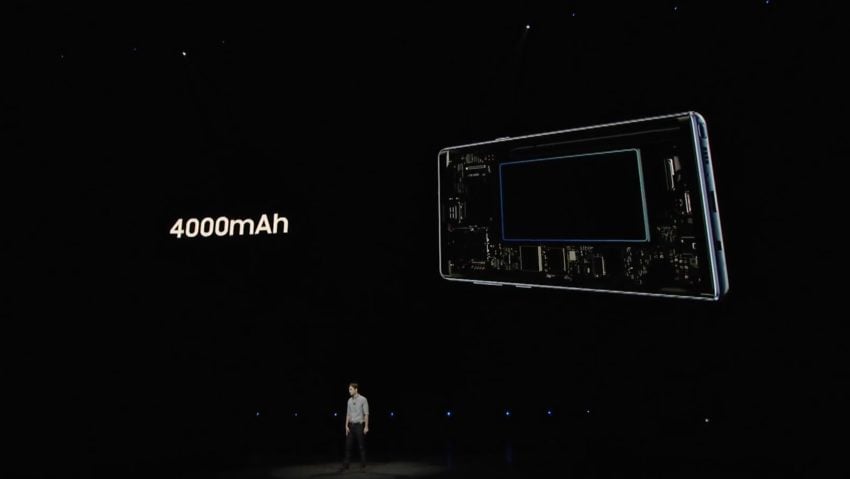 Two noteworthy specs are the dual cameras on the back and bigger screen. Most won't notice, but the screen is actually 6.4-inches instead of 6.3 like earlier models. Then, those dual cameras aren't the same either. This year one features a variable aperture lens that physically moves and changes to capture the best photo in any situation. Whether that's a fast f/1.5 aperture or a longer f/2.4 aperture. Like the human eye, it adjusts to capture as much light as it can no matter where you are.
We'll update our thoughts once we get our hands on Samsung's new Note.
Galaxy Note 9 Colors
In case you didn't notice, Samsung has some neat new colors this year for the Galaxy Note 9. While you'll be able to get it in Black as usual, they'll also offer a fancy new Samsung Blue & Gold, Copper, or a glossy Purple. Then, outside the US they have even more colors. Here's how they look.
We expect a few other colors as exclusives at some point, like the Blue model being sold exclusively at Best Buy. Stay tuned for more details.
Fortnite on Android (with Samsung)
Following tons of leaks, rumors, and teasers, Fortnite is finally available for Android starting August 9th. Not just for the Galaxy Note 9 either. Anyone with a Samsung smartphone can join the Fortnite Android beta, and get an exclusive "Galaxy" skin that looks dope. Get it now by clicking here.
Samsung is giving those who pre-order a special offer for Fortnite, or some headphones. Consumers who pre-order Galaxy Note 9 between August 10, 2018 and August 23 2018, can choose a pair of AKG noise-canceling headphones ($299 retail value) or the Fortnite Galaxy skin with 15,000 V-bucks ($150 retail value), for free—or get both for just $99. That's a pretty darn good deal. The promotion will last for a limited time and only while supplies last.
Terms and conditions apply. Visit samsung.com/us/promotions to learn more.
Samsung Galaxy Note 9 Price
As expected, the Galaxy Note 9 is one expensive smartphone. You can get the Galaxy Note 9 for $999 with 128GB of storage, or $1,249 for the 512GB model. However, carriers will offer monthly payment plans and we expect T-Mobile to keep the price lower than everyone else, too. Like they do every year.
This is still developing as Samsung just unveiled its new Note. During the event, they showcased an all-new Galaxy Watch, the Galaxy Home Bixby speaker, a new 15w fast dual wireless charging station and much more. Stay tuned for additional details.

As an Amazon Associate I earn from qualifying purchases.