Samsung Galaxy Note Edge Release Date Preview
Last week, we finally saw the Samsung Galaxy Note Edge release date make a ton of progress. With that progress in mind, we want to give you an in depth preview of Samsung's Galaxy Note Edge release date ahead of Samsung's own Galaxy Note Edge release announcement.
About a month ago, Samsung took the stage and announced a slew of new products including a brand new Galaxy Note 4 and also a brand new product line called Galaxy Note Edge. The Galaxy Note 4 will be the true successor to last year's Galaxy Note 3 and it will go on sale with a number of high-powered features starting in mid-October. The Galaxy Note Edge, a device that shares a lot in common with the Galaxy Note 4, will also deliver some explosive specs including a bent display.
Samsung's new Galaxy Note Edge is a concept phone but one that should be intriguing to those that are looking to upgrade to a high-end smartphone. Galaxy Note Edge specs include a Quad HD resolution, a 2.7 GHz Quad-core Snapdragon 805 with 3GB of RAM, Android 4.4.4 KitKat with Samsung TouchWiz, 16MP camera with Optical Image Stabilization, massive battery, and a thin 8.3mm frame. It also comes with an S Pen stylus and a display that's different than the flat display on the Galaxy Note 4.
Samsung confirmed specs, it confirmed carriers and it even confirmed a Galaxy Note Edge release date for later this year. However, it wasn't specific about the Galaxy Note Edge release, something that has left more questions than answers as we head deeper into the fall. We've been doing our best to paint a picture for those of you are getting impatient about your next smartphone purchase. And who could blame you.
With a Galaxy Note 4 release confirmed for October, an iPhone 6 Plus release over and done with and a Nexus 6 on the way, the Galaxy Note Edge is starting to become a hard sell. Today we want to offer up a Galaxy Note Edge preview for those of you that remain. This will outline the basic release date details for regions around the world and get you caught up to speed on everything you need to know about Samsung's Next Big Thing. Here goes.
Galaxy Note Edge Release Date All but Confirmed for October
Samsung hasn't issued a press release yet but it's looking more and more like the company is planning to get the Galaxy Note Edge out just a few weeks after the Galaxy Note 4.
We've seen a ton of movement in the past two weeks including FCC filings, pre-orders, leaked release dates and we're confident that Samsung is ready to make some official Galaxy Note Edge release announcements in the near future. When it does make an announcement, we suspect that it will confirm the first Galaxy Note release dates for October.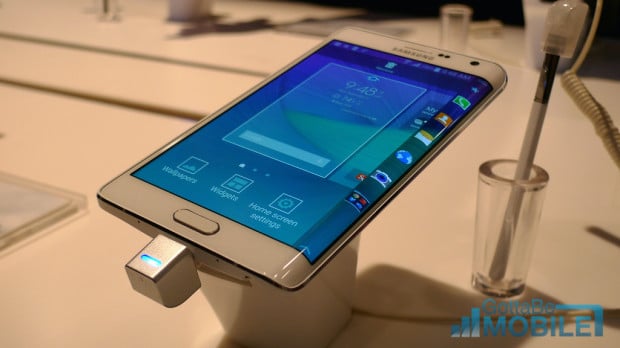 These Galaxy Note Edge release dates are all but confirmed for a couple of regions though we still don't have a lead on the specific date of its arrival. There are 31 days in October and with the information pointing to "late October" we should see the device land somewhere in the last week or so of the month.
Before circling late October in pen on the calendar, wait for Samsung's announcement. Just don't act shocked when Samsung reveals October and November release dates for this device.
China, Korea, Japan
Japanese carrier NTT DoCoMo recently revealed plans to get one Galaxy Note Edge model out in late October with the other color, white, coming in November. This information was recently confirmed by Blog of Mobile who claims that the China, Korea, and Japan will all play part of the initial Galaxy Note Edge release dates.
Samsung has said that its targeting a late October Galaxy Note Edge release date in Korea though it still hasn't outlined a specific date. Japan also appears ready for a release in October. We still don't know when Samsung plans to release the Galaxy Note Edge for the Chinese market though we recently saw China-bound Galaxy Note Edge models pass through necessary certifications.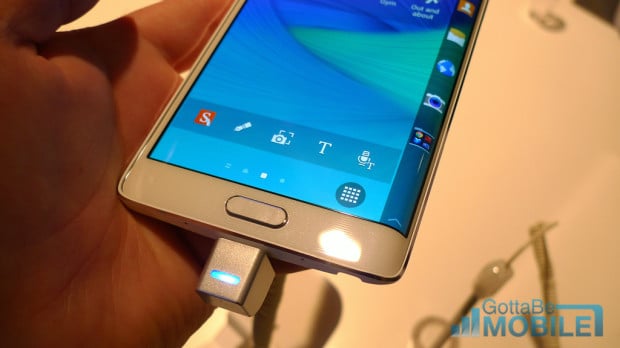 The important thing is that all three of these regions are now confirmed as Galaxy Note Edge launch regions and consumers there can start gearing up for a release.
U.S. Galaxy Note Edge Release Date
U.S. carriers were among the first to official confirm the Galaxy Note Edge's arrival. While they announced plans to carry it on September 3rd, they've remained relatively quiet since then. Here, we take a look at what we know about each U.S. carriers Galaxy Note Note Edge release.
AT&T Galaxy Note Edge
AT&T's splash page for the Galaxy Note Edge still says that the device is "Coming Soon." Unfortunately, that could mean anything. It could mean an arrive tomorrow, it could mean an arrival in a couple of weeks. We simply do not know.
The carrier has a close partnership with Samsung and it was one of the first to offer the Galaxy Note series. We expect it to be among the first carriers in the U.S. to get the Galaxy Note Edge. We also expect it to offer the Galaxy Note Edge with a competitive on-contract price, on its AT&T Next plans, and off-contract. If the Galaxy Note 4 off-contract price ($826) is any indication, we could be looking at an absurd price tag.
We could also see it take pre-orders for the Galaxy Note Edge. AT&T typically offers pre-orders for big name devices and the Galaxy Note Edge is a flagship. Thus, it should get a pre-order period.
Sprint Galaxy Note Edge
Other than its announcement on September 3rd, Sprint has said anything about its Galaxy Note Edge plans. We suspect that the Now Network will also be among the first to offer the device, it usually is. And similar to AT&T, we expect it to offer pre-orders and competitive pricing.
Sprint's now offering its Easy Pay installment plans to customers and we expect the carrier to push these plans at those looking to buy the Galaxy Note Edge. Initially, the carrier was charging $350 for the Sprint Galaxy Note 4 but it has since (perhaps because of our bad press) dropped it down to the usual $299.99 price slot.
We expect Sprint's Galaxy Note Edge price to mirror other carriers. There's also a chance that it could be a little higher but that remains to be seen.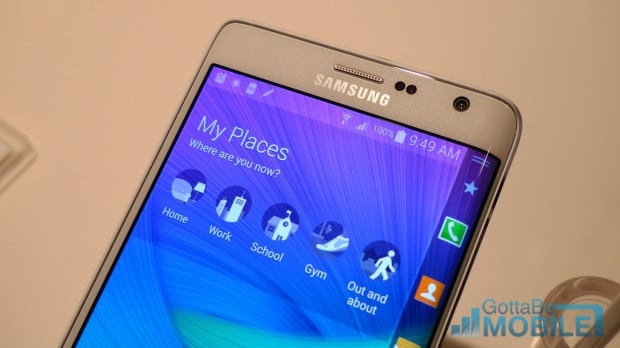 T-Mobile Galaxy Note Edge
T-Mobile's sign up page still boasts of a fall 2014 release for the Galaxy Note Edge so unless the carrier is lying, customers on the UnCarrier should expect it to arrive before early December.
Remember, T-Mobile doesn't offer contracts so if you're going to buy it on T-Mobile, you'll need to pay for it in installments. If your credit is good, there's a chance that the company won't make you pay anything down for the phone.
U.S. Cellular Galaxy Note Edge
U.S. Cellular didn't announce the Galaxy Note Edge in September and it still hasn't announced plans for the device. That doesn't rule it out but it makes a release pretty unlikely. At this point, a betting man would bet against a U.S. Cellular Galaxy Note Edge. It's a niche phone and U.S. Cellular picks and chooses its battles wisely.
Verizon Galaxy Note Edge
Verizon also has a Galaxy Note Edge sign up page and like T-Mobile's, it offers some interesting details. Not only does it say that the Galaxy Note Edge is "Coming Soon," it also says that those signing up through its sign up page will "be the first to get product, pre-order and launch details." Sounds like it's planning pre-orders.
We expect Verizon to follow AT&T and offer it on-contract, on its Verizon Edge plan and off-contract. We fully expect the off-contract pricing to be through the roof.
Canada, UK & Europe
Samsung Canada recently confirmed a 2015 release date for the Galaxy Note Edge. It did not provide any specifics and simply said that the region would be behind the U.S. release date for unspecified reasons. The key thing here is that Canadian carriers should, at some point, start offering the Galaxy Note Edge on their LTE networks.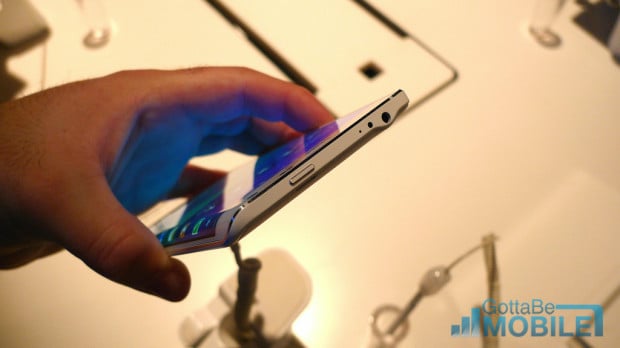 Clove UK, a retailer based in the United Kingdom, claims that the UK will not get the Galaxy Note Edge upon its initial release and that this delay could impact other unspecific nations in Europe as well.
We're still not sure if Europe is going to be lumped in with Canada or if the UK and other European countries (German retailers have started selling the Note Edge early so it will probably land there) will get the device before the holidays. It could go either way at this point.
Galaxy Note Edge Pre-Orders
Verizon's note about pre-orders leads us to believe that Galaxy Note Edge pre-orders will arrive for the U.S. If they do, they should start around the time Samsung announces a specific U.S. release date.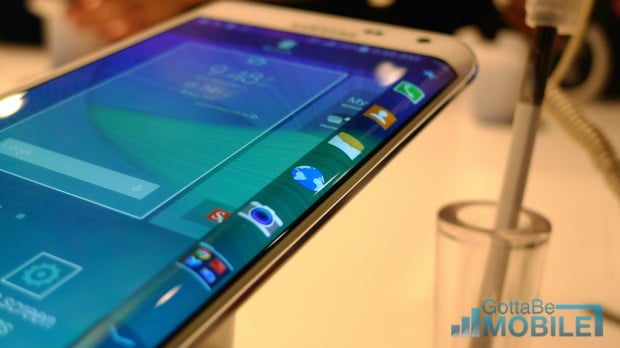 Clove UK is currently taking pre-orders for the Samsung Galaxy Note Edge though it's offering it with a placeholder price with no release date in sight. The retailer has said that it will source stock from outside of Europe so it might be a place where consumers can order early to beat the delay.
The only other Samsung Galaxy Note Edge pre-orders we've seen come from a German retailer called Notebooksbillinger. The retailer, like Clove, is charging a steep Galaxy Note Edge price ahead of its release. And like Clove, it doesn't offer any details about when the Galaxy Note Edge will come out. Pre-orders are great but we advise you not to use them unless you've already been hands on with the Galaxy Note Edge.