Samsung Galaxy Player is an Android iPod Touch
Samsung is "unleashing" an Android iPod Touch. What they are calling the Galaxy Player is a 4″ or 5″ Android device that looks a lot like one of the dozens of  smart phones out their running Google's mobile operating system. But it's not a phone. Sound familiar?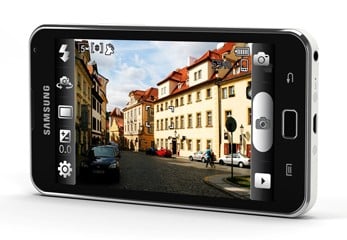 After Apple released the iPhone customers started clamouring for a similar device without the contract or phone capabilities. This sounds like Samsung's version of the iPod Touch.
The Galaxy Player will come in two screen sizes – 4 or 5-inches. They will have wi-fi and unlike the first iPod Touches will also have two cameras on the front and back. Their support for Adobe Flash 10.1 is another detail setting it apart from an iPod.
Qik is a video conferencing app that will come pre-installed on the devices. On the 4″ model they will also have Skype. Other apps will be available from the Anroid Marketplace since this is a Google certified device running Android 2.2 FroYo. There will be an upgrade to 2.3 Gingerbread when available.
With a name like Player, Samsung is touting the multimedia capabilities with a virtual surround sound for music, video and gaming. Codecs supported include DivX, Xvid, WMV, MPEG4 and H.264 for video and MP3, WMA, AAC, Ogg, and Flac for audio. This content can be streamed to a TV, even DLNA sets.
The above content can be loaded by simply dragging and dropping to/from a computer. Samsung calls this Drag 'N Play. This means users won't need something like iTunes to make this Player work.
To store your files there is 8GB of built-in flash storage and a micro-SD card slot that supports up to 32GB.

As an Amazon Associate I earn from qualifying purchases.