Samsung Galaxy S4 Rumor & Release Date Roundup
Back in late 2012, the Samsung Galaxy S4 leaked out for the first time. Since then, as we've moved well into 2013, the Galaxy S4 rumors haven't slowed down only picking up steam as the year heads into the month of March. And while Samsung hasn't announced the smartphone yet, already we have an idea about the Galaxy S4 release date, hardware, software and more.
Read: 10 Ways the Samsung Galaxy S4 Could Beat the iPhone 5.
Even though Samsung hasn't announced the Samsung Galaxy S4 yet, we already have a good idea about what the company might be planning for its release in terms of timing and in terms of the device itself.
Those rumors have helped to paint a fairly clear picture of the device that will likely be arriving this year to replace the Samsung Galaxy S3, a device that arrived back in May of 2012 and has sold over 40 million units around the world.
So far, the Galaxy S4 rumors have been anything but scarce and also include some whispers about a potential Samsung Galaxy S4 Mini and perhaps a companion Galaxy Watch. Neither hasn't been heavily rumored to be launching with the Galaxy S4, though it's possible that we could see them arrive when the device touches down.
Samsung's Galaxy S4 will be facing stiff opposition this year as HTC recently announced its HTC One flagship and earlier this year, Sony also released its flagship Android smartphone, the Sony Xperia Z. Of course, the company that Samsung is truly gunning after is Apple, and the Galaxy S4 will look to also challenge the iPhone 5 and presumably, the iPhone 5S as well.
Rumors so far have pointed to a device that is capable of taking on all-comers. The first Galaxy S4 rumor arrived just about six months after the Galaxy S3 touched down in the United States and since then, they have made it clear that the Galaxy S4 is very likely going to have a chance to surpass even the Galaxy S3 in popularity.
The Galaxy S4 has seen rumors both big and small and they have offered a look into what shoppers might be looking at when it finally arrives in the next few months.
Here, we are taking a look at the latest and best Samsung Galaxy S4 rumors that we've seen since the device emerged from the shadows many months ago.
Galaxy S4 Release Date
While the Samsung Galaxy S4 release date remains up in the air, the Galaxy S4 launch date does not. Samsung has sent out invitations for an event in New York City that is set to take place on March 14th. And while Samsung hasn't said what it will be announcing at the show, it's clear that it's going to be the Samsung Galaxy S4.
What this means is that on March 14th, we will finally hear all about the Galaxy S4, its features and yes, its release date. We still don't have a specific picture as far as its release date is concerned but we do have several rumors.
Read: Samsung Galaxy S4 Launch Date: What Not to Expect.
Rumors that surfaced in early February indicated that the Samsung Galaxy S4 would be launching mid-March. Those turned out to be dead on. The same report also indicated that the Samsung Galaxy S4 release date would likely fall across several months, mirroring the release of the Samsung Galaxy S3.
As of right now, the Galaxy S4 is rumored to be coming to Europe during the month of April and in the United States, where the event is being held, a little later on.
Those in the United States are said to be getting the Samsung Galaxy S4 in either May or June. With the Galaxy S3, the United States received the device in June and July after the device launched in May.
Samsung is not guaranteed to announce a specific Galaxy S4 release date in the United States, but the company will likely, at the very least, announce a release window.
Galaxy S4 Display
The Samsung Galaxy S4 will almost certainly improve on the display that Samsung included with the Galaxy S3 which specifically was a 4.8-inch 720p resolution display.
Rumors thus far have all suggested that the Samsung Galaxy S4 will be coming with a full HD 1080p display though they have not agreed on what type it may be. A report has claimed that the Galaxy S4 may not feature a Samsung AMOLED display like the one Samsung showed off at CES 2013. At CES, Samsung quietly showed off a 4.99-inch FHD display with 1080p resolution using Super AMOLED technology. The new rumor claims that Samsung may opt for a SoLux Display with LCD technology though that remains unconfirmed.
What is quite clear though, and rumors align with this, is that the Galaxy S4 will come with a full HD 1080p display of some kind and will likely sport a high pixel-per-inch (PPI) count. However, big resolution may not be the Galaxy S4 display's only enticing feature.
A report from Korean publication claims that Samsung will be including Atmel's latest maXTouch S sensors on the Galaxy S4 which could allow users to make on-screen gestures without touching the display.
The Galaxy S4 would not be the first smartphone to feature this type of technology, but it certainly would be the biggest name to. Previous smartphones like the Sony Xperia Sola and Pantech Vega 4G LTE included touch less gestures but the feature was said to be a drain on battery life and gimmicky. The new sensors from Atmel are said to provide better battery life.
Galaxy S4 Design & Features
In an attempt to keep at least some of the Galaxy S4 a secret until its launch date, Samsung, like it did with the Galaxy S3, has likely installed high security around the design of the Samsung Galaxy S4. It was a reason why the Galaxy S3's actual design did not leak out until the day of the launch and it's a reason why the Samsung Galaxy S4 itself likely hasn't shown its face for the world to see.
The most credible leak that we've seen to date is one from SamMobile that depicts a device with what appears to be a Galaxy S4 boot screen and a form factor that closely resembles the Galaxy Note as its a little more square in shape.
Specific rumors suggest that the Samsung Galaxy S4 will keep the home button that has been found on devices like the Samsung Galaxy S3 and the Samsung Galaxy Note 2. It is also said to retain a plastic back but also come with aluminum sides.
Specifics include a weight of 138 grams, which would be heavier than the Samsung Galaxy S3 and a 7.7mm design which would be much thinner than the 8.6mm Galaxy S3 and close to the iPhone 5 in thickness. The iPhone 5 measures in at 7.6mm.
To get an idea of how the device might stack up against its rivals, here is a look at how it could match up in terms of thickness against the iPhone 5, Galaxy Note 2 and Galaxy S3.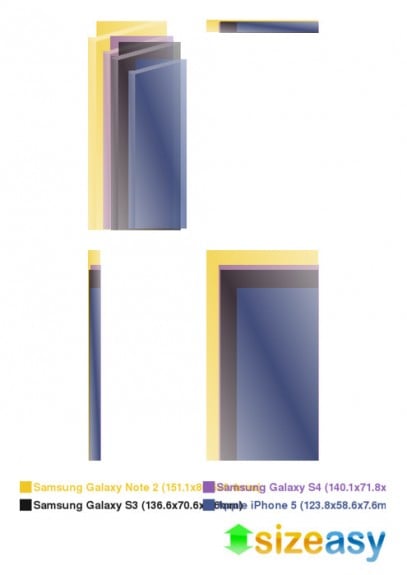 Other rumors insist that the Samsung Galaxy S4 could look quite a bit like the Samsung Galaxy Note 8.0 which was launched at Mobile World Congress back in February.
Galaxy S4 Camera
The Samsung Galaxy S3 sported a decent 8MP camera, but rumors insist that Samsung will be upping the ante with a 13MP camera on the Samsung Galaxy S4.
The Galaxy S4's most recent camera rumor comes from a potential camera sample, discovered by Androsym, which if real, means a 13MP camera will be on board the new Galaxy when it arrives. This camera sample shows an impressive level of detail as the image is zoomed in far enough to see dirt and dust on the keyboard.
It has been suggested that the device utilizes a 13MP Sony camera sensor. The Sony Xperia Z uses a 13MP Sony sensor and the iPhone 5S has been rumored to be coming with one as well.
If true, it would mean that the device would include HDR video recording, a 10 frame-per-second burst photo taking speed, and the ability to take quality low-light photos.
Galaxy S4 Specs
The Samsung Galaxy S4 obviously won't just be made up of a camera, a screen and a design though. There will be quite a few other hardware features that power Samsung's new smartphone and already, we've heard about several of them,
One of the biggest debates that has cropped up surrounding the Galaxy S4 is about which processor will be inside the device when it arrives. Early rumors and benchmarks suggested that we could see the Exynos 5 Octa quad-core processor, Samsung's new processor that it debuted at CES 2013, arrive inside the Galaxy S4 first.
Since then though, benchmarks and a more recent report from Taipei Times have suggested otherwise. According to the report, the Galaxy S4 could be equipped with a Qualcomm SoC processor, specifically the Qualcomm 600 in regions like the United States while Europe and other regions could see the Galaxy S4 come with the Exynos 5 Octa processor.
Read: Samsung Galaxy S4 Color & Storage Options Could Mirror iPhone 5.
https://www.youtube.com/watch?feature=player_embedded&v=6zC9-3nO-1U
Samsung used two different chips with the Samsung Galaxy S3 so it could be that it winds up doing it again with the Galaxy S4. At the very least, it looks like the Galaxy S4 will come with a powerful quad-core chip that should improve performance as well as battery life.
As for the size of the Samsung Galaxy S4 battery, the device has been rumored to be coming with a 2,600 mAh battery on board, larger than the Galaxy S3's. The battery is also said to be removable which means that owners would be able to easily replace the battery or install an extended one for better battery life.
A report has also claimed that the Galaxy S4 will be arriving in six different variants, including two different colors and three storage options. The company is said to be offering both a black and a white Galaxy S4 while offering the device with 16GB, 32GB and 64GB of storage space, just like the Galaxy S3.
Galaxy S4 Software – Android
Samsung's new Galaxy smartphone will be coming with Android as its operating system, much like its predecessors, but it's unclear exactly what version will be on board when it arrives.
So far, rumors and benchmarks have pointed to Android 4.2 Jelly Bean, the latest version of Jelly Bean, being on board the device and given that the software launched in November, it's not outlandish to think that Samsung has equipped it with the latest software.
It will also likely have Samsung's TouchWiz software on board, though it's unclear what version it might be. With the Samsung Galaxy S3, Samsung introduced Nature UX which brought a handful of smart features like the ability to turn the phone over to silence a call.
Read: Samsung Galaxy S4 Might Steal Android 4.2 Feature.
A rumor from Android Geeks suggests that the Samsung Galaxy S4 will have at least one new feature on board, a Photo Sphere style application called Samsung Orb, that will allow users to take full 360 degree photos. It's unclear if it would replace Android 4.2's Photo Sphere and it's also not certain whether or not it will be a part of a much larger piece of software, perhaps Nature UX 2.0.
Trademarks have hinted at two new smart features for Samsung smartphones. Eye Scroll and Eye Pause, the former of which may allow users to scroll web pages using their eyes and the latter which could stop content when eyes look away. Both would likely utilize the device's front-facing camera.
Galaxy S4 Carriers
While we will likely have to wait until the Samsung Galaxy S4 launch date to hear about specific carriers, we have seen two potential carriers leak out.
A user string agent from Samsung's servers emerged showcasing a device with model number SGH-I337 which pointed to a AT&T Galaxy S4 with a 1080p display. AT&T & Samsung use the SGH-I__7 naming convention for Samsung smartphones on AT&T which is why this is currently considered a possible Galaxy S4 model.
Read: Verizon Galaxy S4 Possible as Samsung SCH-I545 Surfaces.
Much later, a device with model number SCH-I545 surfaced in benchmarks which points to a Verizon Galaxy S4 as the carrier and Samsung used the SCH-I535 model number for the Galaxy S3.
Thus far, those are the only two rumored carriers for the Galaxy S4 though there should be many more on launch day given past Galaxy S and Galaxy Note releases. It will also likely run on the 4G LTE networks of all of those carriers.
Galaxy S4 Price
No rumors have emerged in regards to the pricing of the Samsung Galaxy S4 though given that it's rumored to have 16GB, 32GB and 64GB models, the device could come equipped with pricing similar to the Galaxy S3.
If true, that would mean $199.99 for the 16GB and potentially $249.99 for the 32GB Galaxy S4. That's the pricing that U.S. carriers, besides T-Mobile, used for the device.

As an Amazon Associate I earn from qualifying purchases.