9 Things Samsung Galaxy S5 Buyers Need to Know
After weeks of silence, U.S. carriers exploded onto the scene this week with a flurry of Samsung Galaxy S5 details. The Samsung Galaxy S5 is now available to buy though it won't be available on shelves for a few more weeks. With that in mind, we take a look at nine of the most important things prospective Galaxy S5 buyers need to know in the buildup to its release.
In February, Samsung finally took the curtain down from around its heralded Galaxy S5, a device that will replace the Galaxy S4 as the company's most visible smartphone and join the Galaxy Note 3 on shelves.
At the show, Samsung was quick to detail the many features coming with the Galaxy S5. The Samsung Galaxy S5 will arrive with a gorgeous 5.1-inch display that offers full HD resolution. It brings a new Snapdragon 801 processor, upgraded 16MP camera, Android 4.4 KitKat, a water and dust resistant design, a microSD card slot, removable back, and a ton of new TouchWiz features that will enhance battery life and promote good health.
What Samsung didn't announce was the Galaxy S5's U.S. release date, U.S. pricing or any of small details that are typically confirmed by individual carriers. Immediately after the show, U.S. carriers confirmed the device for arrival but they too failed to deliver the important details. And up until this week, those details remained out of the picture.
This week, U.S. carriers finally broke their silence and now, consumers finally know most of the important Galaxy S5 details ahead of its upcoming release.
Armed with those details and others, we want to take a look at the most important thing a prospective Samsung Galaxy S5 buyer needs to know right now.
Samsung Galaxy S5 Release: April 11th
The Samsung Galaxy S5 release date in the U.S. looks good for April 11th, across most major carriers. Here is what we know so far about the Galaxy S5 release date in the United States:
AT&T: AT&T hasn't confirmed an in-store date for the Galaxy S5 but it does say that pre-orders will start shipping on April 8th. This alludes to a carrier-wide release on April 11th, a date that will serve as the global release date for 150 countries around the world. While it could definitely be a little different, we would not be surprised if it arrived April 11th. Circle that date on the calendar.
Sprint: The Samsung Galaxy S5 release on Sprint will be April 11th. It's the day that Sprint customers should circle on the calendar.
T-Mobile: Same goes for T-Mobile. Like Sprint, the carrier plans to make the device available to everyone starting on April 11th.
U.S. Cellular: U.S. Cellular confirmed to us that it will release the Galaxy S5 on April 11th, just like its rivals.
Verizon: This is maybe the biggest mystery of all. Verizon, per usual, is slow to announcing a flagship release date. The carrier has confirmed the Galaxy S5 but it has said nothing about its release or pricing. While details are non-existent, we simply can't see Verizon mucking up another release with a date that's months behind the rest of the pack. We expect the carrier to produce details soon and we would not be surprised if it lands on April 11th like the rest.
MetroPCS: MetroPCS, like Verizon, remains silent about a release date. The carrier says that the device will be arriving in April though no specific date is known. We expect MetroPCS to keep its promise so consumers just need to remain patient.
Boost Mobile: The Galaxy S5 will arrive in Q2 which means anywhere from April to June.
Virgin Mobile: Same goes for Virgin Mobile. We'll see an arrival in Q2.
Ting: According to Ting, a small MVNO, it could have the device available in mid-April. No specific date is known just yet.
You Don't Need to Pre-Order
AT&T, Sprint, and U.S. Cellular started taking pre-orders for the Galaxy S5 this week. Those who have already decided on the Galaxy S5 can snag the device now. Those who are looking at T-Mobile as a possible carrier can pre-order the device starting on March 24th. And while the Galaxy S5 pre-order is tempting, it's not necessary.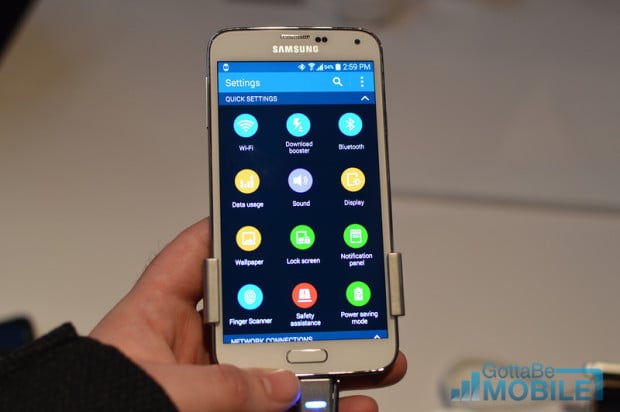 Very rarely do we see Android devices sell out. Both the Galaxy S3 and Galaxy S4 were in high-demand and neither one of them completely sold out ahead of schedule. While pre-ordering an iPhone is essential to getting the iPhone on day one, that's not the case with most Android phones. We fully expect the Galaxy S5 to be readily available on April 11th.
Most people will want to spend the next few weeks doing their research, comparing the Samsung Galaxy S5 to other devices on the market.
AT&T Pre-Orders
While consumers don't have to pre-order, we should point out that there are some incentives. AT&T, for instance, is going to ship the smartphone on April 8th.
That's three days ahead of the actual release date and with expedited shipping, means that users could get the device ahead of its global release. For those that haven't already decided on this smartphone, this is an important thing to know.
Galaxy S5 Deals
There are also several Galaxy S5 deals out there though they are limited to pre-orderers at this point. Those who pre-order T-Mobile's Galaxy S5 wil not have to put down a down payment. It's not clear if the carrier will require a down payment once the pre-order session ends on March 31st but it's possible.
U.S. Cellular throws in a $50 Google Play code with every pre-order, something that will help get users jump started with some apps, movies or books for their new smartphone. RadioShack, one of the retailers offering the Galaxy S5 at this time, will knock $50 off the final price of the Galaxy S5. The deal only extends to those that pre-order. Best Buy offers a $10 gift card when the device is pre-ordered through its stores or through its online portal.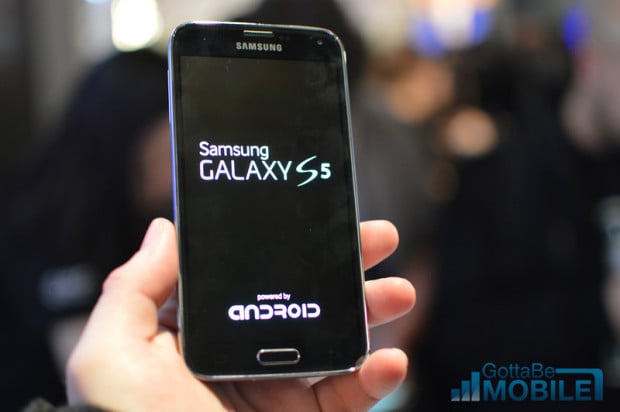 Of course, these probably won't be the only deals. Retailers like Walmart and Amazon typically offer instant price cuts on day one and we should see the Galaxy S5 start to get cheaper as the weeks go on. That, and these other deals, are certainly important to those that are either buying or thinking about buying the next Galaxy S.
32GB Galaxy S5 Release Unclear in U.S.
The 32GB Galaxy S5 is missing in action. AT&T, Sprint and U.S. Cellular aren't offering it in their pre-order and it's not clear if they will offer it down the road. U.S. Cellular told Gotta Be Mobile that it doesn't, at this time, have any plans to offer the 32GB model. The other carriers have not responded to repeated questions about their plans.
A recent leak pointed to a 32GB Galaxy S5 for T-Mobile but the carrier did not confirm that model when it announced the Galaxy S5 earlier this week.
There is always a chance that we could see carriers push the 32GB model out at some point down the road. Last year, the AT&T and Verizon 32GB Galaxy S4 variants were released after the 16GB Galaxy S4. The door certainly isn't closed on the 32GB model but we may not see details arrive until later. In other words, don't rush into buying a 16GB version until the 32GB model is dead in the water.
Blue & Gold Galaxy S5 Color Options Missing
Those who aren't in love with the black and white options that carriers are offering at the moment shouldn't rush into either. Much like the 32GB Galaxy S5, the gold and blue versions of the Galaxy S5 remain missing in the U.S. We haven't seen them confirmed and that means that there is a good chance neither one will be available on release day. Buyers who want to hold out for these colors should proceed with caution though.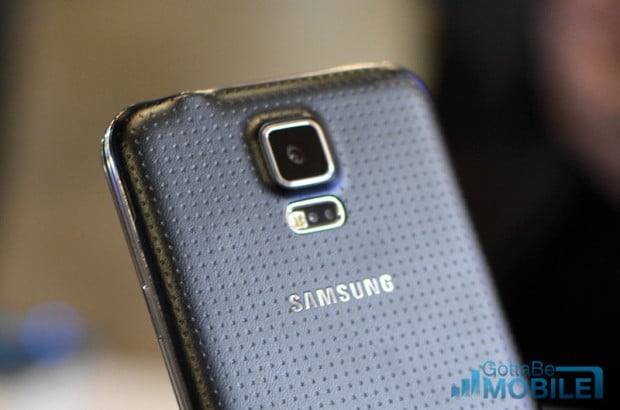 There is no telling how long it might take for these colors to arrive and there is always the possibility that a carrier will score an exclusive on one or both of these. For instance, last year the red Galaxy S4 came to AT&T and AT&T alone. This year, the gold Galaxy S5 is heading to Vodafone UK and only Vodafone UK.
$0 Down Doesn't Mean Free
We feel it's important to say this. Carriers are offering the Galaxy S5 for $0 down. People love free stuff and carriers know that the $0 looks fantastic next to a pre-order. Consider this a friendly reminder, just because it says $0 down doesn't mean that the phone is free.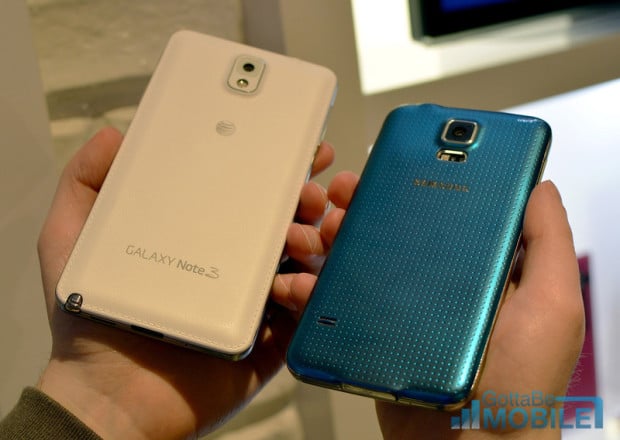 Buyers are still going to have to sign up for a data plan and more importantly, buyers are going to have to pay off the full cost of the phone. In T-Mobile's case that means paying off $650 over the course of 24 months. It should go without saying but it's important to note that the Galaxy S5 isn't free.
Why You Should Check Out Best Buy
Those that want to go hands on with a Samsung Galaxy S5 before buying should know that the device is currently featured in over 100 Best Buy locations starting today.
Not every Best Buy store will offer the Galaxy S5 sneak peak, so users will need to scroll to the bottom of Best Buy's landing page to check if their local store will showcase the Galaxy S5 ahead of the release.
Why You Shouldn't Buy at Best Buy
For whatever reason, Best Buy is charging $30 more for the Samsung Galaxy S5 on-contract. Instead of $199.99, the retailer is charging $230. There appear to be no added benefits other than the $10 gift card to Best Buy so we highly recommend avoiding Best Buy and looking around for Galaxy S5 deals. Again, Amazon at the very least should undercut not only Best Buy but carriers as well.

As an Amazon Associate I earn from qualifying purchases.