Samsung Galaxy S6 vs. Galaxy S5: 11 Key Differences
Yesterday, Samsung announced the new Galaxy S6 and Galaxy S6 Edge, two devices that take over for the Galaxy S5 as the company's flagship. The devices some with some huge upgrades and some trade-offs that we think prospective buyers need to know about. Our Galaxy S6 vs Galaxy S5 comparison will highlight the biggest differences that we see now, weeks ahead of the official Samsung Galaxy S6 release date.
After months and months of rumor and speculation, Samsung finally delivered its 2015 flagship dubbed Samsung Galaxy S6. The Samsung Galaxy S6 comes in two flavors, one regular variant and one curved, and the two devices are going to be coming to shelves starting April 10th. Consumers in the hunt for a new device certainly have their eyes on the new Galaxy S6 though it's going to face stiff opposition once it arrives.
One of its rivals will be the Samsung Galaxy S5, last year's model and one that recently got the boost up to Android 5.0 Lollipop. That upgrade, and a cheaper price point, help to make the Samsung Galaxy S5 a worthy option a year after its release.
The Samsung Galaxy S6 and Galaxy S5 have their differences and many of those differences come in important areas that prospective buyers need to consider. While we wait for the Galaxy S6 release date and pre-orders to start, you can use this comparison to figure out which device fits your needs best.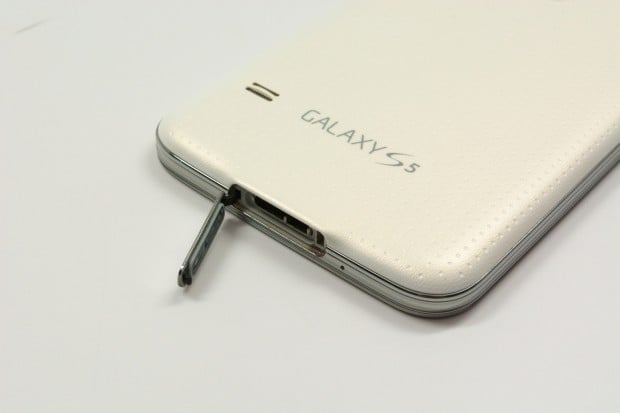 Samsung's made some notable changes to the Galaxy S6 specs and the Galaxy S6 design that make it more in line with Apple's iPhone 6, for better or for worse. The company is hoping that these major differences will help to lure in new customers in 2015 and help it in its fight against Apple, against HTC, and against LG.
After spending months with the Samsung Galaxy S5 we know what it can do and how well it delivers on all of the features that Samsung and its carrier partners have been touting in the year since its release.
With that in mind, here are the most important differences between the Galaxy S6 vs Galaxy S5 comparison that we can share before we go hands on with the two devices.
Display
The Samsung Galaxy S6 features a 5.1-inch display, just like the Galaxy S5, though it comes with one huge difference: 2K resolution. While the Samsung Galaxy S5 utilizes full HD resolution at 1920 x 1080 with 432 pixels per inch, the Galaxy S6 and Galaxy S6 Edge both offer a 5.1-inch display with a 2,560 x 1,440 resolution at 577 pixels per inch. This is a big deal because the higher resolution means the Galaxy S6 should be able to show more detail.
We've been using Quad HD displays for several months now and we can say, without hesitation, that there are striking differences between 2K and full HD resolution. The Quad HD displays on the LG G3 and Samsung Galaxy Note 4 outshine the Galaxy S5 display and the Galaxy S6 and Galaxy S6 Edge displays should offer crisper, better looking content.
It's also worth noting that the Galaxy S6 and Galaxy S6 Edge displays offer a 600cd/mm brightness that will let you see the display better in the sun. The iPhone 6 display is rated to 500cd/mm and the Samsung Galaxy S5 at 480cd/mm.
Galaxy S6 Edge
The Samsung Galaxy S6 Edge comes with a unique display that wraps around the edges of the phone. The edge of the Galaxy S6 Edge glows with notifications so users know who is calling. It can also display other notifications without the user having to pick up the phone. Galaxy S6 Edge users can also assign a color to a caller so that they know who is calling. There is no Samsung Galaxy S5 Edge model.
Form Factor
The Samsung Galaxy S5 could be the last of its kind. Last year's flagship comes with a plastic design that's highlighted by its perforated plastic back plate. The Samsung Galaxy S5 is also thicker and heavier than the thin and lightweight Galaxy S6.
Samsung's new Galaxy S6 design features a metal frame and a glass back that is made of Corning Gorilla Glass 4. Gorilla Glass 4 is designed specifically to prevent breaking displays when dropped onto rough surfaces like concrete or asphalt. The Gorilla Glass 4 display survives drops up to 80% of the time, according to Corning. The Galaxy S5 uses Corning's older Gorilla Glass 3 technology.
As for the dimensions, here is how the Galaxy S5 and Galaxy S6 matchup. The photo above gives buyers a look at how the two devices compare from a size standpoint. Specifically, here's how the dimensions compare:
Samsung Galaxy S6 – 143.4 x 70.5 x 6.8mm – 138g
Galaxy S6 Edge – 142.1 x 70.1 x 7.0mm – 132g
Galaxy S5 –142 × 72.5 × 8.1mm – 145g
One advantage that the Galaxy S5 holds though is its IP67 certification. What this means is that the Galaxy S5 is both dust and water resistant, a key feature for those that take their phone out into rugged environments. Samsung does not offer an IP67 certification with the Galaxy S6 design.
Fingerprint Sensor
The Samsung Galaxy S5's swipe-based fingerprint sensor was widely panned for being difficult to use. Samsung's Galaxy S5 and Galaxy Note 4 both require a swipe at the right speed and angle that makes one-hand use almost impossible. As expected, Samsung made some necessary improvements to the fingerprint sensor on the Galaxy S6.
Samsung's Galaxy S6 brings a new and improved fingerprint sensor that is once again built-in to the home button. The new sensor allows users to place a finger on top of the home button to log in or make a mobile payment. It's similar to Apple's Touch ID fingerprint sensor in that regard. While this new feature might seem small, it will make it a whole lot easier to unlock the phone, make mobile payments and use any apps that are tied in with the fingerprint sensor.
Mobile Payments
Both the Galaxy S6 and Galaxy S5 feature NFC for mobile payments though the Samsung Galaxy S6 comes with a notable advantage. The Samsung Galaxy S6 includes the ability to make payments with wireless magnetic card data. This addition was expected after the company confirmed its purchase of Loop Pay a few weeks back.
This new Samsung Pay service is already accepted in 90% of retail locations, which is much broader than the support for NFC. It does look like there will be some limitations when it comes to certain banks but Samsung Pay should be an advantage for the Galaxy S6 and Galaxy S6 and for those that want to pay for their mobile goods using their phone.
Cameras
The Samsung Galaxy S6 and Galaxy S5 both come with 16MP camera sensors though Samsung's brought some improvements to the Galaxy S6 camera that should help it to take better photos and video.
This new 16MP camera module comes with a new f/1.9 aperture that should help the device shoot better low light content because it's able to let more light in. Samsung's new Galaxy S6 camera also comes with Optical Image Stabilization, a feature that the Galaxy S5 doesn't have, and one that will help cut down on shakiness in videos.
The front and rear Galaxy S6 cameras support Auto Live HDR. This uses camera technology to show users what the HDR photo will look like before the shutter is pressed. The Galaxy S6 also allows users to double tap the home button to open up the camera, even when the phone isn't on.
The company's changes to its TouchWiz software also means that it will be far easier to navigate. It's not clear if these TouchWiz changes will be coming to the Galaxy S5. Older devices often get new software but Samsung's typically selective about the features so there's no guarantee.
It's worth noting that the Galaxy S6 front-facing camera is a 5MP shooter which means that it will take better looking selfies and offer better looking video calling. The Galaxy S5's front-facing camera is a 2.1MP camera.
Battery
The Galaxy S5's plastic design allows users to pull off the back plate and easily replace the stock 2800 mAh battery. This is important because it allows users to easily replace busted batteries and replace the stock battery with an extended battery.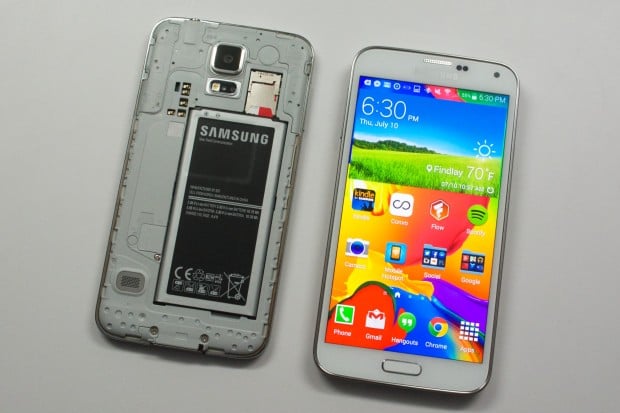 The Samsung Galaxy S6 doesn't come with a removable battery which means users are stuck with the 2,550 mAh battery on the regular model and 2,600 mAh model on the Galaxy S6 Edge. Samsung's clearing betting on its Galaxy S6 software tweaks and new Exynos 7 Octa to deliver excellent battery life. We haven't seen any real-life results just yet though we doubt Samsung would have made this change if it wasn't confident.
Wireless Charging
The Samsung Galaxy S6 features some charging capabilities that aren't found on the Galaxy S5. For one, the device comes with built-in wireless charging. On earlier models like the Galaxy s5, this feature came with an expensive case upgrade option that many users skipped.
What's important to note is that unlike some phones that only support one form of wireless charging, Samsung's Galaxy S6 wireless charging works on WPC and PMA chargers. That means that virtually any wireless charger will support it.
Samsung's also added faster charging. When plugged into a charging cable, the Galaxy S6 can secure up to four hours of battery life with just 10 full minutes of charging. That's a feature that the Galaxy S5 doesn't have and it's an important one given that the Galaxy S6 doesn't come with a removable battery.
Storage
The Galaxy S5 is only available in 16GB form in the U.S. The device does, however, come with a microSD card slot that can take 128GB microSD cards. SanDisk recently announced a new 200GB microSD card that should be compatible with the Samsung Galaxy S5. Expanded storage, combined with the cloud, ensure that Galaxy S5 users have tons of space for games, music, and more.
Samsung's switch to premium materials has caused it to ditch the microSD card slot. Instead, buyers are left with 32GB, 64GB and 128GB options plus cloud storage. Those storage sizes will be enough for most users though power users may have trouble. We still don't know how much more Samsung and carriers will charge for the higher capacity Galaxy S6.
Software
The Samsung Galaxy S5 runs Android 5.0 Lollipop though it comes with a different version of Samsung's TouchWiz software. Past versions of TouchWiz introduced tons of new features. Now, Samsung is stripping its software down to improve performance.
Samsung's new Galaxy S6 Android 5.0 Lollipop software features fewer on-screen elements which Samsung says will help users get to where they want to go in fewer steps. Specifically, it says that it has removed 40% of features and steps.
Its also stripped the device of pre-loaded Samsung bloatware. The company's kept a couple of apps around but the others will be downloadable through the company's Galaxy app. The company's also included new themes and its new S Health 4.0 application on board.
Price
Finally, while the Samsung Galaxy S5 is getting cheaper, the Galaxy S6 should be very expensive.
We still don't know exactly how much it will cost in the United States though pricing out of Europe points to an expensive Galaxy S6 and a very expensive Galaxy S6 Edge.
At the very least, we'd expect the regular Galaxy S6 to cost $199.99 on-contract which should be $100 or more than the Samsung Galaxy S5. The Galaxy S6 Edge will likely be $100 to $150 more expensive than the regular model.

This article may contain affiliate links. Click here for more details.