Samsung Galaxy S7 Edge Leather Case Review
The official Samsung Galaxy S7 Edge leather case may not have a kickstand and flashy features, and it isn't very cheap, but it has plenty to offer. Made out of stylish genuine leather it's not only sleek and minimalistic, but also gives this slippery all metal phone a sturdy grip.
Being a Samsung device there are tons of cases on the market in every shape and size a buyer could imagine, but Samsung's official leather case stands out with a premium well-made design, thin profile and subtle good looks.
Read: 15 Best Galaxy S7 Edge Cases
Its premium feel, ease of use and overall protection for the curved Galaxy S7 Edge screen make it an easy case to recommend for owners. Especially those who aren't happy with other options available, or want a stylish and elegant case for their beautiful smartphone.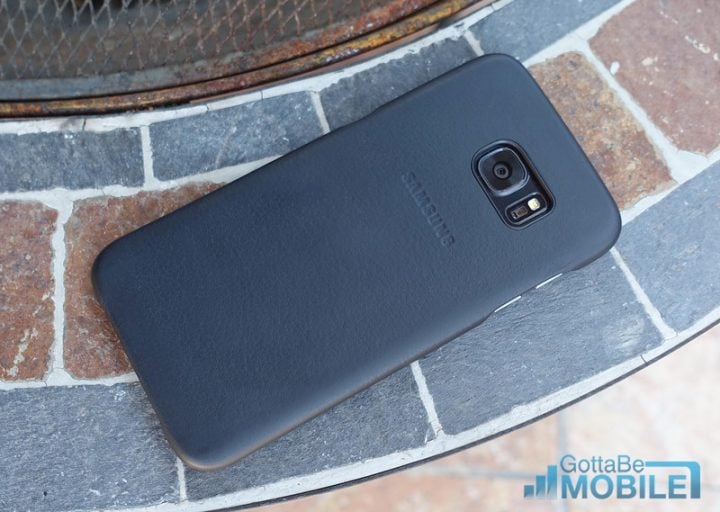 Samsung's official leather case only comes in black or brown, rather than a slew of different color choices we've seen from Apple and other manufacturers. It's also not available from Samsung's online store in the US, and sold out in many other regions like the UK. However, it retails anywhere from $36-$48 online at eBay or can be bought and imported from sites like MobileFun.
For whatever reason Samsung offers this excellent case for many regions around the globe, but not in the United States. And while a release could be coming sometime this summer, for now buying it from a 3rd party is the only option. I found mine on eBay, and it's now my favorite Galaxy S7 Edge case.
Being around $36 at the cheapest it certainly costs more than many popular case brands scattered throughout Amazon, but it is an official Samsung accessory, fits perfect, made to last, and has that premium feel you'll only get from a certified Samsung product.
While the official Samsung Galaxy S7 Edge leather cover offers a little more than basic protection, it's not recommended for those who will use the phone in a rugged environment or the outdoors. It's a blend between a snap-on cover, and a typical TPU case, with just enough coverage to protect the entire frame, camera and display from accidental drops. Daily wear and tear, scratches or short drops will be covered, but anything else we'd recommend something with more protection from our roundup linked to above.
I'll admit, I've tried about 20 different cases for the Galaxy S7 Edge. Everyone has different wants, needs or preferences, and I like an extremely thin case that's barely noticeable, low profile, but still looks good and doesn't have an odd texture on back. Finding a perfect well-rounded case was harder than expected, but that's exactly what buyers will get from Samsung's leather case.
The Galaxy S7 Edge is thin and slippery, being made entirely out of glass and metal, and it's easy to drop. Adding this leather case gives it a firm grip that feels just right, and its tailored just right for a perfect fit. Buyers will appreciate the small attention to detail like reinforced borders around the camera, the Samsung logo embossed on back, and the slight curves on the sides to offer full access to the "Edge" features while still protecting the glass from drops or damage.
Sitting flush and face-down on a table the case has just enough of a lip to keep the screen from touching, giving owners piece of mind and 360 degrees protection during daily use. The finished matte black leather holds up well to fingerprints, and after just over three weeks of use I have no visual blemishes, scratches, or signs of wear and tear. It looks good, feels nice, and is holding up extremely well thus far.
Unlike many other cases, Samsung chose not to cover the volume and power buttons with the case. Instead there are small dips in the frame giving users direct access to the power and volume keys, microphone, speaker grill and micro-USB charging port. While I like this approach over others, as some cases make buttons too hard or easy to press, my only complaint would be the bottom isn't completely covered. There is a little too much metal showing for my liking, but it's still plenty durable. I've dropped my Galaxy S7 Edge twice since I installed this case, both times it came out unscathed and still looking brand new.
Another bright spot in this case is the smooth rounded edges. Most cases feel unfinished on the corners, or have ridges and sharp edges on bottom. Holding the phone in my hand I use my pinky on bottom for support, and most cases hurt my hand after a few minutes. I'm sure many users can relate. Samsung's leather case doesn't have this problem, and every single edge is rounded off, with the leather wrapping over and inside of the case. Nicely tucked away for a comfortable experience and firm grip on the phone.
In closing I'd like to mention one more aspect of the Samsung Galaxy S7 Edge official leather case. In addition to being well made, offering a premium genuine leather design that's comfortable and easy to use with just enough protection, it's also very thin. So much in fact that it just barely covers the protruding camera on back. Allowing the phone to lay flat on a table and protect every aspect of the phone without adding bulk.
It's the perfect size and fit, and looks good at the same time. Again, Samsung's official leather case for the Galaxy S7 and S7 Edge may not be the cheapest option on the market, but it's one of the best for most users. As long as you can find one to buy. Our hopes is that Samsung continues to offer these great cases and makes them more readily available in the US and around the globe.
While you're here, check out some other official Samsung accessories in the roundup below.
14 Official Galaxy S7 Accessories Worth Buying
Galaxy S7 S-View Flip Cover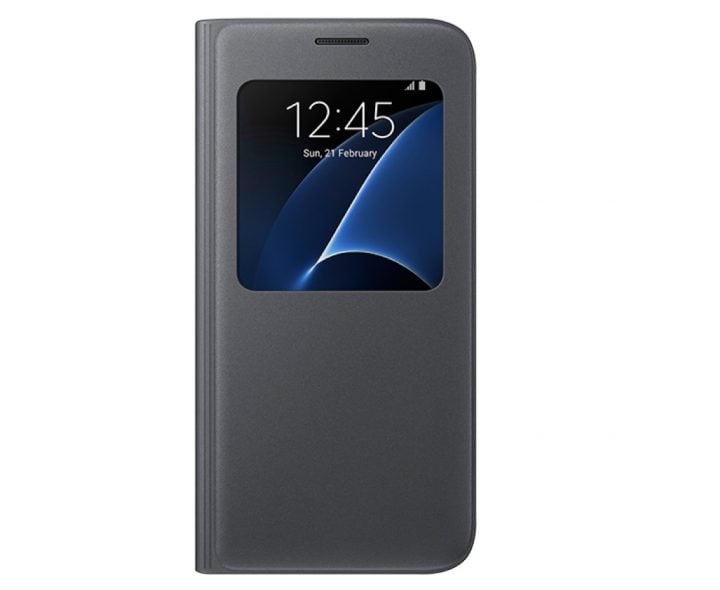 As expected, the popular S-View case is also available for the Galaxy S7 and S7 Edge, and comes in multiple different colors. For the Galaxy S7 there's Black and Gold, the two colors being offered, then for the Galaxy S7 Edge it comes in Black, Gold & Silver. The S-View has been popular for years, and protects your device while letting you interact with it without ever opening the case. Basically offering full protection even while you answer calls, take pictures and more.
When closed, the S-View cover offers instant access to critical features through a unique window interface, thanks to the Samsung ID chip. View the home screen to check the time, weather and other status items. Accept or reject incoming calls with just a swipe, or reject calls with a preset message. Control your music playback directly on the S-View screen. If you miss anything, notifications are shown in the recent activity menu of your S-View cover. It works even better with the new always-on display feature.