Samsung Galaxy S7 Release Date Details Emerge
After a year of arguably some of the best smartphones in history, rumors and buyers alike have already started looking forward to early 2016. In recent weeks we've continued to hear more and more about the upcoming Samsung Galaxy S7, but this weekend China Mobile may have revealed its release date.
In September the first few Galaxy S7 rumors surfaced, and since then we've slowly seen more and more. Last week a concept video leaked, and the week before that some official renders from case manufacturers were released as well. However, we now have a release time-frame to look forward to.
Read: Samsung Galaxy S7 Release: 4 New Rumors Arrive
Over the course of the past month we've learned a lot about what could be coming from Samsung in early 2016. It appears that the company has a huge selection of smartphones it's hard at work on. Those being the Galaxy S7, the Galaxy S7 Plus, as well as a Galaxy S7 Edge and Galaxy S7 Edge Plus. Four impressive phones, not to mention its lineup of mid-range devices. Read on for the latest Galaxy S7 news.
This week SamMobile found some rather reliable information out of China Mobile that suggests the new flagship Samsung Galaxy S7 lineup of smartphones will be released in March. Of course, this is subject to change, and a release date in China doesn't guarantee a similar release in the United States, but it's highly likely.
According to China Mobile's roadmap shown below, the Samsung Galaxy S7, Huawei P9 and some other high-end phones will be released in March. This isn't the first time we've heard such a date either, which lends credence to multiple rumors of a late February announcement, with the Galaxy S7 release date taking place in mid-March.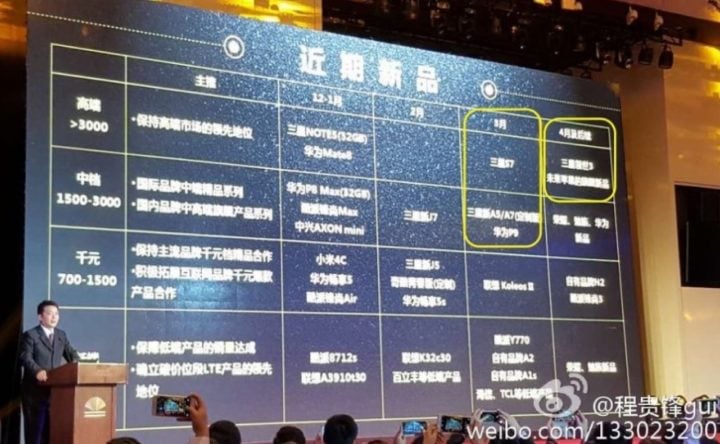 The slideshow above doesn't mention anything about the Galaxy S7 Edge, or the Plus, but simply gives us an idea of when the Galaxy S7 will be released. There are no other details, specs, or rumors to go along with it. Just a release date and nothing more.
That being said, the same late February announcement and early March release date was mentioned earlier this month by the Wall Street Journal, which to some is a highly credible source. According to the WSJ the Samsung Galaxy S7 will be announced in February, released very quickly in March, and be one impressive phone worth considering.
Their sources suggest that Samsung will stick to a very similar design in 2016 as the Galaxy S6, looking nearly the same and offer the same premium aluminum and glass design. However Samsung looks to improve the camera, display, return the micro-SD card for users to expand storage, and use a USB Type-C port rather than the traditional micro-USB for charging and syncing. This same information was leaked from the Korean Times as well, giving these rumors even more weight.
Read: Galaxy S7 Rumors Take Aim at iPhone 6s
From what we're hearing it sounds like there will be at least four new smartphones that will be released in March. Those being a 5.1-inch Galaxy S7 and a 6-inch Galaxy S7 Plus. Then Samsung will release two with curved screens in the Galaxy S7 Edge and Galaxy S7 Edge Plus. These phones will have a very similar design, improved internals, better battery life, a 20 megapixel BRITECELL camera, and come with Samsung's latest 8-core processor and 4GB of RAM, or the Qualcomm Snapdragon 820 8-core superchip. These phones are stacking up to be some of the best phones available in early 2016, and they could arrive earlier than any of the competition.
The Wall Street Journal also mentioned some pressure sensitive touchscreen technology, similar to Apple's 3D Touch with the iPhone 6s, and other things, but until more rumors or leaks arrive it's hard to say what to expect.
We'll have to wait for more concrete evidence to arrive, but for now it's shaping up to be an exciting late February and early March for Samsung and Android fans, as they could have four great smartphones to choose from. Stay tuned for more details.