Samsung Galaxy SL Smartphone Brings Super LCD Screens, TI Chips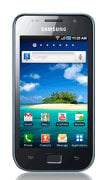 In a refresh to its Samsung Galaxy S series smartphone, Samsung is said to be adding an L to the moniker, making the refreshed device a Galaxy SL Android smartphone that will bring a Super LCD panel and Texas Instruments OMAP3 chipset to the smartphone. The refresh would eschew the company's Super AMOLED display and Hummingbird processor in favor of a competing screen technology and competing CPU.
The move towards a Super LCD from a Super AMOLED screen and OMAP3 CPU from a Hummingbird processor could be to conserve resources and supplies for an upcoming Galaxy S 2 smartphone. The company may be dedicating its Super AMOLED resources or even its Super AMOLED production line to build a Super AMOLED Plus display for its Galaxy S successor. The aging Galaxy S series smartphone, which was debuted at the Spring 2010 CTIA trade show, would get components that may not seem as catchy in order to better promote the Galaxy S 2.
The new Galaxy SL is a bit longer and thicker than its predecesor, but also includes a slightly larger battery, which does help according to GSM Arena. Also, rather than shipping with Android 2.1, the Galaxy SL will be shipping with Android 2.2 Froyo, which brings support for Adobe Flash 10.1 Mobile.
While those who prefer an AMOLED or Super AMOLED screen may miss it on the refreshed Galaxy SL smartphone, the move may be favorable to those who would prefer an LCD-based display. Smartphone users who use their devices to read e-books, emails, and browse text-based Web pages may find that LCD-based screens produce sharper text. Super AMOLED, on the other hand, may be better for those who prefer to view images and videos on their devices as contast and color are really saturated and the screen is bright for that use-case, though Super AMOLED displays produce what appears to be grainier text renderings.
Also, those who say that AMOLED-based displays are better at battery life may not be entirely accurate. As AMOLED displays light up only in areas of the screen that display whites and colors–black areas of the screen are not lit up, which helps to conserve battery life and produce dark, rich blacks in videos and images–some argue that the Super AMOLED display may be more battery efficient. However, that case is true only when a user views a page that has a lot of black areas. Viewing Web pages, where the background is white and the text is black may not necessarily be better for battery life. It is for this reason that Microsoft had designed its Metro UI on Windows Phone 7's home screen to have strips of black on the sides.

This article may contain affiliate links. Click here for more details.