Samsung Nexus 10 Detailed in Photos With Specs
The Samsung Nexus 10 tablet appears in new photos, showing off unannounced specs of Google's upcoming tablet, in a posting on BriefMobile.
BriefMobile got their hands on the unannounced tablet and took a number of photos of the device that match the leaked manual. The tablet looks like a mix between recent Samsung tablets like the Galaxy Note 10.1 and the Google Nexus 7.
According to the report, the Nexus 10 uses a dual-core 1.7GHz Exynos 5250 processor which BriefMobile claims outperforms the Snarpdragon S4 Pro and Apple's A6 processor in the iPhone 5. As rumored before, the Nexus 10 has a 10-inch display with a 2560×1600 resolution that has a higher pixel density than the iPad third and fourth generation.
The tablet comes with 16GB of internal storage, 2GB of RAM, a rear-facing 5MP camera, front-facing camera, and NFC. Like recent Samsung tablets, it also has two speakers on the front of the device on either side of the screen.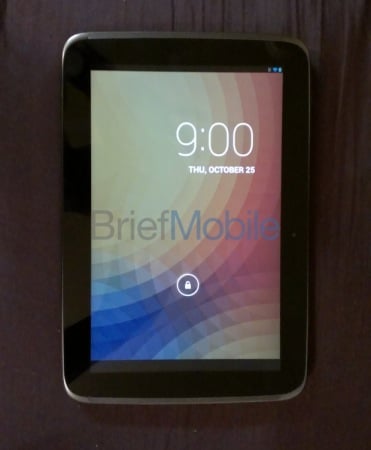 There is no microSD card slot in the tablet so users will only have 16GB and the cloud for their storage needs. Google will likely announce a 32GB Nexus 7 tablet on October 29, so we may see a higher capacity Nexus 10 tablet as well.
The Nexus 10 runs Android 4.2 Jelly Bean, which the LG Nexus 4 will also likely use. The tablet doesn't use the single task bar at the bottom like most current 10-inch Android tablets, instead it seems to use a UI like the Nexus 7 with three virtual buttons on the bottom, a dock, and a menu bar on top. It's very similar to the stock Android UI on phones, just stretched to fit the tablet.
Android 4.2 Jelly Bean will add multiple user accounts for tablets, which will make the tablet easier to share with a family. Though it also means storage might be tight for users who share the tablet with too many people.
Android 4.2 Jelly Bean doesn't appear to add any new apps, but it does change the notification drawer as well. After pulling the drawer down once users can pull it down a second time to open a quick settings menu with quick options to change users, change brightness, toggle Wi-Fi, toggle Bluetooth, airplane mode, and go into the settings menu.
Look for more details about the Nexus 10 tablet, a new Nexus phone, and other Android devices on Monday October 29th.

As an Amazon Associate I earn from qualifying purchases.