Samsung Shows Off Premium Apps for Galaxy Note on Android 4.0 Ice Cream Sandwich
Samsung had told Galaxy Note users that it will offer them a free suite of premium apps for the S-Pen to soften the blow of a longer than anticipated roll out of Android 4.0 Ice Cream Sandwich for the 5-inch phone-tablet hybrid form factor mobile computing device. However, the company hasn't offered much official guidance to what the official suite would include until now, and it looks like the company's premium suite of S-Pen-enabled apps will bring more features to the the pen and the apps that are available today on Android 2.3 Gingerbread on the Note 5.3. The enhanced functionality will let you search via handwriting, draw and record each stroke along the way, match shapes so you can create charts, send personalized e-cards, and more.
Unwired View discovered that Samsung had posted a video giving users a preview of what to expect once the Android 4.0 Ice Cream Sandwich update hits as the premium apps will be bundled with the new OS.
https://youtu.be/FvH6vbhOs6Y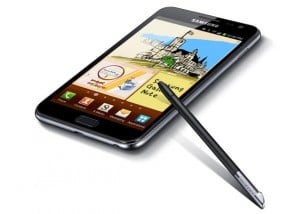 The premium suite of apps include: Note, Meeting Note, Idea Note, Magazine, Travel, Diary, and Recipe. There's even Wolfram Alpha integration so you can use your handwriting to search formulas. You can also easily annotate and save PDFs.
The Galaxy Note is available currently in the U.S. on AT&T's 4G LTE network, though the U.S. model eschews the original's Exynos processor in favor of a dual-core Snapdragon CPU for better compatibility with AT&T.
In addition to the 5-inch Galaxy Note, Samsung had also announced a 10.1-inch model in tablet form in late February at the Mobile World Congress trade show in Barcelona.