Samsung Stratosphere II Rumored for Verizon 4G LTE
It looks like Samsung may be working on a mid-range successor to the original Stratosphere smartphone for Verizon Wireless' U.S. 4G LTE network. The phone, dubbed the Stratosphere II, will bring with it a keyboard like the original model that it hopes to replace, along with presumably an affordable price tag worthy of a mid-range device.
From the front, the Stratosphere II looks a lot like the Galaxy Stellar, which was recently released for Verizon's network. The device will have four capacitive touch Android navigation keys just beneath the display for back, home, multitasking, and menu. So while the phone does have the standard 3 keys that Google implemented on the Galaxy Nexus, Verizon and Samsung are bringing back the menu key to give users easy access to hidden or contextual menus.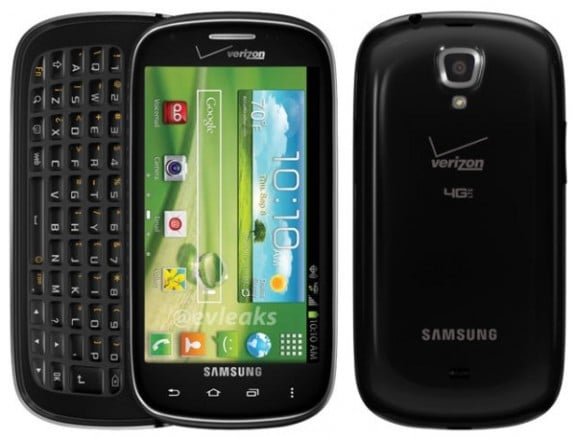 There will be a four-row landscape-oriented sliding QWERTY keyboard. The device will slot in under the flagship Droid 4, which has a roomy and great keyboard.
In the past, other specs that were rumored, according to Unwired View, for the Stratosphere II include a 4-inch display, likely a Super AMOLED or Super AMOLED Plus screen with a WVGA resolution, a dual-core 1.5 GHz Snapdragon S4 processor from Qualcomm, and an 8-megapixel rear camera along with a 2-megapixel front-facing camera. It's also speculated that the phone would be released with Android 4.0 Ice Cream Sandwich.
Given the specs, the Stratosphere II can be considered an updated version of the Droid Charge, which was Samsung's first 4G LTE Android smartphone for Verizon's network, with a keyboard.
Other than that, there is not much known about the Stratosphere II at this time. The press images for the phone were leaked by Twitter user @evleaks.

As an Amazon Associate I earn from qualifying purchases.