Samsung's Galaxy S4 With Intel Inside Could Rule the World
It looks like Samsung may be working on a new version of the Galaxy S4 flagship smartphone, this time eschewing the ARM-based Qualcomm Snapdragon 600 and the Exynos 5 Octa processors for a competing Intel Atom CPU at its heart. A slide revealed by Engadget from Intel's presentation shows off new mobile devices that have been announced or are coming with Intel CPU inside, and on the slide deck is the Galaxy S4.
Given that Intel had announced that it is now adding support for global 4G LTE bands, a Samsung Galaxy S4 with Atom CPU and Intel's modem could help Samsung deliver one phone that will work on all 4G LTE networks worldwide.
This would be a huge win as it will allow Samsung to simplify its products and not have to cater devices to specific markets because of specific radio bands and frequencies. One Galaxy S4 model could work anywhere in the world. The move would also be a huge win for Intel as it would have scored a partnership with the largest maker of Android phones and tablets.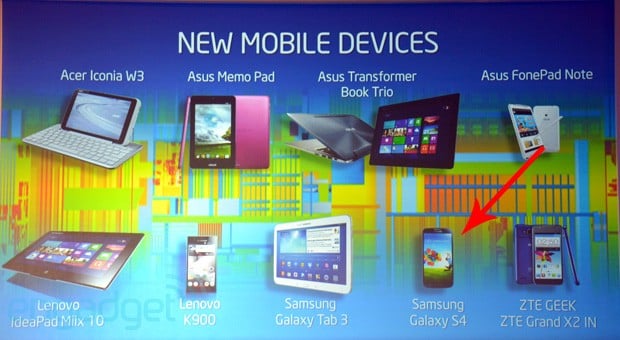 This wouldn't be Samsung's first Intel mobile product either. The company's recent Galaxy Tab 3 slate is also making a switch to Intel chip in a bold move that could spell trouble for ARM Holdings and Qualcomm. Though Intel had been slow to embrace and be embraced by the mobile world resulting in ARM dominating the mobile silicon market, the company has been successfully ramping up performance on its Atom processors in recent years while still delivering a power-conservative chipset that will be beneficial to long battery life.
Benchmarks for Atom compared to multi-core ARM chipsets show that Intel is holding its own ground and delivering impressive results.
And now, with an Intel LTE modem that could be used worldwide, an Intel-powered Galaxy S4 could be the perfect companion to globe-trotting business travelers. You have the performance and power with Intel, along with long battery life. And now, you have one phone that could be used wherever there is LTE coverage in the world. That's a nice win, especially if the unit is unlocked. Currently, ARM-based editions of popular flagship Android phones need to have specific radios that work with specific LTE networks in specific countries.

As an Amazon Associate I earn from qualifying purchases.