SE Xperia Duo Handset Leaks with Near Edge-to-Edge Display (Image)
The picture you see here is apparently a dual-core handset that Sony Ericsson is working on called the SE Xperia Duo which may or may not be the first smartphone that the company releases with dual-core capabilities.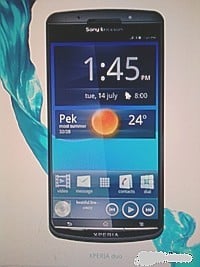 Details regarding the phone are a bit slim at this point but here's what we know. If this is in fact real, the Duo appears to sport a display that is essentially edge-to-edge and apparently measures more than 4.2 inches in size, possibly 4.3, maybe even larger. We can also see the Xperia branding on the bottom of the device along with a trio of navigational buttons, a hallmark of the Xperia line.
As for the name, Duo, this likely refers to the processor that it has on board.  Unfortunately, no word yet on any of the other specifications but if we had to guess, we'll probably see this thing leak out a few more times before it finally becomes official.
This looks to be a pretty interesting release from Sony Ericsson and it looks like they might actually have a true flagship device on the way in the form of the Xperia Duo.
Any takers?
Via: PhoneArena

As an Amazon Associate I earn from qualifying purchases.