SE Xperia Duo Surfaces in New Image, Confirms Large Edge-to-Edge Display
Today we've gotten a better look at a device that is supposedly the upcoming Sony Ericsson Xperia Duo which may or may not be the first Sony smartphone with a dual-core processor on board. The photo which apparently comes from some sort of marketing material doesn't confirm that fact but what it does confirm is that this device is coming with a pretty unique near edge-to-edge screen.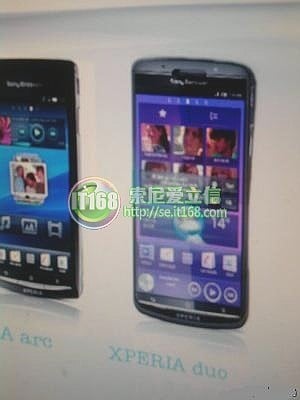 The flyer pits the Duo next to the Xperia Arc and confirms that the Duo's screen is definitely bigger than the Arc's 4.2-inch display meaning we could see either a 4.3 or a 4.5-incher on the Duo.
Other than that, features of the Duo remain mysterious at best. There are apparently some whispers out there about an 8MP camera with 1080p recording capabilities and of a release at some point in Q4. It's possible that Sony could announce something at an exposition on Singapore on Wednesday but that might be a little premature considering Q4 is pretty far off.
In any event, the Duo is shaping up to be a pretty marvelous release from Sony Ericsson and those interested in a large, possibly dual-core handset from the company should be extremely elated.  Well, if this is in fact a real device. We still haven't seen it appear in a real-life photo so there is reason to be skeptical.

As an Amazon Associate I earn from qualifying purchases.