Sears Pulls Online Listing for Android iPhone 4 Clone, GooApple No Longer Comes to U.S.?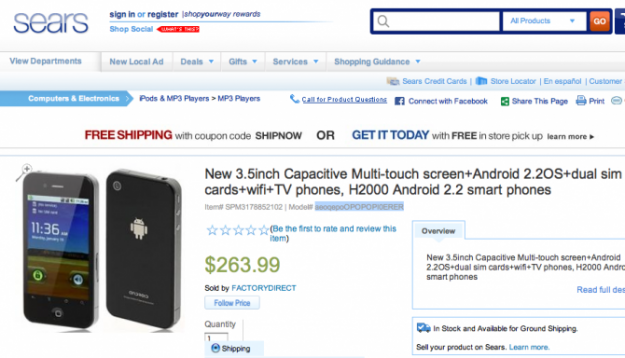 After a brief listing for a smartphone that runs the Android 2.2 Froyo operating system and contains the same iPhone 4 iconic design from Apple, Sears has pulled the product page that lists the device as $263.99. At this point, it's unclear why the listing was pulled, and if Apple's legal team had any influence on the retailer from shying away from offering an iPhone clone for the U.S. market.
The listing was for a device that bears a striking resemblance to the GooApple phone we had previously reported about, which looks to be a clone of the current flagship iPhone 4 except that it runs Android, has a home button and 4 capacitive touch buttons, and contains additional features not found on the original Apple iconic smartphone. Those features include dual-SIM support and a TV feature. It's unclear whether users can use both SIMs simultaneously on the device, so that the phone would ring if either phone numbers supported by either SIMs was reached, or if a user had to manually switch between the two SIMs though they can place two SIM cards in the phone at the same time.
Also, while the device is said to support Android 2.2, it's unclear if it will actually support Adobe Flash playback, which is a feature that's been missing on iOS.
For now, though, for those who are saddened because the listing for this iClone has been pulled, we bring you back to the tragic story of a death of a man who was electrocuted for using fake, cloned phones.
Knock-offs have so far not successfully entered the U.S. by way of a major retailer due to legal implications behind trademark, copyright, and patent issues. For Sears to even list the phone is surprising. For those who may have had the opportunity to order in the brief time that the phone was listed, is kind of surprising.
But while the listing for the iPhone 4 knock-off has been pulled, it seems that Apple's lawyers may need to peruse Sear's online portal as the retailer has another phone listing that blatantly rips off Apple's design. This one is for a $76.99 white phone that resembles the iPhone 3G or iPhone 3GS. Maybe it's not cool to rip off a current flagship, but yesterday's flagship is okay?
These prices are for unlocked, contract-free smartphones. For comparison, an iPhone 4 16 GB model is $200 with a two-year contract on either AT&T or Verizon Wireless, and an unlocked smartphone of the same capacity is listed by Apple officially as $650. The iPhone 3GS in an 8 GB capacity today goes for under $100 on AT&T, but there is the two-year contract stipulation.
Via: 9to5 Mac