SleepPhones Effortless Review
SleepPhones Effortless are the best headphones for sleeping. Not only can you sleep on your side without an earpod digging into your head, but these are also wireless so you don't get tangled up in the middle of the night.
The new SleepPhones Effortless also include wireless charging so you no longer need to take the small control module out to plug in a charger. Simply set the SleepPhones on the included charging base and they will recharge while you are awake.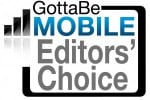 I need SleepPhones to get a good night of sleep. After using SleepPhones Wireless for over a year I switched to this new model. There is no doubt that the SleepPhones Effortless headphones are the best headphones for sleeping.
SleepPhones Effortless earn a Gotta Be Mobile Editor's Choice Award for delivering a good night's sleep consistently with no hassle.
SleepPhones Effortless: Best Headphones for Sleeping
Instead of a band or ear clips like most headphones use to stay in place, SleepPhones use a soft stretchable headband. Older models used a fleece material that could get warm at night, but the newer models are available with a "Breeze" fabric that breathes much better and is lighter. This delivers a comfortable fit and stays in place all night.
The SleepPhones Effortless headphones are completely wireless. The headphones connect to your phone, tablet or another device with Bluetooth so there is no cord to tangle up in overnight. This is the key to actually getting a good night's sleep with headphones on. I've tried many corded options and too often I pulled a phone off the stand in the middle of the night or woke up tangled.
SleepPhones Effortless stay connected all night and if your phone supports it an indicator will show you how much battery life is left. SleepPhones rates the battery at 13 hours, which is a fair number. I normally use the sleep headphones to listen to music or an audiobook with a timer and only need to charge them once every week or so. The headphones automatically turn off after musit stops.
The SleepPhones Effortless model charges wirelessly. Just place the headphones on a small charging base and they will be fully charged by the next time you go to bed. The charger works well, and a small LED lets you know if you've aligned the headphones correctly to charge. It's nice that I no longer need to remove the small controller to charge the headphones like I did on older models.
While wearing the SleepPhones Effortless, you can control volume as well as pause and play your content using small buttons built-in to the control panel that is inside the headband. There is a microphone if you need to answer a call while wearing them, but that's not something we do often.
The SleepPhones Effortless sound quality is very good, but it's not going to blow your mind if you want audiophile level music. The flat speakers are loud enough and sound very good for what we want from headphones for sleeping. With volume less than halfway up we are able to drown out a TV without sound leaking and bothering someone sleeping next to you.
These headphones can help drown out snoring and other noises, but SleepPhones are canceling and there is no seal to your ear. If someone sharing your bed is a very loud snorer, you may still hear them over the SleepPhones.
SleepPhones start at $39.95 for the corded version, $99.95 for the SleepPhones Wireless and $129.95 for the SleepPhones Effortless.
Best Sleep Headphones to Buy in 2019
SleepPhones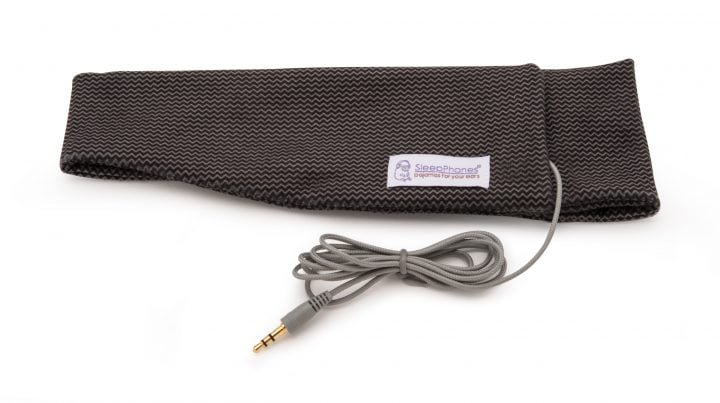 SleepPhones are probably the most well known headphones for sleeping, with slim speakers in a stretchable headband. This includes a cord that runs out the back to a MP3 player or smartphone.
The band is washable and is made of a soft material to stay comfortable overnight. The standard version includes a fleece-style material, but there is a new lighter material that users can select.
There are a number of upgrades available to expand the comfort and convenience of SleepPhones. Users can add a microphone and volume cord for $20. There is a wireless version of these as well.
The headphones include a 48-inch cord and are available in a variety of colors.
$39.95 at SleepPhones