SnapChat Emoji Privacy: Is Snapchat Outing Cheaters?
The new Snapchat emoji update delivers a replacement for the Snapchat Best Friends feature that the company pulled in part due to privacy concerns, but this new Snapchat update might out cheaters.
Snapchat privacy is a very big concern and the company continues to focus on what users share and what information they can see about their friends on the service. Snapchat even warns users that anyone can save a Snapchat, so they should consider what they send.
The new Snapchat emoji meanings can easily show you who someone is talking to — and that's a big deal.
Here's what you need to know about this saga and what kind of privacy issues come form the new Snapchat Emoji.
Snapchat pulled the Best Friends feature in January 2015,  a feature that was a core part of the app for years. Evan Spiegel, Snapchat CEO told users at the time that this was related to the privacy of some high-profile Snapchat users and that Snapchat Best Friends would return.
https://twitter.com/evanspiegel/status/560152755151454208
The Snapchat Emoji update is the new Snapchat Best Friends, but it doesn't fix every Snapchat privacy issue. With the latest version of Snapchat, only you can see the emoji on your contact list, but to make this social, Snapchat does expose some information about your circle of friends, and that isn't something that everyone is  OK with.
With the Grimace Snapchat Emoji you can see if your best friend is also another friend's best friend. If this is a circle of three friends this isn't an issue. It can become an issue when a user sees that their #1 best friend, who is also their girlfriend, is the #1 best friend with her ex-boyfriend on Snapchat. Even though the emoji are private, the details about this relationship are not. Another possibility here is that you can see mutual best friends thanks to the emoji.
On Unwritten a friend of the author exclaims, "Oh no, a girl can see if I'm speaking to her friends." In an article titled Why Snapchat is the Biggest Snitch of All Time, Buzzfeed calls the Grimace, "A classic example of Snapchat's passive-aggressive snitching." Carley Washa also calls out the sunglasses emoji as, "So, like, either yay for mutual friends or boo your partner is cheating on you with your best friend of 10 years (most likely the case)."
https://twitter.com/matthewrds/status/560194723030122496
Girls everywhere are mourning the loss of snapchat best friends to keep tabs on their boyfriends

— cat (@cwagss_) January 27, 2015
Don't worry Catherine, the new Snapchat best friends are in emoji form and they can still identify that roaming boyfriend or girlfriend.
Brooke Mewton, was off on the timing, but with the new Snapchat Emoji, the result may be the same for some users.
Plot twist: snap chat will show everyone's best friends again in a week, giving everyone enough time to screw themselves over

— Brooke Mewton (@BrookeMewton) January 27, 2015
The new Snapchat Emoji can also ruin your social life according to Elle. Not only can it out a cheater, but it can let you know that you are not the #1 best friend in your circle, but a #2 or #3 for almost all of your friends.
iOS 8.3 vs iOS 8.2: What's New in iOS 8.3
New iPhone Emoji in iOS 8.3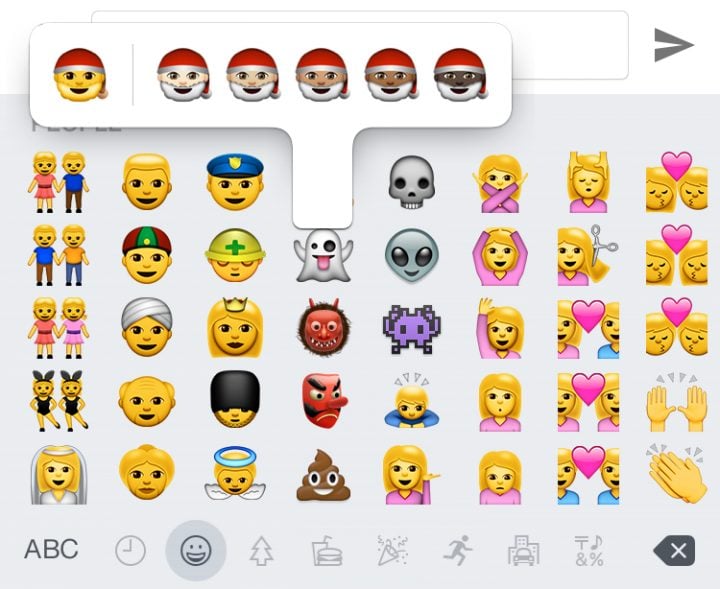 Apple adds over 300 new iPhone emoji in iOS 8.3. There are new Emoji like the Apple Watch and a new Mac, but most users will focus on the addition of more family choices including more kids, families of two men or two women and now there is an option to change the skin tone of many emoji.
Read: How to Use New Emojis
With this update you can tap and hold to choose the skin tone of an emoji icon for many emoji options and then tap to pick the color option. Tap and hold on a new color option to make it the default.
The iOS 8.3 emoji keyboard for iPhone now offers continuous scrolling so it is easier to scroll through the emoji options and find the ones you want.