Sony Ericsson LiveView, a 1.3 Inch Android Remote?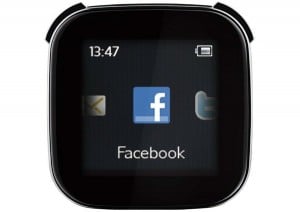 This morning Sony-Ericsson announced a micro display called LiveView. It's like a bluetooth headset, but visual and it's controlled by an app on your phone. It comes with a wrist strap so you can wear it like a watch. This interfaces only with Sony Ericsson's Android phones and allows you to control music, read RSS, check twitter, screen calls, and more. Check out the video after the break for a better description.
It's basically like an Android desktop widget but in physical form and its controlled over Bluetooth from an application in your phone called LiveView Application. This application will be available for download from Android Market and after it's installed other 3rd party application can through different APIs plug into that and make use of the LiveView device. In the LiveView Application on your phone you can also scan Android Market for LiveView enabled applications to find more cool stuff to download. More information for developers such as documentation, APIs etc will be made available at our Developer World web site.
https://www.youtube.com/watch?v=KN2qoA0FfHQ&feature=player_embedded
What do you think? Does this little thing have a chance or is the SPOT watch of the modern day? The funny part is that it requires Android 2.o, but their Android phone offerings haven't hit that release yet. I guess if this sells, they will have to update the X10.

This article may contain affiliate links. Click here for more details.