Sony Ericsson PlayStation Android Phone Caught on Video?
Video footage was captured of a user with a device that looks to be an enlarged Sony Ericsson XPERIA X10, leading many to believe that this could be a Sony Ericsson PlayStation Phone. Unfortunately, however, the video capture is a bit blurry and we don't get to see the sliding gaming controller, which would slide in landscape orientation if the envisioned leaks prior hold true.
Leaks have pegged the device to have a screen size of 3.7 to 4.1 inches, making it a reasonable device in the realms of a Galaxy S model or a Venue Pro from Dell. as a high-end gaming handset, it will also have the requisite specs to back up the device's gaming prowess, with rumored specs to include a 1 GHz processor, 512 MB RAM for multitasking, and 1 GB ROM.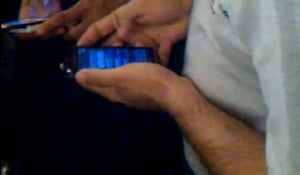 The device is rumored to launch with Android 3.0, which would make it an Android Honeycomb device. It's unclear if Sony Ericsson will launch the device sooner, with perhaps version 2.3 of Android, also known as Gingerbread. The option for Android 2.3 could be likely as Google is dedicating Android 3.0 to mostly make Android a better tablet experience, and we've heard various tablet makers waiting for Android 3.0 to release an Android tablet, including Lenovo, Motorola, and most recently Asus. For its part, Google has said that Android 2.2, also known as Froyo, which debuted on the Samsung Galaxy Tab tablet, is not tablet-ready.
With a PlayStation phone, Sony and/or its joint venture Sony Ericsson would most likely launch its dedicated app store and portal for downloads of games. Gaming on Android has so far been more limited than the experience on iOS, and part of the reason is that developers are concerned about piracy on the platform and Google's implementation of DRM. If Sony were to launch its own app store for the PlayStation Phone, it could implement its own DRM structure and work with game publishers to port more quality games to Android via its PlayStation Phone architecture.
Whether a PlayStation Phone experience will be licensed to other Android handset makers is still unclear. Most likely, however, Sony and Sony Ericsson will make the PlayStation Phone experience proprietary, much like custom user interfaces thus far on Android such as HTC Sense, and make that a unique selling point to getting the phone hardware in an effort to not be commoditized by the Android experience.
Via: IntoMobile

This article may contain affiliate links. Click here for more details.