Sony Ericsson Tablet Shows Little Promise
At Mobile World Congress, Sony Ericsson's prototype tablet was on display but gained little attention due to the clunky design.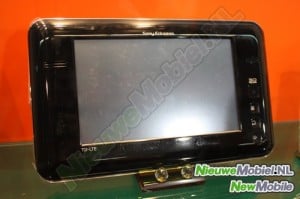 The tablet in question shows the Sony Ericsson branding. However, unlike modern high-end Android tablets with flush screen, the image of the tablet shows a non-flush display, meaning that the screen sits lower than the bezel, indicating that the tablet may utilize a resistive screen technology rather than the capacitive touchscreen technology.
Additionally, as there are physical Android navigation buttons on the right hand side of the tablet, the Sony Ericsson tablet may have been designed with a version of the Android operating system prior to Android 3.0 Honeycomb. When we had spoken with Motorola folks at the Xoom tablet's unveiling at CES, Motorola said that with Android 3.0, physical buttons were not needed as Google had integrated the navigation buttons into the user interface. This way, tablets would be more natural in either portrait or landscape orientation and buttons wouldn't get in the way of how users hold their devices.
The tablet is said to be sized between 6 or 7 inches. The device also has a 3-megapixel front-facing camera, though it's unclear if the camera could record videos in HD resolution. The device uses the TD-LTE 4G protocol, as seen by the branding. It's unclear if Sony Ericsson has plans to release this tablet or if it exists only in prototype form, but if released, it will run Android.
Via: Netbook News

As an Amazon Associate I earn from qualifying purchases.