Sony Ericsson XPERIA Arc Smartphone Launching in U.S. in August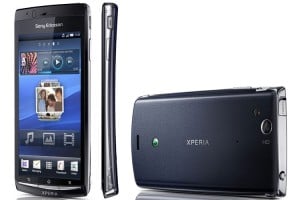 Sony Ericsson will be launching its flagship XPERIA Arc Android smartphone in the U.S. market starting this August for $600 unlocked. Unfortunately, as the manufacturer wasn't able to secure any carrier agreements, the device won't be offered at this time with a contract for a discounted and subsidized price tag. As such, the $600 price point for this high-end handset may keep the device away from most people as the U.S. market is accustomed to subsidized pricing for cellular contracts.
Though Sony Ericsson didn't mention what radios will be supported on the handset, it could be safe to assume that the GSM handset will work on either AT&T or T-Mobile USA. It's unclear if Sony Ericsson will deliver two variants of the handset, each compatible with one carrier's 3G bands.
The Android 2.3-powered smartphone was unveiled earlier this year at the Consumer Electronics Show with a slim, curved profile, a 4.2-inch Reality Display with the Mobile Bravia Engine, an 8-megapixel camera with Sony Exmor R for mobile sensor for low-light image capture, and Android Market compatibility.
Press release:
State-of-the-art Sony Technology in the slimmest smartphone on the market
– Loaded with Reality Display with Mobile BRAVIA® engine and Sony's Exmor R™ camera imaging sensor
– Powered by the latest version of Android™ 2.3
– Available in the United States beginning August 2011
ATLANTA, July 27, 2011 /PRNewswire/ — Sony Ericsson today announced that the super-slim, stunningly designed Xperia™ arc will be available starting August at Sony Retail stores and store.sony.com for $599.99.  It will also be available onAmazon.com, Newegg.com, and Buy.com.  Please check with individual retailers for pricing and availability. The Xperia™ arc runs on the latest Android 2.3 platform and will feature the best of Sony technology, making this device one of the most powerful multimedia smartphones on the market.
"At Sony Ericsson, we strive to bring consumers the best in mobile entertainment in superior smartphone design," said Peter Farmer, Head of Marketing for North America, Sony Ericsson. "The Xperia™ arc certainly delivers an entertaining smartphone experience and breathtaking design that has generated rave reviews in other markets and we're thrilled to make it available to U.S. customers."
The Sony Ericsson Xperia™ arc combines the best of Android and Sony into one beautiful and easy-to-use device. Offering top of its class Sony technology with the Reality Display with Mobile BRAVIA Engine, the Xperia™ arc delivers exceptional visual brilliance and a crystal clear image, which enhances the overall entertainment experience. This smartphone also features Sony's award-winning Exmor R™ for mobile sensor with its 8.1 megapixel camera, enabling high quality bright pictures and HD videos even in low light. All pictures and videos can easily be shared in HD on your living room TV via the built in HDMI-connector.
The Xperia™ arc's eye-catching curvature design allows it to fit perfectly in the user's hand. The smartphone is just 8.7 mm at its thinnest part and has an extra wide 4.2-inch multi-touch screen.
Sony Ericsson Xperia™ arc – Key Features
Slim, lightweight and strong, with perfect ergonomics
Extra wide 4.2-inch multi-touch Reality Display with Mobile BRAVIA® Engine to ensure ultimate multimedia and viewing experiences
Sony Exmor R™ for mobile: for best-in-class low-light photography and video capture
8.1 megapixel camera and HD video recording capability
Android Market™ – thousands of applications to keep you entertained
Sony Ericsson Xperia™ arc Color Availability
Sony Store – Midnight Blue
Newegg.com, Buy.com and Amazon.com – Midnight Blue and Misty Silver