Sony Launches Live with Walkman Android Phone
Sony has introduced a new phone at the Sony Developer Conference, the Sony W8. This is no regular Sony Ericsson Android device, it is a Sony Walkman device. Sony has said that the Sony Live with Walkman phone will be available in select markets before the end of 2011.
The Sony Live with Walkman has Walkman integration including a one touch button to launch the Walkman music app.
The "live" part comes from Facebook integration which allows you to share your music and media habits. To complete the music experience, the phone will connect to Sony's Qriocity music service.
The Sony Live with WalkMan phone has a 3.2″ scratch resistant screen, 1GHz processor, front facing camera for Skype, 5MP rear camera, and Gingerbread 2.3. The device ships with Sony xLOUD technology which the company claims boosts audio output.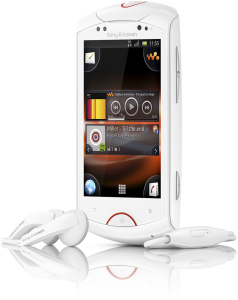 This is an interesting device. On one hand, many users will like the one touch access to music, but on the other, the device has a 2GB microSD card included, which is downright ridiculous given the focus on music and the space consumers need to store pictures and video. Yes, there is the cloud, but Sony really should have bundled at least an 8GB card.
Sony Live with Walkman Features
Deep Facebook(TM) integration: Allows users to instantly access Facebook through the most used areas of the phone such as the picture gallery, music player, phonebook and calendar.
Media Discovery Application: A dynamic application placing the world of music and videos at consumer's fingertips including Facebook(TM) recommendations from their friends.
 Infinite button: Tapping it within the media player enables consumers to have instant access to new content about their favourite artist, such as music videos, artist information and lyrics search.
Qriocity music and video content services from Sony: Consumers can access millions of songs from all major labels and watch thousands of movies from all major studios. Only Sony Ericsson Android smartphones provide consumers with unique access to the  entertainment services from *Sony.
*Sony's xLOUD(TM) technology: Enhances audio output of the inbuilt speakers at high levels.
TrackID(TM): Identifies the music track you are listening to within the FM radio and music player. The track can then instantly be shared or downloaded
The Sony Live with Walkman Android device will be available in the fourth quarter for an undisclosed price. It will be available in black or white.