Space Grey, Silver iPad 5 Borrow Colors From iPhone 5s
A newly leaked image of the rear casing of what appears to be Apple's next-generation full-sized iPad, also dubbed the iPad 5, shows that the device would come in a similar space gray color that the iPhone 5s comes in.
In the past, leaked casings for the iPad 5 were shown in a silver color, similar to the silver iPhone 5s with a white front panel and closely resembling what Apple is selling as the white iPad right now, and a slate hue that debuted on the iPhone 5 and was present on the iPad mini.
Now, Australian writer Sonny Dickson has obtained the rear casing for the iPad 5 in both the new space gray and silver tones.
This new space gray color, which is presumed to replace the slate color, may indicate that Apple has been toying with various colors and is now considering updating its color palette to keep a consistent design language between the flagship iPhone 5s and the iPad tablet range. This makes sense considering that these products all bear a similar unibody aluminum construction.
And if Apple does in fact replace the slate option for slate gray in its lineup for the full-sized 9.7-inch Retina Display iPad 5, it will likely keep that consistent with the iPad mini. About a week ago, we had seen a space gray iPad mini 2 leak.
Alongside the iPad 5, Apple has been rumored to be working on an updated iPad mini, called the iPad mini 2, which would add a Retina Display to the smaller form factor tablet with its 7.9-inch display.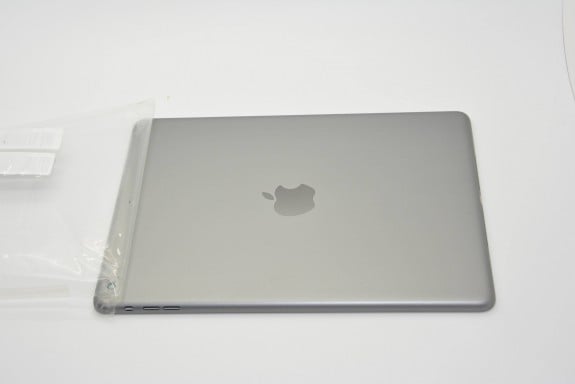 Still, the iPhone 5s does come in a third color: gold. So far, we have not seen any iPad leaks with the gold-toned hue appear.
So while the iPad borrows its colors from the newly released iPhone 5s, it borrows its design aesthetic with a slimmer build and slimmer bezels from the first generation iPad mini.

As an Amazon Associate I earn from qualifying purchases.