Spigen Rugged Galaxy Note 5 Case Review
The Spigen Rugged Capsule Galaxy Note 5 Case is a great yet simple option to protect the Galaxy Note 5 with minimal added thickness or weight, while being affordable and good looking at the same time. Despite the "rugged" name, this is a standard thin TPU case that delivers just enough protection for those worried about dropping or damaging their new phone. This is our Spigen Rugged Capsule Note 5 case review.
The Galaxy Note 5 has a large 5.7-inch Quad-HD display with strong Gorilla Glass 4 on the front to prevent scratches, and is also the first Note with an all glass and aluminum design. That means it looks great, but could be more prone to damage if dropped. That's why plenty of great cases are available, including multiple different choices from Spigen.
Read: How to Setup the Fingerprint Scanner on the Galaxy Note 5
Like many cases as of late, the Spigen Rugged Capsule for the Note 5 has a slightly raised lip that wraps around the front of the device, which protects the screen if dropped, or laying face down. At the same time, it's slightly raised around the protruding camera as well, to protect its new 16 megapixel camera. Read on for a few more details, a short hands-on video, pictures and a buy it now link for those interested.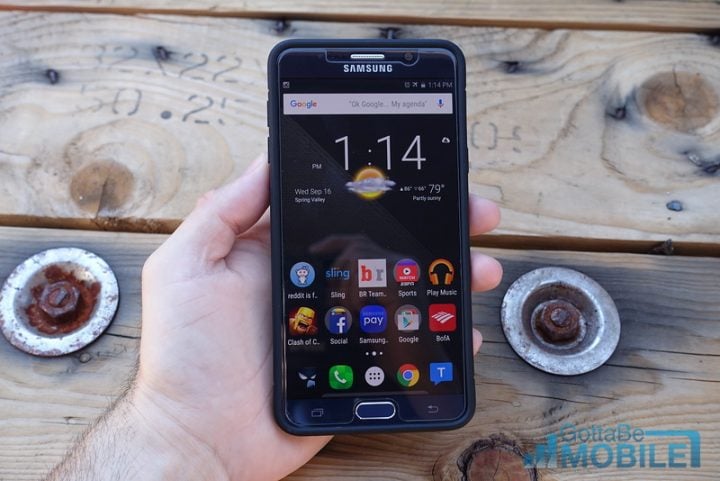 The new glass and aluminum design of the Galaxy Note 5 means that it's rather slippery, and may be easier to drop than some previous Samsung devices. That said, it isn't as slippery as the iPhone 6 Plus or other large smartphones. Not to mention it has curved edges on the back making it easier to hold, and more comfortable in the hand.
If buyers are anything like me, they'll still choose to get a case to protect their new $700 investment. Spigen, as we mentioned above, has a wide array of options. They come in different sizes, colors, textures, some have actual aluminum buttons to keep the premium feel in fact, and even eventually wallet and kickstand cases.
I chose to go with something more minimal. Rather than explain it all, check out our hands-on video below. It shows users the box, all the buttons, ports, cutouts, and the simple slide-in method to install this case. It's a typical TPU case that's easy to install, thin, lightweight, and offers excellent protection without the bulk.
The Spigen Rugged Galaxy Note 5 case as you saw above features a soft-touch matte black TPU design that's comfortable and easy to hold. Then there's a slight gloss to the accents, as well as two carbon fiber cutouts for additional styling. This doesn't serve a purpose, but makes it look better overall.
The precision design means it fits like a glove, won't have any give if dropped, and the buttons and cutouts are all perfect. Many cheap TPU cases on eBay or Amazon aren't precision cut, and the buttons aren't very tactile or easy to press. That isn't a problem here, and if anything it makes them easier to push than if it didn't have a case at all.
Overall this is a very well-made and durable case from Spigen, one that doesn't cost an arm and a leg. It's the perfect middle ground between cheap TPU cases, and more expensive options that deliver the same level of protection.
In the end what makes the Spigen a great option is everything we mentioned above. It fits like a glove, looks good, protects the screen and the camera. And it does all of this for under $10. In fact, it's on sale today for $9.99 at Amazon.
5 Great Samsung Galaxy Note 5 Wireless Chargers
Samsung Fast Wireless Charger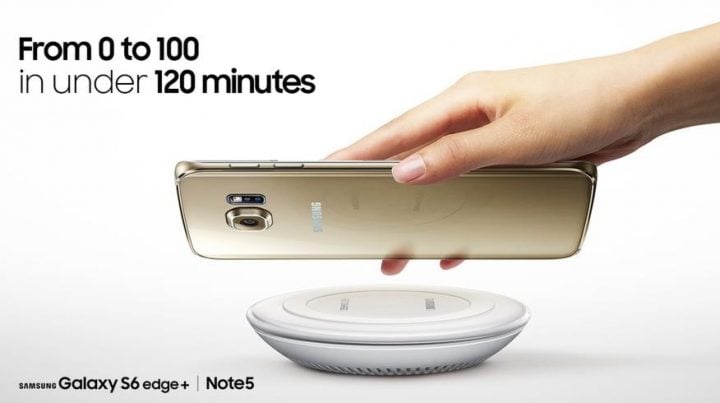 As we mentioned and detailed above, the official Samsung "Fast Wireless Charger" is the best option. Simply because it's made by Samsung, supports the new fast wireless charging standard, and comes in White or Black to match the Galaxy Note 5. It's a bit expensive compared to the rest on our list, due to the fast charging capabilities, but it's worth it for many. Samsung still hasn't released it yet, but it should be available soon.