Sprint ID Reveals Samsung Chief, LG Q, LG Optimus B, Motorola Sunfire Android Smartphones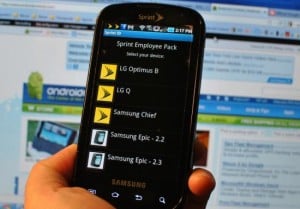 Sprint's unique Android customization service dubbed Sprint ID has revealed four new smartphone names and placeholders for handsets that have not yet launched on the carrier, including names like Samsung Chief, LG Q, LG Optimus B, and Motorola Sunfire.
The list of un-announced smartphone names was discovered when a user attempted to download a Sprint Employee Pack ID, where the service then prompted the user to select which phone they own and thus revealed the names of these unreleased handsets. Unfortunately, however, no images were displayed to reveal what these handsets would look like, and a Sprint logo placeholder was used instead.
Android Central notes that the Motorola Sunfire could be the Motorola Photon 4G whereas the LG Optimus B could be the LG Optimus Black for Sprint. The Samsung Chief may be a mid-range device and the LG Optimus Q could potentially be an Optimus Slider.
If in fact the Motorola Photon 4G will get the Sprint ID treatment, the handset will be as near to stock Android as possible. The near vanilla build of Android would then allow users to customize the handset with additional widgets, wallpapers, apps, ringtones, and more through a Sprint ID pack that's customized and designed for their personalities, lifestyles, and interests.

As an Amazon Associate I earn from qualifying purchases.