Stratosphere Accessories Arrive at Verizon Store, Launch Imminent?
A number of accessories for the un-announced 4G LTE-capable Samsung Stratosphere for Verizon Wireless have begun to arrive at the carrier's stores, suggesting that a launch date may be close. It is expected that the mid-range Android smartphone, which boasts a sliding keyboard in landscape orientation similar to Sprint's Epic 4G launched about a year ago, will be priced at $149 on a two-year service agreement, placing it just slightly more expensive than the budget-friendly Pantech Breakout 4G LTE smartphone on Verizon's portfolio of devices.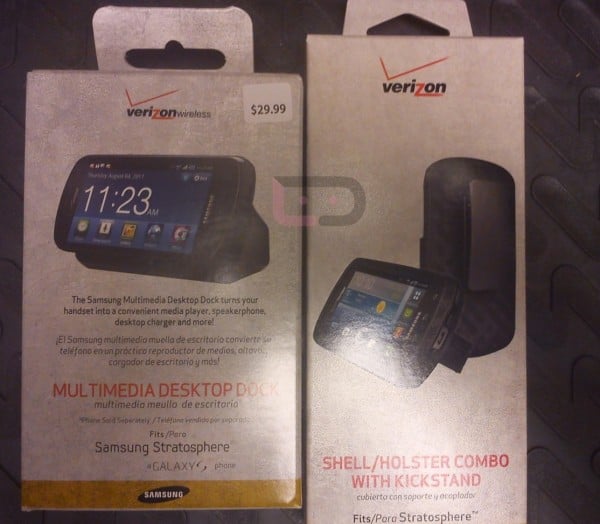 The first accessory is a Multimedia Desktop Dock and the second accessory spotted is case/holster combo. The case/holster combo comes with an integrated kickstand, which can be used to place the phone at a comfortable viewing angle on a flat surface for viewing movies on the device's Super AMOLED display that measures 4 inches.
Like Sprint's original Epic 4G, the Stratosphere launches with 4G LTE but with specs from the original Galaxy S 1 series, and not the Galaxy S II series. That means that the device will have a single-core CPU rather than a dual-core processor, a Super AMOLED display rather than a Super AMOLED Plus touchscreen, and a 5-megapixel camera instead of an 8-megapixel camera.
Via: Droid-Life

As an Amazon Associate I earn from qualifying purchases.