Swype Alternatives for the Galaxy Nexus
If you've picked up the Galaxy Nexus, you probably already know that Swype isn't on there. When I got my Galaxy Nexus last Thursday, I was surprised to find this.
Filling out all those user names and passwords by tap tap tapping the default keyboard drove me crazy. I poked around and couldn't find it. Surely Samsung included it, it's been on all the Galaxy devices I've used. I gave up and I couldn't wait to get home and get Swype going.
What is Swype? 
With one continuous finger or stylus motion across the screen keyboard, the patented technology enables users to input words faster and easier than other data input methods – at over 40 words per minute.
Getting Swype for the Galaxy Nexus
Like I said, the 1st thing I was disappointed with on the Nexus was the lack of Swype. I immediately downloaded the latest BETA of Swype and got a message I didn't want to see.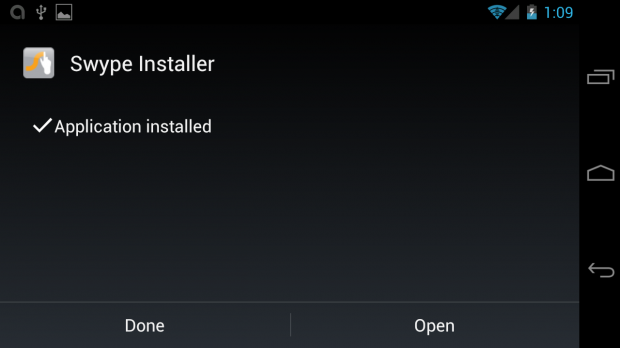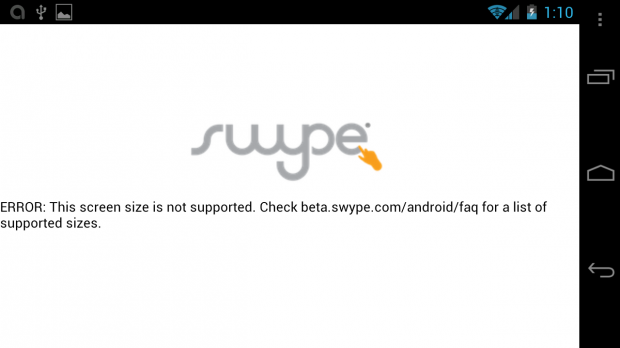 That's not good. Well, I kind of expected them to have already worked on a version compatible with both ICS and the 720p screen resolution that the Galaxy Nexus sports since the unlocked GSM version had been out there a few months already.
I shot out a tweet despite knowing that 100's of others would be doing the same.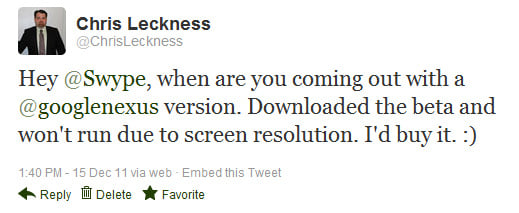 10 minutes later, good news from Swype.
I would love that tweet to have said, "We know, we'll have it ready later today!", but at least we know they are working on it.
Now, if you have ever used Swype, you know how awesome of an input solution it is. I have gotten to the point where I can't use regular tap tap tap keyboards. The Android keyboard is a great tap tap tap keyboard, but once you've learned to "Swype", it's hard to go back so I set out to find a solution.
I was in luck, there was a solution in the apps I downloaded just because they were 10 cents! SlideIT. I mentioned SlideIT in my 10 Tips and Tricks post a few days ago too.
This keyboard worked well for me for a few days. I have very few complaints, but it's not Swype. The only real issue I had was with password fields and correcting mistakes is a little difficult. The password issue is with apps that request a user name and password. The user name is fine, but on case sensitive passwords, it tries to auto capitalize the 1st lettter. I had to type the 1st letter twice, once gets auto capitalized, the other is lower case, and I go back and delete this 1st character. Not a huge deal, just a minor annoyance.
This one is not free and unless you got it for 10 cents last week, it's 6 bucks. There are plenty of keyboard skins to download on the Marketplace to spice it up too.
SlideIT is the best keyboard for Android devices. SlideIT, Simply the Best.

The innovative Android keyboard for quick and easy writing.

SlideIT keyboard is an excellent tool for entering text, replacing your touchscreen keyboard. SlideIT keyboard enables users to dramatically improve writing speed with practically no learning curve.
Instead of entering text by tapping on the keyboard letters, SlideIT keyboard eases texting by sliding a finger along the keyboard letters, while the words "magically" appear on the screen.

SlideIT keyboard version 4.5 , NOW WITH MORE THAN 30 THEMES ! 2 skins are preinstalled and many others available for download from the Android Market.

SlideIT keyboard fully supports all Android devices from 1.5 and up, including all tablets.

With over 3,000,000 downloads, SlideIT keyboard has been an Android bestseller and selected as an editor's choice by Google.

Among SlideIT great features:

Smart predictions and disambiguation
Over 45 language packs and layouts
More than 30 skins
Speech-to-text
Handwriting recognition
Keyboard customization
Import contacts from your phone

SlideIT's many great features make it the ultimate time-saving keyboard for Android devices. Writing e-mail, SMS messaging or just chating with your friends on a small touchscreen is now easy and fun!
I found another one while reading through Swype's forums tonight to see if there were any advancements on support of the Galaxy Nexus. So far, I like it better than SlideIT and the fact that it's free is even better.
TouchPal, the future of input!

Annoyed by typing errors on touchscreen? 
Want to try the new sliding instead of tapping? 
Now you have a choice! TouchPal Keyboard, the most innovative and the best keyboard on Android. It's the Global Champion of GSMA Mobile Innovation Award.

Unique patented technologies that you can't find in other keyboard apps:
1. TouchPal Curve – the first predictive sliding in the world. Pause in the middle of sliding to get long words predicted.
2. Intelligent next-word prediction. It may save up to 80% keystrokes.
3. Magic mistyping correction on Full QWERTY layout. Blind typing is no longer a dream!
4. Mixed language input allows auto language detection. No need to switch languages.
5. Innovation of T+ dual-letter layout. Bigger keys than QWERTY.

OTHER FEATURES:

Multi-lingual support (download language packs after installation)
Voice input (Android 2.2+)
Outstanding dictionary with online update 
Import contact list to your user dictionary
Backup/restore user dictionary in SD card
Slide down on keys to quickly input number and symbols
Fantastic sliding experience
 Changing the Keyboard default?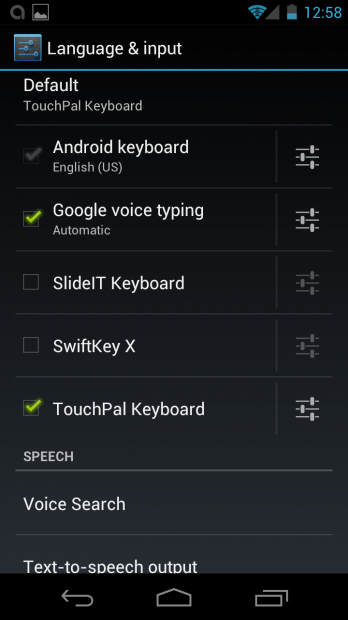 Head into settings and tap on Language & Input
Make sure they keyboard you want to use is checked. You can have them all checked, but the one you have set to default will be the one that comes up.
Above the list of keyboards with the check marks, tap on "Default".
A box will pop up with a list of keyboards to choose from, choose which you want to be your default. Notice mine is set to TouchPal.
That's it. I will tell you that the two keyboards and others all make it easy. After the apps are installed, they take you through a setup that does this for you.
Until Swype is ready, have fun with one of these two alternatives for the Galaxy Nexus. 
If you found another better, let us know!

As an Amazon Associate I earn from qualifying purchases.