Swype Now Available for Galaxy Nexus, Android 4.0
While Swype wasn't able to hit its the January target that it had set for an update to add support for Google's Android 4.0 Ice Cream Sandwich and thus, the Galaxy Nexus, the company has now delivered the app for devices running the latest version of Android and that means that if you own a Galaxy Nexus, you can now head to the company's website to get your alternative keyboard up and running.
For those unfamiliar with Swype, it's an alternative keyboard to the one that comes stock with Android. It allows you to swipe across the screen continuously with one finger in order to type out words for things like text and email.
It has a bit of a learning curve but once you figure it out, some of you may never go back to using the stock keyboard again.
(Read: Swype Alternatives for the Galaxy Nexus.)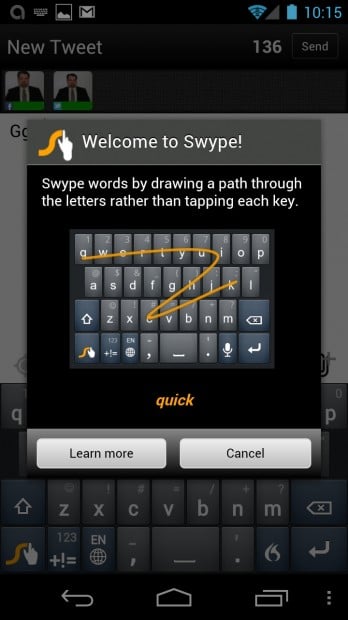 Today's Swype update doesn't just come with support for Android 4.0. It also brings some other improvements to those that use the keyboard on devices not running the latest Android software.
They include:
Swype Add-ons with DragonGo!
Downloadable languages for tablets
Accuracy improvements
Not bad at all, not bad at all.
For those of you with a Galaxy Nexus that want to get your hands on the application, you're going to want to head to Swype's website and sign up for the beta. You can find the website here.
(Read: Galaxy Nexus review.)
Once you're registered, you'll be prompted to download an installer and from there you'll have Swype up and running on your Galaxy Nexus, Asus Transformer Prime or whatever Android device you currently have in your hand.

As an Amazon Associate I earn from qualifying purchases.