T-Mobile Finally Announces myTouch, myTouch Q by LG
After numerous leaks, T-Mobile finally announces its own self-branded T-Mobile myTouch and T-Mobile myTouch Q Android smartphones, both of which are manufactured by LG. The new additions brings LG as a partner into the myTouch product line following T-Mobile's prior collaboration with HTC for the higher-end myTouch devices featuring more enhanced specs. According to the carrier, the myTouch and myTouch Q are entry level phones that are 'perfect for individuals adopting the benefits of smartphones for the first time.'
In the past, the devices were sometimes referred to by their code names as the LG Maxx and LG Maxx Q. The devices have been rumored in the past to cost $129 after rebate and with a two-year contract on T-Mobile, though pricing has not yet been announced.
The myTouch features a larger touchscreen while the myTouch Q will feature a slightly smaller touchscreen display and a sliding QWERTY keyboard, as the Q designates in its product name. Both smartphones will run the Android 2.3 operating system, otherwise more commonly referred to as Gingerbread. The carrier says that both phones will have access to the 4G HSPA+ network, though it's unclear if it's the faster 42 Mbps network or the 21 Mbps network.
The devices are armed with a 1 GHz Qualcomm ARM processor, 5-,megapixel camera with 720p HD video recording capability, and access to Android Market. The myTouch will also feature a front-facing camera alongside its 3.8-inch display. The device will also have Swype functionality. The myTouch Q will have a sliding keyboard in landscape orientation along with a 3.5-inch display. For comparison, the iPhone 4 has a 3.5-inch display as well.
Despite the official announcement following various leaks, T-Mobile USA has so far not announced pricing nor exact release date. The carrier only says that the phones will be made available in time for the holiday shopping season.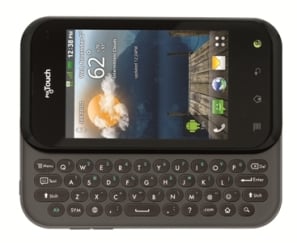 The myTouch will be made available in either black or white, and the myTouch Q will be available in grey or violet colors.

As an Amazon Associate I earn from qualifying purchases.