T-Mobile Galaxy Note 2 Rumored
Fresh on the heels of a rumored AT&T Samsung Galaxy Note 2 comes a rumor in regards to a T-Mobile Galaxy Note 2 which the carrier may be preparing for launch later this year.
TMoNews unearthed a user string agent and a screen shot showing off the About section of a mysterious device called the SGH-T889, both of which may be for the T-Mobile Galaxy Note 2.
The carrier's original Samsung Galaxy Note, which is still listed as out of stock on T-Mobile's website, was called the SGH-T879 so it's looking like the T889 could very well be T-Mobile's Galaxy Note 2.
Read: Samsung Galaxy Note 2 Release Date, U.S. Carriers and Price Predictions.
In addition, we see that the device has Android 4.1.1 Jelly Bean on board, something that the Galaxy Note 2 indeed has and we also see that the user agent profile shows a 1280 x 720 display, same as the display found on the Galaxy Note 2.
The report also claims that the device will have a Exynos quad-core chip and that it will run on T-Mobile's HSPA+ 42 network, the fastest network that it has available.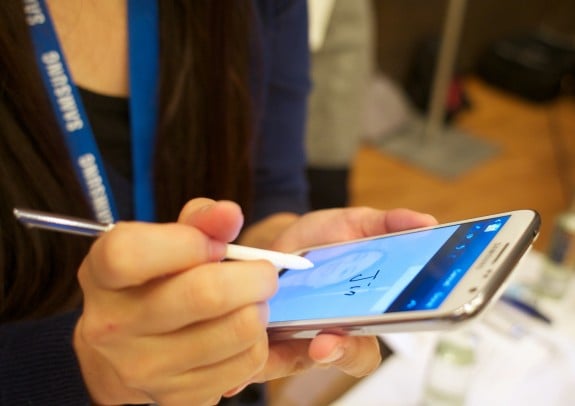 Samsung and T-Mobile have not confirmed anything yet and it could be awhile before they do as the Galaxy Note 2 isn't slated to hit the United States until later on this year.
The Galaxy Note 2 will hit European, Asian and Middle Eastern regions in October.
Read: 5 Samsung Galaxy Note 2 Features You'll Actually Care About.
https://www.youtube.com/watch?feature=player_embedded&v=5DcgZum8M1o
T-Mobile launched the original Galaxy Note in early August, nearly a year after it first launched at IFA 2011. Soon after, the device vanished from T-Mobile's website and rumors swirled about the device's cancellation in favor of the Galaxy Note 2.
The original Note has since returned to T-Mobile's website though it is listed as 'Out of Stock' and the carrier has yet to confirm when it may become available once again.
It could be that T-Mobile is instead going to launch the Galaxy Note 2 which offers a new S-Pen stylus, larger 5.5-inch display, and numerous other improvements over the original Galaxy Note.

As an Amazon Associate I earn from qualifying purchases.